Fifth-generation warfare is a popular term now that describes nations using narrative propaganda, covid, and economics to defeat their external foes or to increase their internal tyranny (It's everything but bullets and bombs). In addition, there is concurrent spiritual Warfare that is easy to feel. Immobilizing fear is the goal of any warfare. Spiritual attacks are designed to freeze us in place and zero out our initiative.
Our spiritual paradigm usually defines our response to Warfare:
Principals – Evangelicals are motivated by an intellectual understanding of biblical truth. They are the good soldiers who apply bible principles for character, tithing, prayer, fellowship, etc., to deal with life's issues. Evangelicals generally have no paradigm or theology beyond religious traditions for spiritual Warfare. They have an intellectual approach to the written word and little value for the living word – it scares them!
Promptings – Charismatic servants rely on obedience to prophetic direction from the Holy Spirit to guide their actions in the context of Biblical truth. Their focus is on the great things God is about to do. Servants are waiting and watching for God to do something great, not seeing and doing it themselves. They are theologically aware of spiritual Warfare but ill-equipped to engage in it. They do get prophetic glimpses via their nudges, Red-Light/green-light guidance system, and their favorite prophet, but they are not fluent in Father's purpose (His business, Jn 15:15). They consider knowing why, planning strategies, and managing cash flow to be human pursuits that are presumptuous relative to God's miraculous and providential intervention.
Purpose – Kingdom sons have access to God's Council to see what Father is doing and frame His purpose in the context of Heaven's strategy and tactics with the amplification of the seven spirits. Sons with Father's purpose have a mandate even when the master is absent, as in the parable of the talents and the ten virgins.
Initiative – The difference in all three is that sons have access to Father's Council are aware of His purpose and strategy. They feel permission to take the initiative. They are willing to translate the purpose of Heaven into a flexible plan with a schedule and cash flow on Earth. They are replacing powers and principalities on mountains instead of fighting with them. There are not frozen with fear, and their boldness has roots in the practical expansion of guidance they get from the seven spirits for truth, strategies, tactics, their role, their authority, the revelation of Heaven, and the culture of honor. Sons are not waiting for promptings; they pursue issues in the Council as part of their devotion. They hold their plan loosely and make mid-course corrections as they get new insight.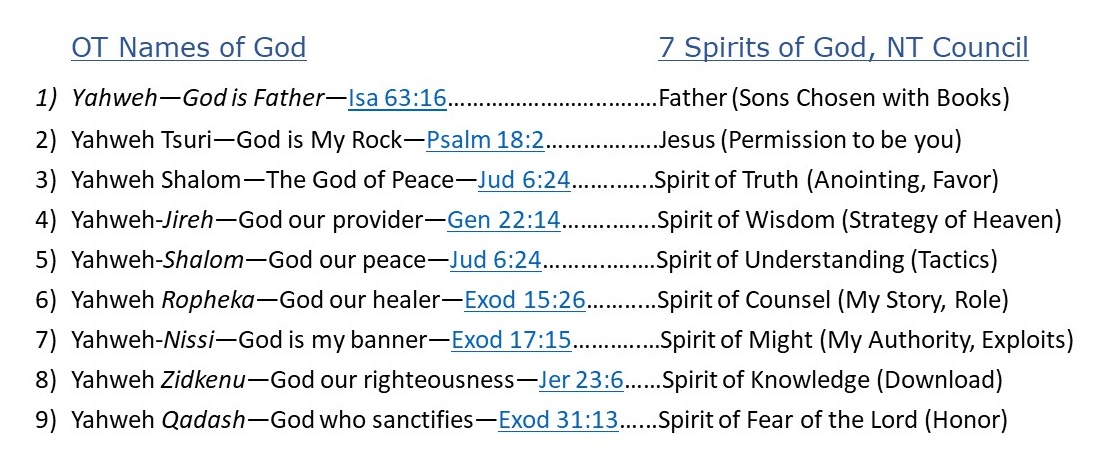 Confrontations – Jesus did not hesitate to judge the hypocrisy in the Scribes and Pharisees. His disciples exclaimed, Lord, even the demons are subject to us! Jesus was the first-born son, and his brother-sons take similar initiatives. They, too, encounter spiritual resistance or Warfare on relational, financial, health, and motivational levels (all related). The strongholds they demolish (2 Cor 10:3-8) are defeated in the Courts and Council of Heaven. Sons have living experiences hearing words that proceed from Father (Mt 4:4). Those words are enforceable decrees to:
Bind enemy activity and loose the power and purpose of God (Mt 16:19, 18:18-30)
Discern demons and decree justice and judgment (Jn 5:22, Lu 10:17-19, Jn 20:21-23, Acts 5:1-11)
Open books of purpose and become vessels for God's plan to bless nations
Kingdom Business Plans – How does all of this show up as Reformation in the business mountain? CEO/Sons have a plan, a business plan that reflects the initiatives in their Kingdom purpose, culture, and values that produce cash flow. Authority to make progress on their assignment comes from the clarity of their and Father's purpose. There is no division between the mechanics of a well-run business and the spiritual atmosphere in the staff. They have Kingdom Performance Metrics for spiritual and natural objectives. They see the development of sonship in their staff as an ongoing Kingdom privilege, one that is related to bringing Reformation from Heaven to Earth. They feel invited to the banquet that is Kingdom because they have taken their seat in Heaven (Eph 2:6) and are present in the Council (Ps 84:7). They feel the honor and thrill of being chosen by God as a son or daughter to bring the next Reformation to the nations.
Like Joshua and Caleb, they have a different spirit of faith to inherit their land by taking it from powerful giants; by defeating corruption.
Like David, they kill the demonic Goliath's mocking Father's purpose.
Like Jesus and Paul, they have answers for enemies and freedom for captives.
Like the disciples, they can say, Lord, even the demons are subject to us in your name.
Initiative – Spiritual Warfare (and business) isn't for wimps. It's for sons and daughters with the humility to be present in the Courts and Council of Heaven. That's where the weapons are. Overcomers carry the Father's heart by ascending to become Seers in Heaven and Doers on Earth. The Reformation they bring shows up in their purpose, their business plan, and their business culture.
They have a plan and won't back away from it because it originated in Heaven. They will not immobilize or freeze during warfare. They finish the work Father gave them; finish the works Father gives them in the Council. It comes with weapons. Sons are not waiting and enduring warfare, they are starting it. Victories flow from doing what Father is doing in Jesus' name. We are sons and brothers in the council, and we carry great authority in the family name – the weapon sons carry is Reformation. The wine we drink is the joy of jailbreak, the fullness of His Spirit, and the power of His presence (Acts 2:15-17).
The council session that explands this theme is 7 Spirits on Spiritual Warfare.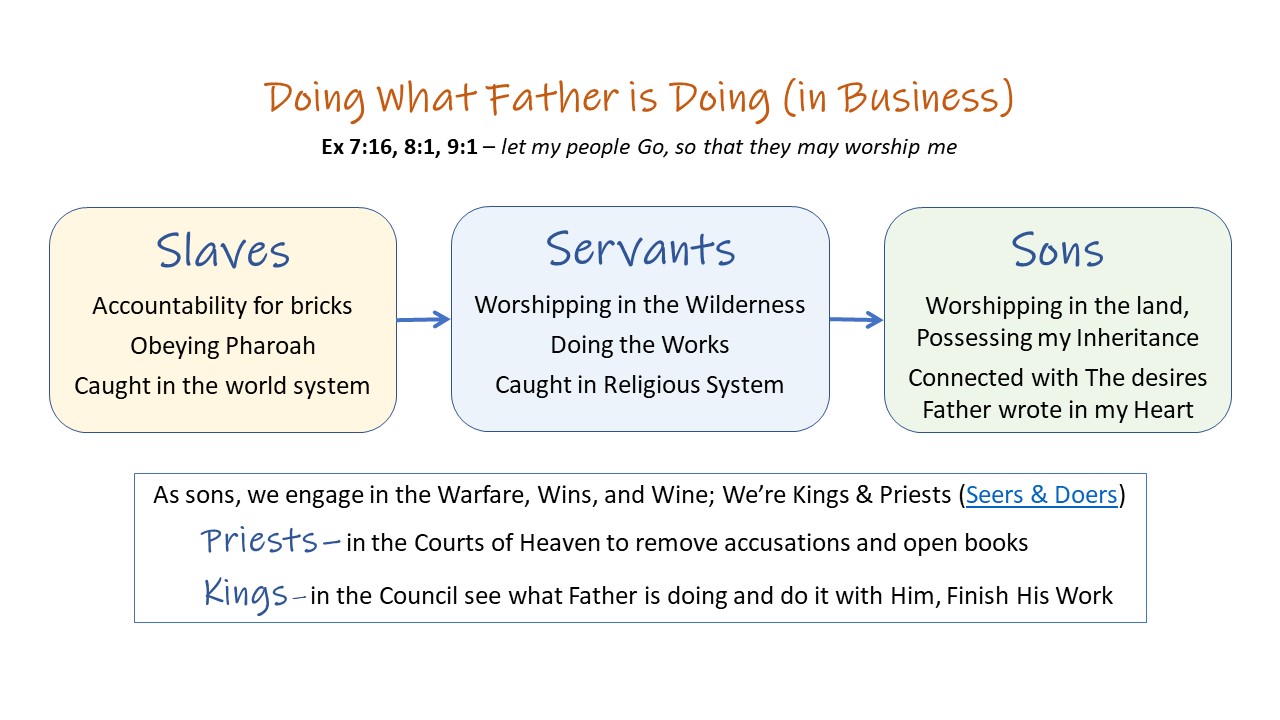 Other blogs on spiritual Warfare:
David Harris interviewed Tobe about coaching with John and made  3-5 minute video clips. You'll find them helpful and insightful.