Sonship and conversations in Heaven's Courts and Council are themes in Father's heart. Servants are being invited (called) to sonship. They are experiencing the sense of being chosen for purpose and they are bringing that purpose from heaven to earth via business initiative and work. It's an amazing experience, even if a bit traumatic. The sting of death from surrendering the old is overwhelmed by seeing the purpose behind the new. It's a gleeful trade for sons and daughters. We want to articulate a little about the experience in each transition. (When Biz is Fun PDF)
#1. Driven servants – The business mountain has a dreadful culture of principles, values, and procedures that are maintained through mind-numbing accountability. Christian businesses are precisely the same. We call them Kingdom principles and Kingdom values, and our enforcement policy leverages religious shaming. People are held accountable for producing their quota of bricks in exchange for buying their time and ignoring their hearts. The leadership model is publicly esteemed and privately abhorred. It's servants trying to lead servants in the only way they know how – by the nose. Why do they do it? Scaling a business happens when we duplicate repeatable principles and processes to multiply production and profits. That replication mentality breaks down when we try to mechanize people and God (that's called religion).
People do one of two things in this detached culture of death: they grin and bear it and become droids themselves, or they move on. No one survives it with their hearts intact. Servant culture is a confederacy of perfunctory obligations, the false front of outward appearances adorning an imprisoned staff. Servants believe You'll own nothing and be happy. The sister is that your only purpose is to be happy. The spiritual prison bars are: You don't have a purpose outside yourself or need one. The mantra is that you can be happy making widgets for money without meaning. Or that our corporate vision should give meaning to your life! Does it? Good people are enthusiastic about our treadmill! Are they really?
So the law was put in charge to lead us to Christ that we might be justified by faith.
Now that faith has come, we are no longer under the supervision of the law.
#2. Invited Friends – The intellectual realm of business sees its first ray of light in the Father's voice. The experience of hearing and seeing Kingdom purpose in people and the business itself has jailbreak implications. The feeling of being chosen by a loving Father for a specific purpose is a welcome mat into the creativity of your own dream. Father wrote it in your heart instead of imposing it as a rule. Sonship starts with us connecting with our hearts and getting excited about our future. It's seeing the overlap in Father's heart, the divine design that makes perfect, redemptive sense out of a meandering life.
The experience of seeing our own purpose is the foundation for seeing other people's hearts. When we put our finger on the purpose in another heart, they feel known and loved. We can hear their heart's desires and help them achieve a dream. We finally understand something about Ecclesia, disciples being known by their love. It's magnetic. It feels like home. It connects me with my own heart and the Father's heart. The connection is both love and purpose, a love expressed by doing the work of implementing shared purpose. The KPI is not just how well you run the machinery and process the paper, it's how well you hear the Father's voice, articulate His purpose, and see the hearts of other people.
A new command I give you: Love one another.
As I have loved you, so you must love one another.
By this all men will know that you are my disciples, if you love one another.
#3. Work is Worship – Something strange happens when we get excited and engage in Father's purpose. It feels like the wind is at our back. Coincidences, divine appointments, and miraculous interventions all underline how God providentially collaborates with us. For the first time as sons, our confidence soars, and we command the blessing of heaven with the authority of family members. Jesus is not ashamed to call us brothers (Heb 2:11) because the mojo in our business is that we're engaged in our Father's business.
Here is the irony of Kingdom business. We do care about principles, process, and procedures. But it's for a higher purpose. We know there is no life in recipes, regulations, and the intellectualism of opinions and traditions. Life comes from an experience with the living word. A knowable person (Jesus) is our way, our truth, and our life. We get purpose in heaven (every day) and steward its manifestation on earth. The cloud moves, the purpose adjusts, the paper changes, and we flow in a river of light and love and life. It's fun, and it blesses people. It's Reformation!
I tell you the truth, anyone who has faith in me will do what I have been doing.
He will do even greater things than these, because I am going to the Father.
And I will do whatever you ask in my name, so that the Son may bring glory to the Father.
You may ask me for anything in my name, and I will do it.
Father's Offer – We snapped a picture of Four Experiences Father has for all of us, why the hearts of business leaders are drawn to them, and how we're helping you take your unique next step. The reaction to hearing the stories that go with these experiences causes all of us to want to be part of this movement, part of what Father is doing through sons to bless People, Communities, and Businesses. (Links are live in PDF)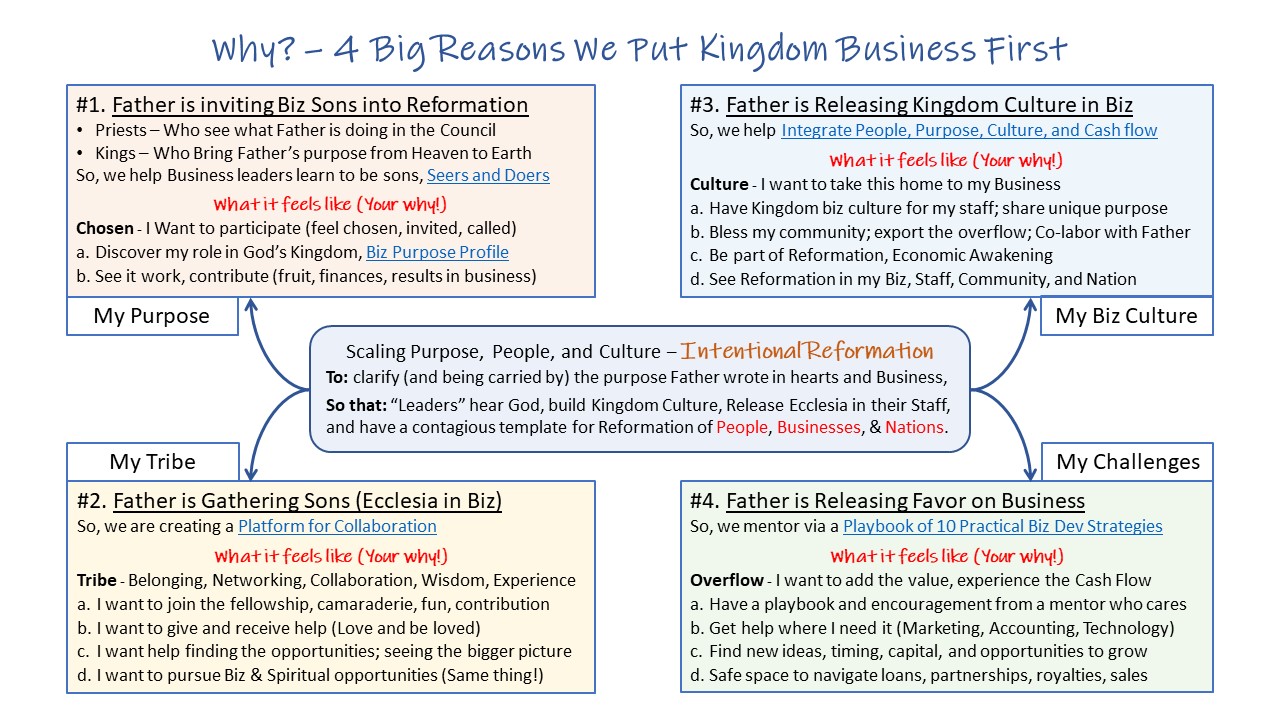 Start with a Purpose Profile – We help businesses transition to the joy and prosperity of a Kingdom business culture by leveraging your unique purpose to ignite your staff and customers. The fun begins when you discover "the why" God wrote in your heart. We marry the cultural and practical side of sound business practices. Cash flow comes from a well-motivated, engaged staff and a wisely managed, value-based business built on a Kingdom purpose already written in hearts. We have the coaching resources to help you shift the culture and respond to the challenges. The starting place for your 4 Experiences is a Purpose Profile.
Here is where to start:
Cutting Room Floor
Receiving What Father Already Has for You in Heaven, in the Council
Larry Tyler sent me a YouTube video by Derrick Prince. "John – good content, here's a 10-minute video featuring Derek Prince which I feel complements what you are saying here but states it somewhat differently in a way that makes very good sense to me."
Derrick makes the simple point of John 3:27. Instead of competing or grasping or pushing for our goals, we are in the Kingdom business of receiving on earth that which has already been given to us in Heaven (in the Council)! We do press for what we have seen in heaven. We wrestle for things already given to manifest on earth. But we are not just chasing the rabbits of every fleeting whim. The desires Father has written in our hearts (Ps 37:4) and the living words we have seen in the Council are all things already in Father's heart. We carry his purpose and initiate plans to bring heaven to earth, but we're on the same page as Father. That is the definition of righteousness, equity of character, and actions; on the same page! Life in our business starts with hearing Father's words, and His purpose. Our work and the work of our business is bringing that purpose to earth. When we align with God's purpose, we sign up for His co-laboring with us to make it happen – It's miraculous! Our life and business flows! We feel Father's wind at our back!
John 3:27 – John answered and said, "A man can receive nothing unless it has been given him from heaven."
Ps 127:1 – Unless the Lord builds the house, its builders labor in vain. NIV
John 5:19 – "I tell you the truth, the Son can do nothing by himself; he can do only what he sees his Father doing, because whatever the Father does the Son also does. 20 For the Father loves the Son and shows him all he does. Yes, to your amazement he will show him even greater things than these. 21 For just as the Father raises the dead and gives them life, even so the Son gives life to whom he is pleased to give it. NIV
Matt 16:19 – I will give you the keys of the kingdom of heaven; and whatever you bind on earth shall have been bound in heaven, and whatever you loose on earth shall have been loosed in heaven." NASU
Matt 4:4 – 'Man does not live on bread alone, but on every word that comes from the mouth of God.'"
Matt 7:21 – "Not everyone who says to me, 'Lord, Lord,' will enter the kingdom of heaven, but only he who does the will of my Father who is in heaven. 22 Many will say to me on that day, 'Lord, Lord, did we not prophesy in your name, and in your name drive out demons and perform many miracles?' 23 Then I will tell them plainly, 'I never knew you. Away from me, you evildoers!' NIV
Acts 5:38 – Leave these men alone! Let them go! For if their purpose or activity is of human origin, it will fail. 39 But if it is from God, you will not be able to stop these men; you will only find yourselves fighting against God." NIV
Acts 11:21 – The Lord's hand was with them, and a great number of people believed and turned to the Lord.
1 Cor 3:6 – I planted the seed, Apollos watered it, but God made it grow. 7 So neither he who plants nor he who waters is anything, but only God, who makes things grow. NIV
Phil 2:12 – for it is God who works in you to will and to act according to his good purpose. NIV
Phil 3:12 – that I may apprehend that for which also I am apprehended of Christ Jesus. KJV
James 1:17 – Every good and perfect gift is from above, coming down from the Father of the heavenly lights.