Entrepreneurial types are thoughtful, creative people (IQ). Successful businesspeople also have good people skills (EQ). There is a movement, a yearning in their hearts to gain Spiritual Intelligence (SQ). God is inviting businesspeople into sonship. The Holy Spirit is talking to businesspeople about engagement in the Kingdom, playing their role in a Reformation.
That invitation shows up in our hearts as a yearning in four areas:
Sonship – I want to experience being chosen by God as a son.
Purpose – I want clarity on my Purpose; to experience the wisdom of why I'm here, the story.
Not superficial accountability for religious recipes, principles, formulas, or scripts.

Culture

– I want to be part of the momentum of Ecclesia.
It's wisdom to be included in this movement: emulation, not envy.

Cash Flow

– I want to take this home and see it work in my business
to create value, community, and cash flow.
This came up while creating the marketing copy that connects Purpose and brand (see Kingdom Business Culture Field Guide). We realized one of the great axioms of coaching, counseling, and working with leaders in General. They want to be found, not fixed! The key to sonship is relationships, not recipes. "Kingdom Principles" is an oxymoron that misses the King. It's our carnal, religious bondage to servanthood that substitutes rules and regulations for conversations with Father. Translation:
Fixed – The guide imposes his own purpose, path, and procedures on us.
Found – The guide helps me discover my Heart, Purpose, Passion, Path, and Practice.
We convert my Purpose into a brand reputation and an exciting marketing message.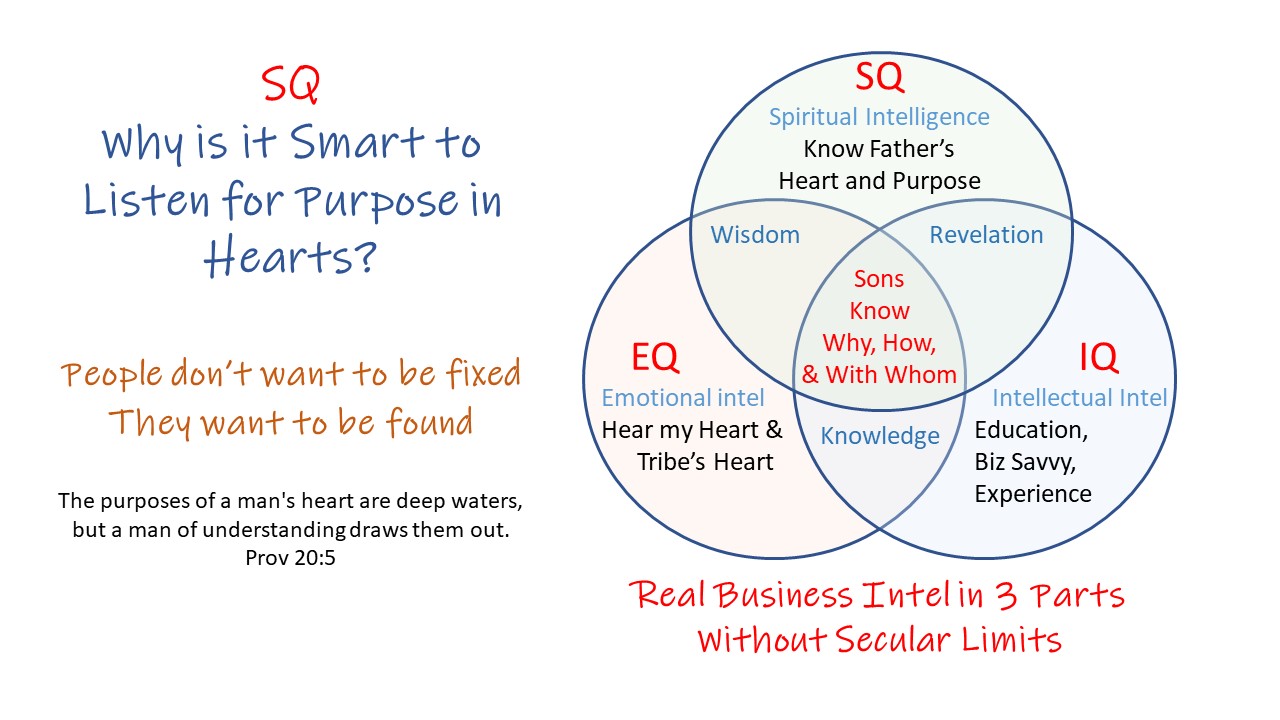 The essence of Kingdom business is not God telling us what to do. It's all about engaging us in His Purpose and creating space for initiative and creativity from His sons. We're clear on our Father's Kingdom purpose, but implementing that purpose on earth releases the entrepreneurial spirit wired into our hearts. That's what business hearts are searching for, and that's the goal of any encouragement that comes through business mentoring or coaching. When aligned with Father's Purpose, the business tactics take on a much more manageable perspective, and we can make wise decisions out of clear purpose.
Want a peek into the conversations that are happening in the Council?
Why Biz People Are Attracted to Kingdom Biz
What God is saying to sons / How hearts are feeling, responding
Summary – I want to feel the presence, see the Purpose, experience the wisdom, and apply the knowledge.
Father

– You're no longer an orphan, alone, left out. You're invited to the party, the fellowship. Other sons are waiting for what you bring, what you carry, what I've written in your heart.
I want to be part of something bigger, what Father is doing; I want to be your son, hear well done!
Jesus

– I've redeemed your book. You have a purpose. We can help you find it.
 I long for Purpose, meaning, my role. Who can help me find it? Show me how to clarify it?
The relational mentor who can encourage, be the sounding board, hear what you put in my heart?
Holy Spirit

– The wind is blowing on a movement, a reformation that touches people, businesses, nations.
I want to feel the presence of God in business. How can I bring that to mine? Prophesy it?
How can I ignite/unite my leadership team around shared Purpose (our unique Kingdom purpose)?
Wisdom

(Strategy) – There is a Spirit of Wisdom in Kingdom business.
She is not just a learnable skill, but a knowable person. You're invited!
Lord, show me, teach me. I want to experience the wisdom, touch it. I want to join this, be a part.
I want to duplicate success. I want help, sense of belonging, shared Purpose. (1 Kings 10:1-13)
Understanding

(Tactics) – Anyone can do this; it's contagious; it's becoming yourself!
Lord, I want to be freed to be myself, join the flow, have the fun, experience the fruit, the finances.
Lord, show me clear, practical, actionable tactics I can take home and put to use.
How can I be the son who sets other captives free? Champion the jailbreak? (Isa 61, Lu 4:18)
Counsel

(my role) – Counsel about your role comes from your seat at the Council; conversation and stories. Your life has a theme, the experiences of the past can be redeemed. There is a path, a calling for you and your business; it's unique, not cookie-cutter.
Lord, I want to fulfill my Purpose on earth. Defeat enemies, do the exploits, Lay crowns at your feet.
Teach me to hear your voice, be in my seat in the Council, Bring Heaven to earth. (Pro 8:14)
Might

(my authority) – Father is doing exploits through sons. You can be part of His army.
You can learn to rule and reign with Jesus over obstacles in your business.
Lord, I want my business to work. I want to be victorious in the spiritual warfare.
Victorious over all the practical business issues – be a model of your Spirit and Might.
Knowledge

(the big picture) – Sons are being invited to a Reformation
that makes a difference in Communities and Nations.
Touches lives, lifestyles, and economies.
Lord, I want to be part of this, to leverage my business for your purposes. Show me how.
Fear of the Lord

(Honor) – Put the Kingdom first, and all these things will be added…
Buy the field, get the pearl (Mt 13:43-48). Honor your sonship.
Lord, I want to be a man of God, your ambassador. I want to lead other sons.
I cherish the election in my life. Show me the fullness of it. How to honor it, prioritize it, do it.
 Purpose Profiles – We help businesses transition to the joy and prosperity of a Kingdom business culture by leveraging your unique Purpose to ignite your staff and customers. The fun begins when you discover "the why" God wrote in your heart. We marry the cultural and practical side of sound business practices. Cash flow comes from a well-motivated, engaged staff and a wisely managed, value-based business built on a Kingdom purpose already written in hearts. We have the coaching resources to help you shift the culture and respond to the challenges. The starting place is a Purpose Profile (see examples).
Here is where to start:
Share your experience in the comments.
What's the biggest draw pulling Business people into Kingdom Business Culture?