Ascending to the Council Made Simple
If Father was inviting believers to occupy their seats in heaven as sons, would you want to be at that banquet? Would you really tell the Lord, "I think I'll pass, thanks anyway?" Ascending & Experiencing the 7 Spirits in Father's Council has made a huge difference in my prayer life – conversations with Father, et. al.
The cosmic storyline you're being invited into has this Biblical progression of God's Kingdom:
The original sons in God's Council who fell (Gen 6:2)
Those fallen sons still govern; why the nations rage (Deut 32:8-9, Ps 2:1, Acts 4:25)
They are being replaced by us/Sons (Rom 8:19)
In the Council/Ecclesia (Heb 2:10-12)
So, sons can bring Heaven to Earth; Reformation to the Nations (Mt 28:19)
The 10-minute summary video explanation of these 5 points is here, https://youtu.be/W3rcNQcDhdA
Where do I start? Here is a list of additional resources I recommend:
God is repopulating His Council with Sons who use Jacob's ladder (Jesus the bridge, Jn 1:51) to ascend to heaven so they/we can bring Heaven to Earth (Reformation to Nations)… the real definition of Ecclesia is sons and daughters who are in the Council; returning with Purpose for the 7 mountains; Working with people who share Kingdom purpose.
Ps 84:7 – They (sons of God) go from strength to strength, Every one of them appears before God in Zion. NASU
Rom 8:29-30 – For those God foreknew he also predestined to be conformed to the likeness of his Son, that he might be the firstborn among many brothers. 30 And those he predestined, he also called; those he called, he also justified; those he justified, he also glorified.
Heb 2:10-12 – In bringing many sons to glory, it was fitting that God, for whom and through whom everything exists, should make the author of their salvation perfect through suffering. 11 Both the one who makes men holy and those who are made holy are of the same family. So Jesus is not ashamed to call them brothers. 12 He says, "I will declare your name to my brothers; in the presence of the congregation I will sing your praises." NIV
Rev 4:5 – Before the throne, seven lamps were blazing. These are the seven spirits of God. NIV
Rev 5:6-7 – Then I saw a Lamb …He had seven horns and seven eyes, which are the seven spirits of God sent out into all the earth. NIV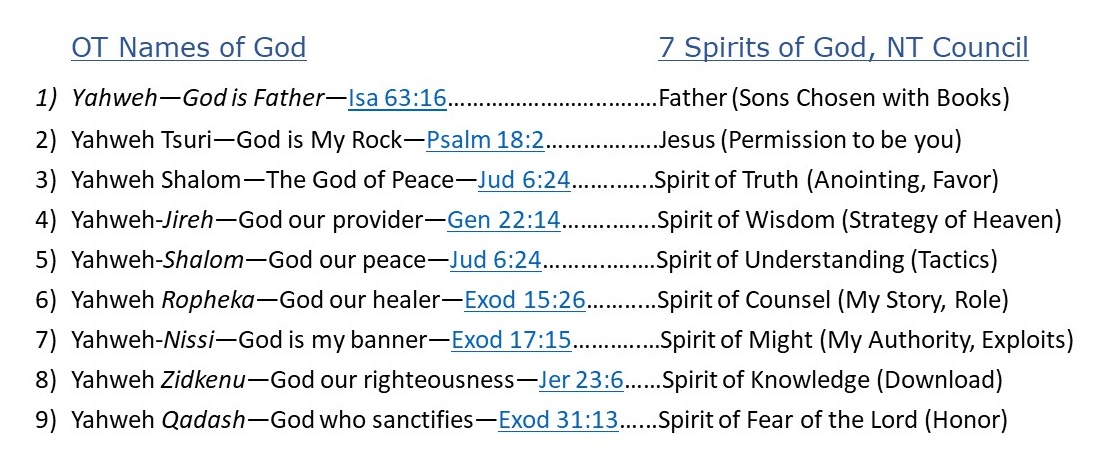 More questions? – Why would business leaders want to go to the Council? 1) It provides a format to revolutionize your prayer life, and 2) the Courts of Heaven is a big part of setting captives free, and 3) leadership itself has a priestly function in Business that blesses people.
Questions from Father For Sons (Council Conversation Topics)
This is a place to start, a topic you can take to the council regarding your Book, calling, and heart's desire.
John 15:16 – You did not choose me, but I chose you and appointed you to go and bear fruit — fruit that will last. Then the Father will give you whatever you ask in my name.
John 15:17 – This is my command: Love each other.
Suggestion – don't just write down your intellectual answers. Have the conversation in the council, then write based on what you hear.
Chose you and appointed you (For What?)

Go and bear fruit (What fruit?)

Fruit that will last (How?)

Whatever you ask in my name (What are you asking for?)

Love each other (How are you loving?)
For John (example)
#1. Chose you and appointed you (For What?)
To champion Kingdom Biz culture
To set captives free into sonship (Courts and Council)
To make bringing heaven to earth normal, doable.
To anoint Sees and Doers; sons
#2. Go and bear fruit               (What fruit?)
7 books on amazon
100's of blogs, videos
Pulling many people into their hearts, books, sonship
Kingdom business culture via coaching
#3. Fruit that will last               (How?)
Sons will disciple other sons into Seeing and Doing
Building a culture, a habitation for God in Business
An Ecclesia in Business gathered around their Kingdom purpose
#4. Whatever you ask in my name (What are you asking for?)
HD Kingdom Biz Culture, platform for many others, a firstfruits
Business Leadership teams start in the Council
A movement, preparing a way with a new wineskin
A Reformation of Nations, Cities, Businesses, and People
Come Holy Spirit
#5. This is my command, Love each other (How are you Loving?)
Helping people connect with their hearts/book honors them; feels like love
The gospel is helping people become themselves – jailbreak (they love themselves).
Setting captives free from accusations in the Courts (No more condemnation)
Q&A about the Courts and Council
#1. Are there any prerequisite spiritual conditions, experiences, or beliefs?
A – Salvation, Baptism in Holy Spirit; some background in prophetic discernment helps, but His people hearing His voice is the real principle at work.
#2. Do I need a mentor, or can I start by myself?
A – Beverley Watkins accidentally mentored me. She did a court session for me during a stressful period of my life. Then, I got her to help people from my circle on Skype calls. After about the 3rd person she asked me what I was seeing. "Nothing." After about 10 people I started to connect and share what I was getting/seeing. After Court sessions for about 20 of my friends over two years, Beverley quit, and I had to do it myself. It worked great to my surprise. Mentoring does help if you have that option. If not, trust the Holy Spirit to guide you into all truth and go for it (some of our resources will help). BTW, no mentors were available for the council. I chatted with Beverley about it, and she was supportive, but it was learn-as-you-go. I did have live council sessions via the Seers and Doers zoom course for a couple of years to help others. Seers and Doers on Amazon was the textbook. We've since written Intentional Reformation to put it in the business Context.
Our goal is the mentor the CEO in a business and a few of their leadership team, such that they can instill Courts and Council themselves and build their own Kingdom Business Culture.
#3. What preparations should I make?
A – Realize heaven is thrilled to have you and Father loves to share his heart with sons who seek Him. Come to the council prepared to be part of, even start, the conversation. Come with questions and some awareness of what is already in your book. Your role in doing what Father is doing and sharing his purpose is the overarching theme (Reformation). You will bring back "purpose."
#4. What should I expect to hear/see?
A – Create an opportunity for Father, Son, Holy Spirit – 7 Spirits to speak. Be willing to listen until you hear or see; Have faith for it, an expectation that Father wants to show you His business.
#5. Is it more valuable to ascend to the council alone or with others?
A – It can be either devotional or as a team. I think the primary application is personal. However, learning in the presence of a mentor or group, or gaining the balance of a team of 2 or 3 peers can be good. Allow Father to lead you to different places in different seasons.
#6. How do I deal with the thoughts that going on behalf of my business is selfish?
A – Father wants to make your name great (Gen 12:2). He is equally interested in blessing your business in regard to its role in the Kingdom. Concern yourself with putting the Kingdom first, and Father will put you first.
#7. How do I know that what I hear in my heart Is not my imagination?
A – I take notes during the session and type them up when I'm done (1-2 hours). Seeing it in writing is a great opportunity for discernment. You can also share it with others and see if it resonates. It's no different from discerning anything prophetic on the fly.
A2 – Learning to discern, yet not rely on intellectualism is a huge bridge in this prophetic realm. We are coming out of our heads/minds and experiencing the prophetic ring that comes through our spirit. Intellectualism is one of the big religious strongholds we have to defeat.
#8. Where can I go or what can I view to see this in action?
A – We see sonship, Courts, and Council as kingdom key Father has given us to bring heaven to earth in practical areas like business. We are not trying to sound spiritual or serve as tour guides to heaven. This is the lunch bucket version that works on earth in the 7 mountains. We want the Kingdom fruit on earth to show itself in business.
A2 – We have been working with Tobe Finch (Happy Day Restaurants). David Harris interviewed Tobe about coaching with John and made the following short clips. You'll find them helpful and insightful.
#9. Do you have any case studies from other businesses?
A – No, But Tobe does have 13 restaurants, a catering business, and 550 employees. We're planning on expanding this theme of coaching people into Kingdom Business Culture in thousands of businesses. Want to help?
#10. What common mistakes can I avoid?
A – When in the council with others, it's a challenge for people not to turn it into a Home Group where everyone is invited to speak. The goal is to say what Father is saying and hear from Him, not one another. People naturally want to contribute opinions, verses, and exhortations… none of which are appropriate in the Council.
#11. What are some practical follow-up steps/how should I treat Council information?
A – I try to journal it, then type it up and save it. That process helps me discern it and implement it in my own life. It's also a prophetic format that can be shared with others when appropriate. Since it's devotional (My communication with Father). I'm not trying to publish it.
You are invited to add more questions in the comments.