What's your dream? – We often view God and our lives from a perspective that we shouldn't get our hopes up because another shoe is about to drop. Unfortunately, enough bad things have happened to all of us to birth something between pessimism and healthy skepticism.
The answer is in the nature of God. Will he give us the desires of our hearts? Or. are we deceitful and desperately wicked so God would never think of answering us? Human depravity is real in some instances, but the half-dozen verses people quote to prove depravity all apply to one person or one group at one point in history. Doubt about God's generosity comes from lousy theology in our religious heritage. It leads us to believe ambition is a bad thing and passivity or neutrality is a good thing. That's just religious BS. Here is a glimpse of how God feels about the desires of your heart.
Ps 16:11 – You have made known to me the path of life; you will fill me with joy in your presence, with eternal pleasures at your right hand. NIV
Ps 20:4-5 – May he give you the desire of your heart and make all your plans succeed. 5 We will shout for joy when you are victorious and will lift up our banners in the name of our God. May the Lord grant all your requests. NIV
Ps 37:4 – Delight yourself in the Lord and he will give you the desires of your heart. NIV
Luke 11:9-13 – "So I say to you: Ask and it will be given to you; seek and you will find; knock and the door will be opened to you. 10 For everyone who asks receives; he who seeks finds; and to him who knocks, the door will be opened. 11 "Which of you fathers, if your son asks for a fish, will give him a snake instead? 12 Or if he asks for an egg, will give him a scorpion? 13 If you then, though you are evil, know how to give good gifts to your children, how much more will your Father in heaven give the Holy Spirit to those who ask him!" NIV
John 15:11 – You did not choose me, but I chose you and appointed you to go and bear fruit — fruit that will last. Then the Father will give you whatever you ask in my name. NIV

Kingdom – This Kingdom age has a simple entry requirement. Father asks us what we would like to do Faith is our ability to believe God for good things. Righteous is our ability to be on the same page with Father. Kingdom is the space where the desires of our hearts match our Fathers. Since Father wrote the desires on our hearts as our inheritance, we shouldn't be surprised when Father is delighted in fulfilling our aspirations. Father's sons and daughters are supposed to have desires, ambitions, hopes, dreams, goals, and confidence God wants to grant them (Faith).
What are the desires of your heart? – The desires God wrote in our hearts are unique and flow from the purpose in our Book or calling. We use a mind map and put the purpose in the middle and flow the desires of our hearts into the four quadrants of life (our Vocation, Ministry, Relationship with God, and Family).
Get excited – The key isn't to create laborious goals that discipline us into doing what we don't want to do. The goal is that our purpose and aspirations match what's in God's heart and thrill our hearts simultaneously. You do have a purpose from Heaven. When it's prophetically correct, it's exhilarating and rewarding because it's something we're created to do that we love doing. Our calling is an expression of our identity and the launch pad for our creativity and industriousness. Work is a blessing when we stay in sync with our purpose.
Chasing your future – Once we fill our mind map with purpose and direction, there is a place in the spirit where we can see ourselves in our future. Each of those bubbles is where Father says, "Come up here, and I will show you things to come." It's not enough to have dreams. They have to be prophetically authentic and enticing to our hearts. We imagine (use our seer gift) to see them so we can reel them in with faith, decrees, and mind maps. We're also intentionally allowing our hearts to experience that aspiration becoming a reality. Allow yourself to taste and see how these victories will feel. Keep in mind that your purpose and mind map can be centered around your personal life or business.
Where will I be (Looking back from the future)
"Emotional Why" (How it will feel?); "Vision" – what does it look like?
What's the Next Step?
We created a template that embellishes the mind map format and provided the rest of John's example  and Tobe's example so you can get a feel for your own first draft. It's a spiritual experience. Taking the desires of your heart seriously is a great way to connect with Father's heart and to see progress on your dreams and the Kingdom.
I'm not ashamed of Intentional Reformation and am not afraid to ask for people, businesses, and nations. It's all in my Book and in my Father's heart. I'm responsible for bringing some stuff from Heaven to earth, and I'm excited to do it. It's worship that blesses Father's heart.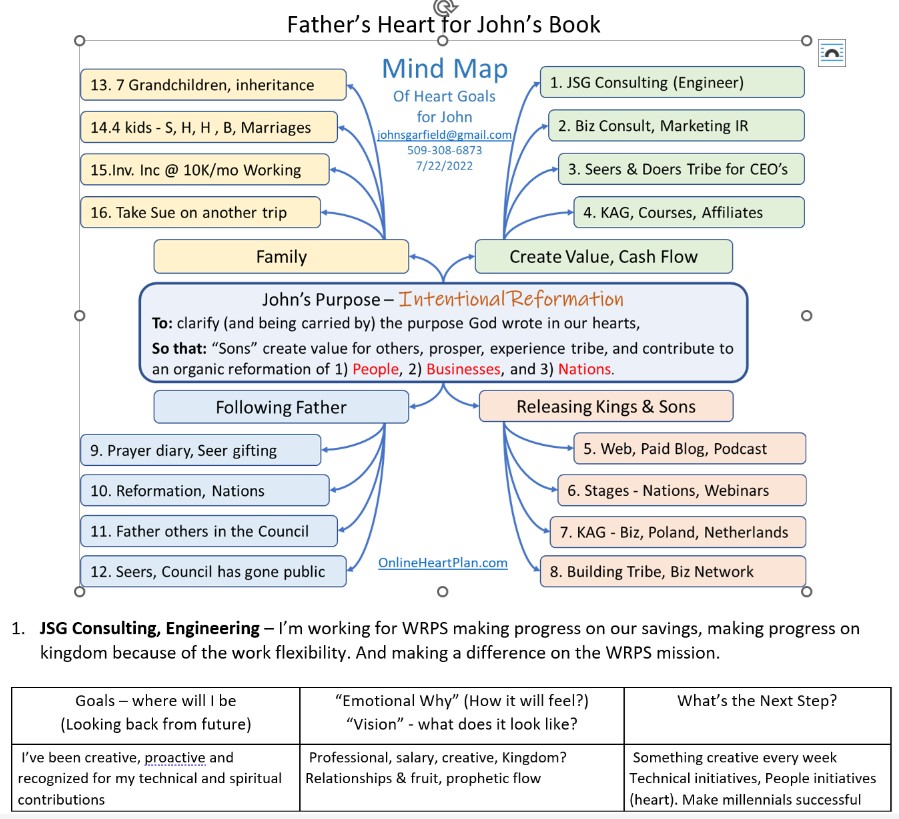 Father is taking us through a progression that starts with our Kingdom purpose and works through our life story, brand, community, and business. It's exciting.
Purpose (Clarity, sharing Father's heart, seeing in the Council, doing what He is doing) Mind Map
Aspirations (when your dream(s) come true, how will it feel, look?) Aspirations
Story (the context, How Father has woven purpose in our past, present, and future) Story & Video
Brand (Reputation, identity, who you are, and where you're going) Prophetic Tag line
Marketing (Evangelism, your level of enthusiasm for your call / book) Communication Strategy
Harvest (How the dream works for your Team, Clients, and Cash Flow) Testimonials From Team
Resources – The purpose of Heaven for each of us is already written in your heart and can be seen and heard in the Council. Your business can shift from a Christian business full of obedient servants to a Kingdom business full of creative and industrious sons who make a difference. We help people and businesses get their prophetic purpose in writing and then make it happen on earth. Taste and see! Tools to get started are here:
Intentional Reformation Intro (A free diagnostic you will enjoy along with our purpose & Values)
Nail your Purpose Field Guide (A place to start clarifying your heart's desires)
OnlineHeartPlan.com (Our web site and online Courses)
USA Book (proof we can get our arms around the books of people, businesses, and nations
Other books by John S Garfield are available on Amazon: