And the world is passing away along with its desires,
but whoever does the will of God abides forever. 1 John 2:17 ESV
Any statement like this tied to "abides forever" gets my attention. It doesn't necessarily mean physically living forever on this earth. Abide has the connotation of continue, and Aion or age is the concept of the next season. This verse and John's life are in the context of the temple destruction and Jerusalem's fall in AD 70. So "surviving to the next season" through this apocalyptic mess was a relevant topic. The Will of God is:
Will (Thelema G2307) – determination, choice, purpose, decree
Static or Living? – The will of God (His current, dynamic purpose) is something we receive in the Council via conversations. It's living, and it flows with mid-course corrections. We often think of the will of God as static, unchanging principles or doctrinal truths. We also have a tradition of trusting people as part of a healthy discipleship process (ministers, prophets, writers, mentors, theologians, etc.). In my own life, I've been prone to define the will of God intellectually through my affinity for people, principles, and values more than having a conversation in the Council! The Word of God, the will of God, and the purpose of God are not stagnant concepts on a shelf – He's alive and moving, and so are His choices, decrees, and purposes! A better question might be, what is your and Father's living, prophetic purpose; What is your living will? What's the dream you and Father bring to earth?
Mt 4:4 – Man shall not live by bread alone, but by every Word that proceeds from the mouth of God
Jn 1:14 – the Word of became flesh and dwelt among us
Heb 4:12 – For the Word of God is living and active, sharper than any two-edged sword
God isn't Predictable – Scaling a business happens when we duplicate repeatable principles and processes and multiply production and profits. That replication mentality breaks down when we try to mechanize people and God (that's called religion). Scaling the Kingdom doesn't lend itself to formulas and automation tied to a philosophy of "if you do this and this, you get this and this." Our opinions, willpower, and works don't move God or advance the Kingdom. Is the term Kingdom Principles and Values just my bag of worksey formulas with proof texts I use to direct myself and others? You can hear Father saying, Give it a rest!
Heb 4:9 – There remains, then, a Sabbath — rest for the people of God;
10) for anyone who enters God's rest also rests from his own work, just as God did from his.
11) Let us, therefore, make every effort to enter that rest, (people, values, & principles)
                so that no one will fall by following their example of disobedience.
12) For the Word of God is living and active. Sharper than any double-edged sword… NIV
Things we substitute for going to the Council and getting Father's purpose in conversations. These are things Father winks at when we are new to ascension, but as we mature, they become candidates to be taken to the cross in the Courts of heaven. We know Him better than to entertain idolatry.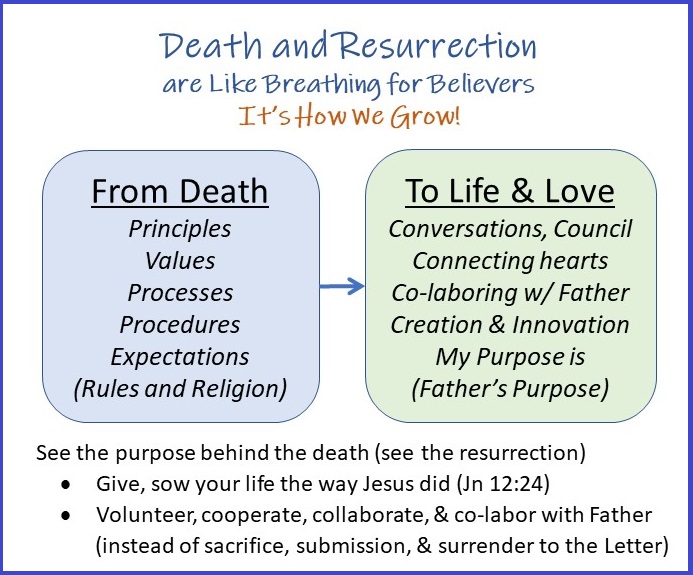 My Principles, Values – God always does it this way (proof texts); it's His wisdom, way, pattern.
My People – Other people have gone before me, and they do it this way.
My Theology/Traditions – We always do it this way, It's in the Bible (Isa 55:8-9).
My Crumbs – The Holy Spirit gave me this puzzle piece in a leading, hunch, word, dream, vision, or divine appointment,
and I assumed the rest based on 1-3.
My Prophet – He said God said.
My Expectations – But God told me He would do this a long time ago!
The Age of Sonship – This transition from the letter to the Spirit touches one of God's agendas. He is moving servants who know His ways to sons who ascend and seek His face and know His heart. He wants a conversational relationship with Sons who share His heart and discover that doing what He desires already matches what He wrote in their heart's desires. Kingdom is too much fun and relational to call it obedience or service or sacrifice. We're sons who eagerly volunteer to share Father's heart and bring His Kingdom to earth. The most shocking reality is shifting:
From Static Principles and Values

To Seeing

– the purpose and passion of Seers and Doers doing what Father is doing (Jn 5:19)

Then Asking

– for whatever it takes to bring Father's purpose to earth.
When we connect with Father's living purpose, you can ask for whatever you need to make it happen – it's not about me! It's about Father's purpose…
which is actually in my heart… so it is about me, and when it happens, it is a dream come true! It's my dream coming true!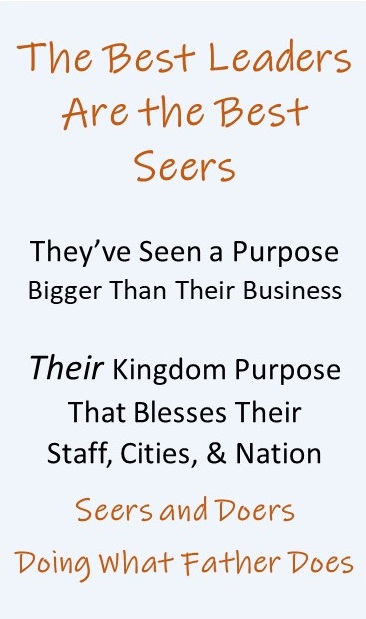 John 14:12 – whoever believes in me will also do the works that I do; and greater works than these will he do, because I am going to the Father. 13 Whatever you ask in my name, this I will do, that the Father may be glorified in the Son. 14 If you ask me anything in my name, I will do it. ESV
John 15:7 – If you remain in me and my words remain in you, ask whatever you wish, and it will be given you. 8 This is to my Father's glory, that you bear much fruit, showing yourselves to be my disciples. NIV
John 15:15 – I no longer call you servants, because a servant does not know his master's business. Instead, I have called you friends, for everything that I learned from my Father I have made known to you. 16 You did not choose me, but I chose you and appointed you to go and bear fruit — fruit that will last. Then the Father will give you whatever you ask in my name. NIV
John 16:23 – In that day you will no longer ask me anything. I tell you the truth, my Father will give you whatever you ask in my name. 24 Until now you have not asked for anything in my name. Ask and you will receive, and your joy will be complete. NIV

The transition is from sheep who are Led and Fed to sons who Ascend and Aspire.
The difference is seeking Father's Purpose in the Council and Initiative on Earth.
Ascending To the Council Made Simple
Purpose Profiles – We help businesses transition to the joy and prosperity of a Kingdom business culture by leveraging your unique Purpose to ignite your staff and customers. The fun begins when you discover "the why" God wrote in your heart. We marry the cultural and practical side of sound business practices. Cash flow comes from a well-motivated, engaged staff and a wisely managed, value-based business built on a Kingdom purpose already written in hearts. We have the coaching resources to help you shift the culture and respond to the challenges. The starting place is a Purpose Profile (see examples).
Here is where to start:
Cutting Room Floor
"Ascending" and "Mountains" are often code for the Council.
Ps 24:3 – Who may ascend the hill of the Lord? Who may stand in his holy place?  NIV
Ps 43:3 – Send forth your light and your truth, let them guide me; let them bring me to your holy mountain, to the place where you dwell.  NIV
Ps 84:5 – They go from strength to strength, Every one of them appears before God in Zion. NASU
Ps 132:13 – For the Lord has chosen Zion, he has desired it for his dwelling: 14 "This is my resting place for ever and ever; here I will sit enthroned, for I have desired it NIV
Jer 31:5 – 'Come, let us go up to Zion, to the Lord our God.'" NIV
Matt 3:16 – As soon as Jesus was baptized, he went up out of the water. At that moment heaven was opened NIV
Matt 5:1 – Now when he saw the crowds, he went up on a mountainside and sat down. NIV
Matt 14:23 – After he had dismissed them, he went up on a mountainside by himself to pray. NIV
Matt 15:29 – Jesus left there and went along the Sea of Galilee. Then he went up on a mountainside and sat down. NIV
Matt 16:18 – on this rock (Mt Hermon) I will build my church ESV
John 1:51 – Then he said, "I tell you the truth, you will all see heaven open and the angels of God going up and down on the Son of Man, the one who is the stairway between heaven and earth." NLT
John 20:17 – Jesus said, "Do not hold on to me, for I have not yet returned to the Father. Go instead to my brothers and tell them, 'I am returning to my Father and your Father, to my God and your God.'" NIV
Acts 10:9 – About noon the following day as they were on their journey and approaching the city, Peter went up on the roof to pray. NIV
Heb 12:22 – But you have come to Mount Zion, to the heavenly Jerusalem, the city of the living God. You have come to thousands upon thousands of angels in joyful assembly, 23 to the church of the firstborn, whose names are written in heaven. You have come to God, the judge of all men, to the spirits of righteous men made perfect NIV
Rev 4:1 – After this I looked, and there before me was a door standing open in heaven. And the voice I had first heard speaking to me like a trumpet said, "Come up here, and I will show you what must take place after this." NIV