God's Kingdom has always been distributed. Power is invested in sons and daughters of God (the King), and they are assigned to the nations in each of the Seven Mountains. Centralization of religion under a single pope, potentate, or apostolic figure has worked about as well as communism.
God's Kingdom does have tribes (a body), and it does have leaders, but the difference is that they lead sons and daughters who are also wired into God himself. Every believer comes with the Father's DNA and an internal guidance system called the Holy Spirit (aka the Spirit of Truth). Each of them can hear the Father's voice, and these simple "sheep" can discern hirelings quite easily.
John 14:17-18 – the Spirit of truth (Holy Spirit). The world cannot accept him because it neither sees him nor knows him. But you know him, for he lives with you and will be in you. 18 I will not leave you as orphans NIV
John 10:27 – My sheep hear My voice, and I know them, and they follow Me; NASU
1 John 2:27 – As for you, the anointing you received from him remains in you, and you do not need anyone to teach you. But as his anointing teaches you about all things and as that anointing is real, not counterfeit — just as it has taught you, remain in him.  NIV
Snarky? – Jesus called the scribes and Pharisees blind guides, fools, full of dead men's bones, unclean, serpents, vipers, and hypocrites. If you or I do that today, we'll be accused of being judgmental or snarky. The religious spirit wants us to see the good and say nice things. However, the Keys to the Kingdom bind the dark and loose the light. Spiritual warfare starts with discernment of evil and a confrontation that takes courage (that many believers are short of).
Decentralization has been a kingdom principle since the Tower of Babel (The first attempt at Globalization). Demonic structures are always a hierarchy with a theme of control in the absence of free will. Communism, Fascism, and religious isms all work the same way. Satan or his figurehead requires allegiance; the spirit of antichrist is the sense of claiming to be God or to speak for him.
2 Thess 2:4 – He will oppose and will exalt himself over everything that is called God or is worshiped, so that he sets himself up in God's temple, proclaiming himself to be God.
The graphic below is negative but true. Globalization is a threat to freedom around the world. Organizations and people that promote this dark agenda are easy to recognize by simply allowing the words from their videos and the actions of their dark souls to speak for themselves.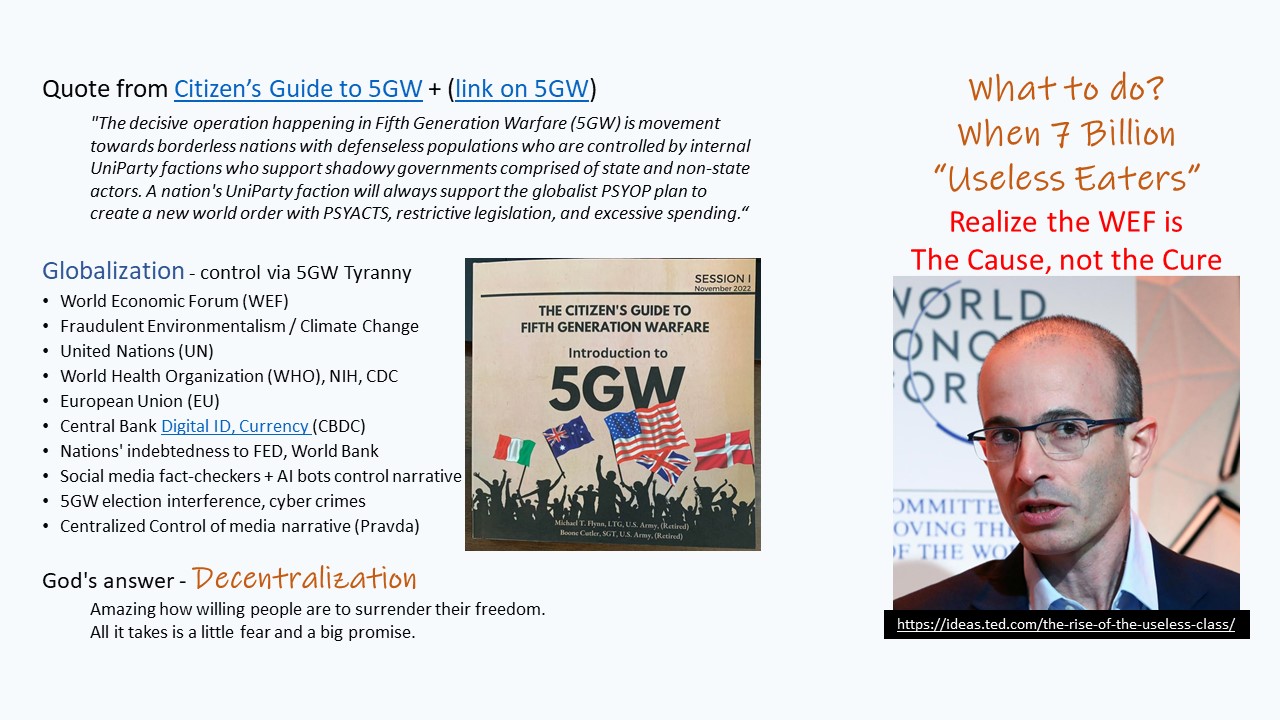 What is the answer – We are not ignorant of enemy devices. Globalization and centralized power has always been an easy target for demonic structures. The balance of power in our constitution is routinely violated spiritually and constitutionally.
Father is doing two things that we can join in on – It is fun to join the Fray.
God is exposing evil hidden in high places. Globalization is just the surface. At the core are things like pedophilia, child trafficking, drugs, graft, election steals, and hundreds more. The open Southern border in the US in intentional and has resulted in 20-40 million illegal migrants; an attack on the nation conducted by our own congress. Fifth Generation Warfare (5GW) is very close to spiritual warfare on the level of deception.
The second Kingdom reality is decentralization. We will win, God's Kingdom will be established on earth, and nations will be blessed. The duration and the level of tribulation to get there are not known. The US is as much at war right now as Ukraine. Decentralization is a spiritual answer to limit tyranny and a practical answer to supply chain disruptions. The belief that God must have someone to take care of us and protect us is true – It's you and I, my friend.
How will decentralization help? Here are a few of the ways.
Mindset – servants believe someone farther up the hierarchy will save them. The hierarchy is the problem, not the solution. Personal responsibility before God is a better answer.
Creativity – a life dependent on hearing Father's voice and being present in Father's Council is a place of safety. Who promised never to leave us or forsake us? He is the answer. His power in us is sufficient.
Matt 16:19 – I will give you the keys of the kingdom of heaven; whatever you bind on earth will be bound in heaven, and whatever you loose on earth will be loosed in heaven. NIV
Luke 10:17 – "Lord, even the demons submit to us in your name." NIV
Acts 1:8 – But you will receive power when the Holy Spirit comes on you; and you will be my witnesses in Jerusalem, and in all Judea and Samaria, and to the ends of the earth." NIV
Eph 3:20 – Now to him who is able to do immeasurably more than all we ask or imagine, according to his power that is at work within us NIV
Eph 6:10-11 – Finally, be strong in the Lord and in his mighty power. NIV
You're the answer – Here's what you may have missed. God's answer to establish His Kingdom on earth and defeat the powers of darkness is His sons. Yes, Jesus paved the way, but He is a firstborn son. Father's goal is to work through people like you and me to bless the nations with Reformation, bring heaven to earth, and establish his Kingdom right here, all in the Name of Jesus (see cutting room floor).
It will be Dicey – Warfare is not for the faint of heart. Many believers who will go to heaven are out of action or supporting the wrong team right now. Sons will feel like Gideon's 300 when they put the Midianites to flight (miraculously), and the rest of our team will join in for the mop-up and get the same pay. You and I are only deciding to be part of the 300 or part of the 30,000.
It will be Glorious – His glory will be revealed in His sons and daughters. Sure, it is confusing and scary. There will be real risks and real casualties. But the thrill of doing what Father is doing and seeing the captives set free, the blind eyes opened, and nations delivered from oppression is too good to pass up.
Conclusion – I'm simply suggesting that we engage. Outwardly our nation is nearly gone, except for God's grace and power. Your next question will be, John, What should I do? What's my first Act? Ask the guy in Charge, my friend. He's been waiting for you to occupy your seat in heaven.
PS: start by reading Mike Flynn's Citizen's Guide to 5th Generation Warfare.
I asked Father about the future in the Council. Here's what He showed me.
John, come up here, and I will show you things to come:
Sons assemble to bless and repossess nations.
Righteousness occupies the tops of the seven mountains.
Glory, blessing, and abundance begin to flood the earth.
People connect with what Father wrote in their hearts.
(Kingdom culture in businesses and schools)
Son's frequent Courts and Council (They delight in putting the enemy to flight).
Nations place themselves at Father's feet in worship (A spirit of repentance and Cleansing).
Mercy triumphs over Judgment (It's surprising how many defect from the enemy camp).
Tribes form around Kingdom purpose (Ecclesia) and bring heaven to earth practically.
There is a flood of new inventions, innovations, technologies, and breakthroughs.
An abundance of life and life more abundantly breaks out around the world.
Light vs Dark – I also contrasted the Truth of what Father is doing with the standard Globalization rhetoric. God's Kingdom is a bright future; globalization is very dark. We will all be invited to join the Kingdom or coerced to join a dark future. The WEF Risks are not really risks; they are each an agenda item fueled by the 5GW narrative to control the worthless eaters. Some of those worthless eaters are sons who will turn the tide and already are. The media echo chamber supporting this WEF narrative is collapsing on Davos. Notice that pandemics are not on this year's list!
Josh 24:15 – But if serving the Lord seems undesirable to you, then choose for yourselves this day whom you will serve, whether the gods your forefathers served beyond the River, or the gods of the Amorites, in whose land you are living. But as for me and my household, we will serve the Lord." NIV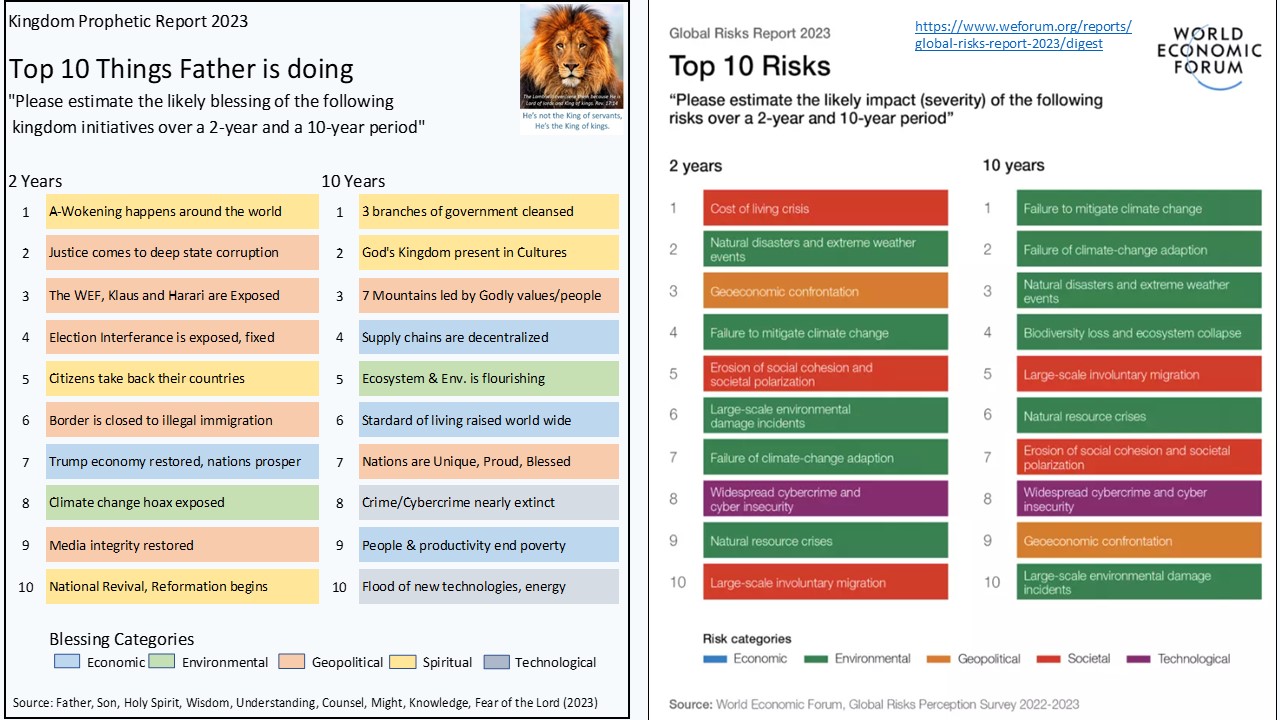 Cutting Room Floor (God's role for sons) from

Jordon Raynor
Exodus 7:1-2 – Then the Lord said to Moses, "See, I have made you like Then the Lord said to Moses, "See, I have made you like God to Pharaoh, and your brother Aaron will be your prophet. You are to say everything I command you."
Jer 1:7-10 – But the Lord said to me, "Do not say, 'I am only a child.' You must go to everyone I send you to and say whatever I command you. 8 Do not be afraid of them, for I am with you and will rescue you," declares the Lord. 9 Then the Lord reached out his hand and touched my mouth and said to me, "Now, I have put my words in your mouth. 10 See, today I appoint you over nations and kingdoms to uproot and tear down, to destroy and overthrow, to build and to plant." NIV
God could have set the Israelites free all on his own. He could have taken human form, walked straight into Pharaoh's palace, and led the Israelites out of Egypt for good.
But that wasn't his strategy as today's passage makes clear. The Lord said to Moses, "I have made you like God to Pharaoh." In other words, while God could have done this work on his own, he chose to do it through Moses and Aaron.
Why? Was it because God had more important things to do? No. It's simply because this is how God has always chosen to operate. All throughout Scripture, we see that while God is perfectly capable of working on his own, often, he chooses to work in this world through human beings.
That was true with Moses thousands of years ago, and it's true with you and me today. In the words of Tim Keller, "We are called to stand in for God here in the world…as his vice-regents." His deputy kings and queens. This is precisely what Paul was getting at in 2 Corinthians 5:20 when he calls you and me "Christ's ambassadors." Think about the role ambassadors play on behalf of nations today. They themselves are not sovereign. But they stand in for and represent their sovereign and the values of their kingdom.
So it is with God and his kingdom. One of the purposes of our work is to "stand in for God" and be what James Davison Hunter calls a "faithful presence" for him in our places of work. To be "like God," not to Pharaoh but to our bosses, co-workers, and customers.
What does this look like? It means exposing evil in our companies and industries (see Ephesians 5:11), "making [God's] appeal" of salvation to the non-Christians we work with (see 2 Corinthians 5:20), and working "heartily, as unto the Lord" knowing that it is through our work that God feeds, heals, clothes, protects, and helps the world (see Colossians 3:23).
The purpose of your work is so much bigger than providing for your needs or fulfillment. You wear what Martin Luther called "the masks of God," standing in for him in your small corner of creation. Stand in as a bold, joyful, and faithful representative of him today!