The kingly side of leadership is familiar territory for business mountain owners, CEOs, and managers. We get to tell people what to do and manage the company and the cash flow. However, leadership in a Kingdom Culture has two sides (Priest and King). Unfortunately, few managers have a clue or an aptitude for living out the priestly half. Nor do they grasp their potential to manage the spiritual atmosphere over their business and people. So, we've paved a road to take the mystery out of Kingdom Leadership. We painted a picture of what a priestly leader in a Kingdom Culture looks like. You can do this!
Flying Lessons – Wisdom from Heaven is not a metaphor. What's new in God's Kingdom is sonship; sons who ascend to Heaven in the spirit to the Courts of Heaven and Father's Council. Want to be a Kingdom leader? Learning to navigate the Courts and Council is the place to start (flying lessons). Father is inviting sons and daughters to do what He's doing (Jn 5:19) and help bring Heaven to Earth. We own the responsibility and opportunity to bring reformation to people, businesses, and nations. As sons, we have a unique and strategic purpose. We're also being invited to a deeper level of relationship with Father. We have a seat in Heaven, and we're experiencing the Courts of Heaven and Father's Council. Ascension is the first practical step for sons bringing Heaven to earth.
We're not waiting for a sign; we're taking our seat at Father's table, hearing the conversations, seeing what Father is doing. Finding the will of God is no longer a meandering scavenger hunt. The promptings of the Holy Spirit are no longer charismatic stoplights (green for go, red for stop, and yellow for caution). Father loves to show His sons what He is doing. Sons are totally comfortable with ascending, asking, seeing, and birthing the next Kingdom Reformation on earth.
Kingdom leaders have this distinctive glow that is apparent to all (you have it, or you don't). Those who bring wisdom and understanding from Heaven in leadership initiatives carry prophetic authority. Without sounding religious, what sons offer resonates with other people's spirits, even if they're not yet saved. Changing mindsets with logic is a distant second to offering hearts something from Heaven they can choose. This culture makes space for people to change their own mind. Kingdom is an all-volunteer army of people who choose life; it's energizing, liberating, disruptive for our religious spirit, and fun for everyone who says yes!
The Spirit of Wisdom – Leadership in business or politics navigates a competitive and contentious mix of big egos and spiritual warfare. Leaders who have been in the council for conversations with the spirit of Wisdom and Understanding have strategies and tactics that surpass human understanding. These leaders bring the fragrance of heaven and the liberation of truth. It's the difference between heart and mind; between prophetic unction and intellectualism; between God's way and our way! It's leading people to a path and a person that sets captives free and solves real-world problems. It's inventing new things and re-inventing old things. Father's Kingdom Culture invites creativity and connects people with the dreams and desires of their own hearts; spiritual fathering helps people become themselves. Priestly sons put a spirit of worship in business.
Standing in the Gap in the Courts – Leadership is going before; it's the priestly role of making atonement. The frailties and dysfunctions in people have roots in spiritual dynamics that Jesus redeems in the Courts of Heaven. Kingdom leaders know how to manage the spiritual atmosphere over their business and their people. That can mean Courts of Heaven sessions at work or by proxy to break the chains holding people in bitter emotions and flawed behavior. Kingdom leaders can travail in birth until Jesus is formed in hearts, and they consider it part of their job description. It's not complicated, and it's not hard, but it is impossible without dealing with accusations and releasing books in the Courts of Heaven. The Kingdom answer to missing the mark is hitting the mark; knowing what is in our book and doing it!
Ps 84:7 – They go from strength to strength, Every one of them appears before God in Zion. NASU
Ps 139:15-16 – When I was woven together in the depths of the earth, your eyes saw my unformed body. All the days ordained for me were written in your book before one of them came to be.  NIV
Phil 3:14 – I press toward the mark for the prize of the high calling of God in Christ Jesus. KJV
note to self: Captives don't usually set themselves free
A Culture of Open Books – Kingdom is a business culture where the books or callings on people's lives are known and read by all men. The answer to the chaos and competition in worldly cultures is simply knowing our own assignment from Heaven. We are each unique, gifted, and called by our Father to make a heroic contribution to His Kingdom in our work. A Kingdom leader builds his Tribe, an Ecclesia with a corporate calling to bless our staff, city, and nation. A Kingdom culture in a business is the Ecclesia that can answer the chaos in personal lives. When we know what's in our co-worker's books, we have a more prosperous business and a warm culture that feels like we care for one another, like a spirit of worship. Business leaders have 40 hours a week to pull people out of chaos and into destiny, into their book! We build big when we think small; our business culture is built on honoring the books of individual people.
Be Priest and King – There is a road map that will help you navigate opening your business book, building a Kingdom Culture, and adding the priestly function to your resume. The Kingdom Business Culture Field Guide will help you transition to a style of leadership that facilitates a prosperous Kingdom Culture in your business. These eight steps are not lessons to learn or principles to apply; they are experiences that will transform your business team and get your books in writing. People thrive in Kingdom Cultures, especially in business. There are eight reasons why: Your staff will love the eight ingredients in this Kingdom Culture Pie!
Becoming ourselves
Having a story
Aspiring to something great
Freedom from accusations
Sharing purpose
Having fun, Enthusiastic
Telling stories of heroism
Belonging to a Tribe
It works – We beta-tested the Kingdom Business Culture Field Guide with Tobe Finch (Happy Day Restaurants). He has a clear purpose for himself and his business on a mind map, a road map of aspirations to fulfill his Kingdom assignment, and a compelling story that makes sense of his past, present, and future. The next step is honoring his 13 store managers and 550 employees with the same cultural phenomenon of Kingdom. It's a jailbreak from the chaos, and it works for people, businesses, and nations!
The eight modules are free; each has a 10-minute video, short narrative, graphics, and downloads.
We do the consulting, relationally mentor the experiences, and measure the metrics in business settings.
Questions? (JohnSGarfield@gmail.com or text 509-308-6873).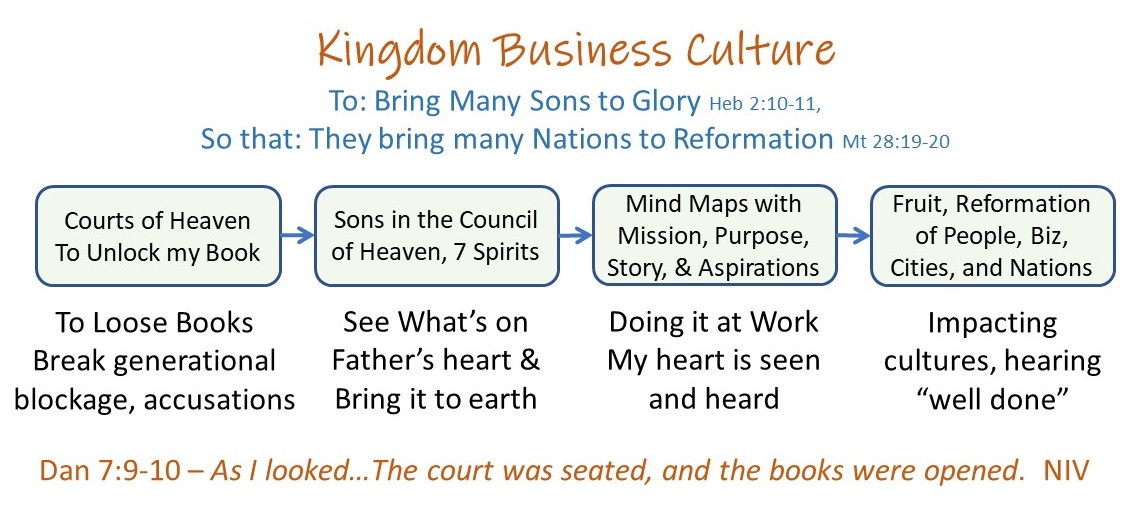 FAQ
Q – Are the businesses you are connected to partnering with Intercessors for their businesses? (Grant)
A – Hi Grant, Some are, I'm sure. Our message does not oppose partnering with intercessors, but our emphasis is to fill that role yourself. Going to the courts and council is not something to delegate.