People have problems – Some are a bit self-inflicted, but resistant to change because they are there for a reason. And, people occasionally like those reasons more than they like your help. For example, wounded hearts try to lighten the pain with substances abuse that ends up being addictive. Said another way, the wounding is the root cause or purpose behind the problem.
Sometimes problems have roots outside us; in our circumstances, our generational DNA or curses in our bloodlines. The resulting problem and coping mechanism are still resistant to change and still driven by a hidden purpose or power. Counselors and therapists can make a good living working on these kinds of problems because they often last a lifetime. Being a Christian counselor and waiving Bible verses at problems typically doesn't work either.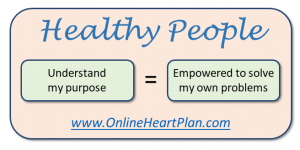 What does work? – Purpose defeats problems every time. We can and should help one another, but the biggest revelation isn't the latest cure-all fad that comes down the line. People who grasp their purpose in life are empowered to solve their own problems (Rom. 8:28). If we solve a problem apart from purpose, we can open a door to make it seven times worse (Lu 11:24-26).
Many problems have roots in spiritual warfare which are leveraged in compromises in me or my family line. I have tendencies toward sin and iniquity. The irony is that the more I focus on my problems, or my personal frailties, the less likely I'm going to get at the root. Problems have a cause! Even identifying and focusing on the root cause usually doesn't work! Problems get addressed in the context of knowing my purpose in life. We're designed to turn from the wrong thing to the right thing. Turning from the wrong thing to nothing isn't a solution – you'll go right back.
It's my Kingdom purpose that gives me the direction, the power and, most importantly, the reason to overcome problems whether they have roots in my character failings, spiritual warfare, generational tendencies or circumstances. The fact is that God leaves a few giants in the land to help us stay connected to our Kingdom purpose! If you aren't in touch with your purpose and the strategy of heaven, problems make a convincing argument that God has abandoned us. Paul had a thorn in the flesh. There are many theories about what it was – it doesn't matter. It was a problem for Paul that caused him to ask God to remove it – without success. However, his purpose carried him through the problem. His purpose was like a giant compared to the enemy-inflicted problem, and it didn't stop him. It strengthened him. His power was perfected in weakness (2 Cor. 12:7-9). Paul not only saw his life purpose; he even found a redemptive purpose in his problem.
Jud. 3:1-4 –  These are the nations the Lord left to test all those Israelites who had not experienced any of the wars in Canaan 2 (he did this only to teach warfare to the descendants of the Israelites who had not had previous battle experience): 3 the five rulers of the Philistines, all the Canaanites, the Sidonians, and the Hivites living in the Lebanon mountains from Mount Baal Hermon to Lebo Hamath. 4 They were left to test the Israelites to see whether they would obey the Lord's commands, which he had given their forefathers through Moses. NIV
Prov. 17:3 – The crucible for silver and the furnace for gold, but the Lord tests the heart.  NIV
1 Peter 4:12-15 – Dear friends, do not be surprised at the painful trial you are suffering, as though something strange were happening to you. 13 But rejoice that you participate in the sufferings of Christ, so that you may be overjoyed when his glory is revealed. 14 If you are insulted because of the name of Christ, you are blessed, for the Spirit of glory and of God rests on you. NIV
When you know your purpose – Unlike Paul, most of our problems can be overcome instead of endured. God designed us to be more than conquerors. We're not designed to be needy victims on the tether of therapists, counselors, and medication. When you know your purpose, the way around an insurmountable problem (giant) will show itself. David's kill Goliath's every time – it's no contest!
1 John 2:27 – As for you, the anointing which you received from Him abides in you, and you have no need for anyone to teach you; but as His anointing teaches you about all things, and is true and is not a lie, and just as it has taught you, you abide in Him. NASU
Want to help someone? Please don't try to solve their problems and feed their victimhood with your heroism. Their problems are precious and should be saved for them to solve, not you. Help them:
Find the purpose God wrote in the desires of their heart,
Help them confirm that purpose prophetically so they can hear God say it themselves,
Help them craft a plan to make that purpose a reality (spiritually, financially and practically),
When their dream comes true, help them celebrate and dance on the heads of those problems.
Eureka – We accidentally discovered this truth helping people find their purpose in the Online Heart Plan and Seers and Doers. Some otherwise normal-looking people with wonderful potential were all facing significant challenges and transitions that were beyond my ability. I didn't solve a single problem, but I did help them identify their purpose, and between them and God, a whole bunch of giants got slain. They had so much fun, they started helping one another and a tribe formed. Adullam's cave is full of mighty men. It's a party out there. Kingdom is wonderful!
Your "higher Kingdom purpose" is like a ladder that lets you climb out of an introverted swamp of personal problems. When you see your life and calling from God's perspective, it's not that hard to be an overcomer. When everything is about me and my problems, the swamp becomes a permanent home and we learn to live in tragedy. The ladder takes us to a place where we can find a redemptive purpose for our lives and even our problems. Defeating them is the stuff of resurrection. We have a heavenly Father who works all things for good – once the purpose He wrote in our hearts comes first. It's not painful or sacrificial – it's fun!
Rom. 8:28-30 – And we know that in all things God works for the good of those who love him, who have been called according to his purpose. 29 For those God foreknew he also predestined to be conformed to the likeness of his Son, that he might be the firstborn among many brothers. 30 And those he predestined, he also called; those he called, he also justified; those he justified, he also glorified. NIV
Foreknew – from the counsels of heaven, before birth. God is predisposed to use me.
Predestined – What is written in the book. I have a destiny worth pursuing.
Called – we feel the call. It's written in the desires of our hearts.
Justified – receive decree in court to have what is in our book. Warfare can't stop me.
Glorified – Walking in our destiny; fulfilling what is written in our book. I can make the contribution, do the exploit, be the hero and have some glory to give back to the Father as worship.
You're Invited – We've developed two online courses to bring prophetic and practical clarity to your purpose, vocation or business and a success-path to seeking the Father in the courts of heaven and the council. It's an experience with the Father and a relational tribe that works.
Stories from this tribe are here.
The Heart Plan ($997) – (OnlineHeartPlan.com) will help you fish your purpose out of the deep waters of your heart and get it in writing. Watch the free videos. You can take this class anytime or wait for the next round, and we'll go through it again as a group with weekly zoom calls (Starts September 6). The Heart Plan is based on the ideas in Releasing Kings.
Prov. 20:5 – The purposes of a man's heart are deep waters, but a man of understanding draws them out.
Seers and Doers ($997) – (Seers-and-Doers.com) will help you navigate the courts and council of Heaven with your Father and the Spirit of Wisdom in a practical way. Start with Seers and Doers via Amazon.com.
Ps. 84:7 – They go from strength to strength, Every one of them appears before God in Zion. NASU
Scaling up to a Wealth Mentality ($97) – is our newest self-help course. We think you'll enjoy it. Great lead up to the Heart Plan.