The video is here,
Note: I wrote up two courts and council prayer sessions to go with this blog. The first is my own courts of heaven session – Courts of Heaven for Serfdom. The second is a Council session with prayer for others called Recovering Spiritual Masculinity. I think you will enjoy both.
One of the most exciting things about becoming a Seer and a Doer in heaven is that our Father not only shows us what's in His heart, but He reveals what's in our book and the resources we can bring back to earth to make it happen. As a disciple of the Kingdom, a son, you have the keys to unlock a personal storehouse overflowing with everything you need to accomplish your and your Father's purpose from wisdom to healings to finances. Said another way, as sons we have access to an inheritance that belongs to us. We have a Father who expects us to use it.
Matt. 13:52 – And Jesus said to them, "Therefore every scribe who has become a disciple of the kingdom of heaven (Has keys) is like a head of a household, who brings out of his treasure things new and old." [emphasis mine] NASU
Gal. 4:1-7 – What I am saying is that as long as the heir is a child, he is no different from a slave, although he owns the whole estate. 2 He is subject to guardians and trustees until the time set by his father. . . 7 So you are no longer a slave, but a son; and since you are a son, God has made you also an heir. NIV
Our history in serfdom – Israel spent 400 years in slavery in Egypt. When they got out of Egypt, it was no coincidence that they still had a propensity for falling back into bondage. Even in the Roman period slaves were considered property and had no legal personhood. At the end of Roman rule in 300-400 AD, landowners increasingly relied on serfs instead of slaves to provide labor. For over 1000 years until the reformation and the industrial revolution, 80-90% of Europeans were serfs without freedom to leave the landowner's estate. The Middle Ages was a time of violence and hardship. Peasants and serfs were glad to have the protection of the manor lord. In a sense, they were happy to be serfs and volunteer for the deception and subjugation!
Jer. 5:31 – The prophets prophesy falsely, and the priests bear rule by their means, and my people love to have it so. KJV
Serfdom is an unfortunate generational heritage for all of us. Serfdom is in our DNA and so is choosing the lifestyle! We're very prone to relate to God as a serf (masking it as spirituality by calling ourselves servants and stewards). Entering the Father's courts or council as a king and priest is something serfs, servants, and stewards naturally resist because of the ensnaring iniquity empowering serfdom.
From Serfs to Sons – This storehouse concept is too good to be true for most of us. The doubts have well-founded spiritual roots in both generational heritage and personal experience. A serf mentality is not just a poverty spirit; it's much deeper than money. It's a sense of being left out, overlooked, marginalized, excluded from opportunity, ruled by oppressive leaders, trapped in a meaningless job. It's the paralyzing fear that we have no future leads to resignation (others view it as laziness). It's especially wounding for believers because we believe we should have purpose, bear fruit and be living examples of God's favor!
Life does have hard seasons. Serfs eventually translate their hard life to a belief that God must be "hard" too. "He is sovereignly in control of my difficult life, and He's not fixing it."
Matt 25:24-25 – "Then the man who had received the one talent came. 'Master,' he said, 'I knew that you are a hard man, harvesting where you have not sown and gathering where you have not scattered seed. So I was afraid and went out and hid your talent in the ground. See, here is what belongs to you.'  [emphasis mine] NIV
The belief that God is a hard man is a deception that we can only escape with repentance, but it is also a justification for our failure. It's a welcome deception because it explains my surrender of responsibility for my own life (hiding my talent). Have you heard "formulas" from hirelings where they say just do this, like give or serve, and it will all be taken care of, God is appeased, "I" will take care of it for you? The list of serf symptoms includes several more things:
Generationally and personally, serfs have agreed for their serfdom – and justify it
Love of deception and subjugation (let others/God take responsibility for my life)
A surrender to God's sovereignty that translates to passivity, false contentment
Hyper spirituality, I'm a spirit who doesn't have to produce fruit or finances in this life
Judgmental, prejudice, opinionated, self-righteous – fearful the success of others will unmask my serfdom (Serfs believe everyone should sign up for serfdom).
Sons look like this – Sons understand that God harvests where He has not sown because we have the privilege of partnering with Him – We're the ones called to sow! God never intended to do everything! Sons view themselves as included and called for something much bigger than themselves (Kingdom). So, when life is hard, they interpret the resistance as warfare opposing their Father, not just them. They know their Father will work good out of it (Rom. 8:28). When they fall, they anticipate the power of His resurrection after the fellowship of his suffering (Phil. 3:10). Sons are not surprised by setbacks or rejection. They are glad to be counted worthy to suffer shame for His name. Their deaths are the source of the fragrance of Jesus in their life, the power of their words, and the favor on their deeds. Sons feel like they are winning, even when they are losing!
You received a spirit of sonship (Rom. 8:15) – Sons do carry a favor that sets them apart from serfs. Their faith, fruit, and finances are neither accidental nor coincidental.
Sons walk in a spirit of repentance. Their path to the council goes through the courts of Heaven! My own example/experience in the courts of heaven stepping out of serfdom is here
Sons share their Father's heart and see themselves as having a piece of the action (metron). They know what's in their book (Ps 139:15-16)
Sons have favor because they go to heaven, hear the strategies, and get their inheritance
Sons have a storehouse in heaven, and they boldly access their inheritance and manifest it on earth (Mt 13:52)
Sons don't take defeat personally, neither height (success) nor depth (failure) separate them from their Father's council. "Every one of them appears before God in Zion" (Ps 84:5-7)
Their cups overflow because they give value (spend themselves) for people and nations. They are not just fellowshipping with their Father; they are doing what He is doing (Jn 5:19)
Somewhere, deep in all of our DNA, is a highway to our Father and a yearning to be in His council. All creation is waiting for sons and daughters to appear before God in heaven's council . . . So they can play their role in inheriting the nations (Ps 2:8). Their cups are running over like the river that flows from them – a surplus of favor and fruit and finances.
Ps. 84:5-7 How blessed is the man whose strength is in You, In whose heart are the highways to Zion! Passing through the valley of Baca (weeping) they make it a spring; The early rain also covers it with blessings. They go from strength to strength, Every one of them appears before God in Zion.  NASU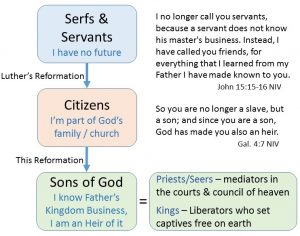 Suggestions:                                                                                                                                              
If you're one of those young lions hungry to birth a reformation in the Netherlands, contact Marcel van den Berg http://opzoeknaarhetkoninkrijk.nl/
Podcast #5 with Tyler McCart
Podcast #3 and #4 Micro-church– The most recent interviews with Shae Bynes
Podcast #1 and Podcast #2 – fun interviews with Steve Reiter and John Ramstead
Books – Releasing Kings and Desire to Destiny
Heart Plan in Europe – HeartPlan.eu
For those of you who own a Business, join Larry Nault and myself at Building A Kingdom Company.
If you're in education, please get acquainted with David Nycz at http://www.educationviaheart.com/
Releasing Kings is available in French "Libération des Rois pour le ministère dans le monde du travail" ISBN:  978-90-78643-08-1
 Releasing Kings is available in Dutch "Moderne Koningen"