The video is here.
There are seven promises in Revelation 2 and 3 to overcomers. The Greek work is nikao, which means to subdue. Gen 1:28 immediately comes to mind where Adam is given the commission to multiply, replenish the earth and subdue it. In Hebrew subdue is kabosh.
Rev 2:7 –  "to him who overcomes will I give" . . . 7 things. G3529 (nikao) = Subdue
Gen 1:28 – "Be fruitful and multiply and replenish the earth and subdue it" (kabash)
Subdue = H3533 (kabash) tread down, conquer, subjugate
As sons we have a Father who wants us to put the kabosh on enemy strategies first and then give us some amazing promises second. I want to know how!
Put the Kabosh on (1) – It's not really my personal prowess that causes enemies to flee or problems to be solved. Jesus put the "Kabash" on the enemy for us. He overcame for us. Our warfare comes from a place of victory and rest – not to be understood as passivity or inaction. We all face challenges and our strategy is to labor to enter into that place of rest where we're leveraging His power in us. We're shaping circumstances into His image – making a difference in the world. We're here for a reason.
John 16:33 – "In the world you will have tribulation; but be of good cheer, I have overcome the world."
1 John 4:4-5 – "You are of God, little children, and have overcome them, because He who is in you is greater than he who is in the world."
Luke 10:18-20 – "I saw Satan fall like lightning from heaven. I have given you authority to trample on snakes and scorpions and to overcome all the power of the enemy; nothing will harm you. However, do not rejoice that the spirits submit to you, but rejoice that your names are written in heaven."
Put the Kabosh on (2) – Our first job to appropriate that victory in the courts of heaven. Victories come fairly easy in the Kingdom – unless we have accusations left unanswered. Our defense against those accusations (whether true or lies) is the same. We're appearing in the courts of heaven, repenting and washing away any condemnation with Jesus' blood. Then, we're releasing our book and going back to work on our dream.
Rev 12:11 – "They overcame him by the blood of the Lamb and by the word of their testimony"
Rev 15:2 – "And I saw what looked like a sea of glass mixed with fire and, standing beside the sea, those who had been victorious over the beast and his image and over the number of his name"
Rev 21:7-8 – "He who overcomes shall inherit all things, and I will be his God and he shall be My son."
Appearing in heaven – Our Father is longing for His sons to ascend into both the courts and the councils of heaven. His heart longs to see your face in heaven and hear your voice in His councils. Heaven includes a storehouse of promises, provisions and people that are only seen when we go there, and only brought back when we experience them. If this sounds mystical, it won't for long. It's normal! The Holy Spirit, healing and prophetic gifts were rejected and then accepted decades back, but cessationism has ceased! Accessing heaven is turning into a movement and everyone is invited.
Song 2:14 –  "Come, my shy and modest dove—leave your seclusion, come out in the open. Let me see your face, let me hear your voice. For your voice is soothing and your face is ravishing." MSG
Heb 12:22-24 – "But you have come to Mount Zion, to the heavenly Jerusalem, the city of the living God. You have come to thousands upon thousands of angels in joyful assembly, to the church of the firstborn, whose names are written in heaven. You have come to God, the judge of all men, to the spirits of righteous men made perfect, to Jesus the mediator of a new covenant, and to the sprinkled blood that speaks a better word than the blood of Abel." NIV
Story – I saw this picture . . . An army of dry bones had been assembled. They were alive, but lights were flashing around them. It was as though they were coming to an awareness of their position in heaven and on earth. I tasted the feeling of being in heaven – over every tribulation and every trial. It was easy! It came from a place of rest; of knowing that I am somehow in Him. It feels like a fortress on one hand that protects me, yet it is mobile and on offense to put the kabosh on enemy gates. On earth, I saw a map of the world with gates at the borders and this army of saints was invading nations and reclaiming what belongs to the Father. I saw Jesus like a general on a great horse. Every foot soldier that saw Him was energized and ran to the fray. It was like John Sobiesky and the Polish hussars galloping up and down the line and looking for a weak spot to liberate Vienna. We formed a "V" and charged right through the line. It was so easy and so exciting . . . so heroic. It was such an honor to follow Jesus and to overcome with many brothers and sisters to "win" something for the Father. It felt natural to come back after the victory and lay our crowns at His feet and worship and exalt Him. I felt "designed" for this. It's who I really am!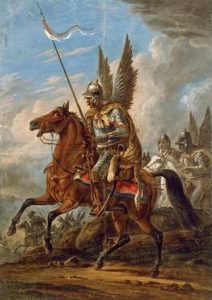 Suggestions:                                                                                                                                              
If you're one of those young lions hungry to birth a reformation in the Netherlands, contact Marcel van den Berg http://opzoeknaarhetkoninkrijk.nl/
Podcast #5 with Tyler McCart
Podcast #3 and #4 Micro-church– The most recent interviews with Shae Bynes
Podcast #1 and Podcast #2 – fun interviews with Steve Reiter and John Ramstead
Books – Releasing Kings and Desire to Destiny
Heart Plan in Europe – HeartPlan.eu
For those of you who own a Business, join Larry Nault and myself at Building A Kingdom Company.
If you're in education, please get acquainted with David Nycz at http://www.educationviaheart.com/
Releasing Kings is available in French "Libération des Rois pour le ministère dans le monde du travail" ISBN:  978-90-78643-08-1
 Releasing Kings is available in Dutch "Moderne Koningen"