The video is here.
Leverage is simply the Kingdom concept of multiplication; the way God does things. Most people work for dollars per hour. The hard truth is that wealth is created when we begin to leverage what we have and develop other streams of income. That means we leverage our money (investments), we leverage our time (economy of scale) and we leverage relationships with people and God so we are collectively more fruitful. It's a spiritual and practical principle that is being emphasized in the Kingdom, in business and in every mountain right now.
Then God blessed them, and God said to them, "Be fruitful and multiply; fill the earth and subdue it Gen 1:28 NKJV
"I will establish My covenant between Me and you, And I will multiply you exceedingly." Gen 17:2 NASU
Isaac planted crops in that land and the same year reaped a hundredfold, because the Lord blessed him. 13 The man became rich, and his wealth continued to grow until he became very wealthy. Gen 26:12-13 NIV
But the more they were oppressed, the more they multiplied and spread Ex 1:12 NIV
But the one who received the seed that fell on good soil is the man who hears the word and understands it. He produces a crop, yielding a hundred, sixty or thirty times what was sown. Matt 13:23 NIV
The man who had received the five talents brought the other five. 'Master,' he said, 'you entrusted me with five talents. See, I have gained five more.' Matt 25:20 NIV
Then the word of God spread, and the number of the disciples multiplied greatly in Jerusalem, and a great many of the priests were obedient to the faith. Acts 6:7 NKJV
"On one side of the spectrum is labor, and at the other (end) is leverage," he says. "The rich employ money to make money. Labor doesn't pay very well but leverage pays extremely well. We're never taught to use leverage. Who teaches you that?" (article)
Economy of scale – The first principle of leverage is multiplying production. Jim and Tracey are father/son ranchers who started working for someone else with a few cows before Tracy was born. After a lifetime of work they have over 400. Each cow is like an employee who produces a calf every year. Its lots of work but 50 cows is almost as much work as 500… and 500 is ten times more profitable. Jim and Tracy work hard, but those 400 cows are also working for them, multiplying their labors.
The same is true in manufacturing, sales and marketing. If we can produce a few widgets or sales, it's not a lot more work or money to produce a few thousand or few million. We just have to believe it's possible and think about how. Wealthy people do this, the rest of us don't.
Financial Leverage – Investments are a way to create additional streams of income without spending more of your time (passive income). Wealthy people do this all the time. In a real sense, it is ministry because when we invest in another person they share the profits in a way that blesses them as well.
Another principle of financial leverage is popularly called using other people's money (OPM). In other words, if we don't have the money to put in a financially leveraged investment or strategy, we borrow it from the savings of others. There are lots of scams built around this principle because people's money is separated from their own hearts to invest in the dream of another. Those susceptible to this OPM fraud always have a common denominator – they don't have a dream of their own and they surrender their decision making and due diligence like sheep led to the slaughter. The genuine version of this principle is finding people who have the same heart.
Leveraging Hearts – Something we find motivating or exciting is also likely to touch others. If we're willing to share our hearts we can find others who also have the same dream in their hearts. Those people might work for us or with us, but because their hearts are involved they are never really employees in a job because their hearts are engaged and they share the excitement, the work and the rewards.
All of our hearts are exactly where our treasure is (right now). How we spend our money tells much more about us than what we say to ourselves or preach to others. The converse is also true. We can help people align with the Kingdom by helping them channel their energies and finances into the dream that God put in their heart.
"Do not be afraid, little flock, for your Father has been pleased to give you the kingdom. 33 Sell your possessions and give to the poor. Provide purses for yourselves that will not wear out, a treasure in heaven that will not be exhausted, where no thief comes near and no moth destroys. 34 For where your treasure is, there your heart will be also. Luke 12:32-34 NIV
Leveraging the Kingdom – The biggest principle of leverage is that our Father is doing something in the earth right now. The more we align ourselves with what the Father is doing, the more fruit we bear and the more we sense the Father's pleasure and hear the words, "well done." Putting the Kingdom first is a smart leverage principle for business in this life and the next.
The theology of leverage – Believing that you can leverage (multiply) your finances and your dream depends on one thing. Do you believe God wants to multiply His favor toward you? If you do, it will be relatively easy to find fruitfulness. If not, it will be impossible. Very simple!
"I will make you into a great nation and I will bless you; I will make your name great, and you will be a blessing. 3 I will bless those who bless you, and whoever curses you I will curse; and all peoples on earth will be blessed through you." Gen 12:2-3 NIV
The second surprising ramification of leverage is in the way you think. If we believe God's favor is toward us, we become much more than obedient servants. We become sons engaged with the heart of the Father and we begin to bring new ideas into the relationship that bless the Father's heart and bring the applause of heaven.
Did you heart that? Servants believe there are no new ideas except what comes from the Father. Servants just do what they're told and copy what they see. Kings actually give themselves permission to invent new things. They see what the Father is doing and volunteer new ideas and new initiatives. The Father has veto power, but He loves entrepreneurial children who understand His heart and offer themselves and their ideas, innovations and ingenuity. That's spiritual maturity. The level of creativity and initiative is totally different between servant and King. Servants would write this initiative off as carnal independence or new age deception. Most of Christianity is still wrestling with this theology right now. It's not an easy transition and that's the reason for Releasing Kings.
The Kingdom reality is that there are inventions and concepts that will be birthed out of the hearts of God's children that are brand new to the universe. We are not just pulling things out of heaven that already exist. We have our Father's creativity… we have been given permission for even greater things. We can give life to ideas and people. We have that much freedom and power. The level of responsibility, privilege and power is so great that servants run from it. Kings use it with reverence and humility as an act of worship to build His Kingdom on earth and bring glory to their Father.
Jesus gave them this answer: "I tell you the truth, the Son can do nothing by himself; he can do only what he sees his Father doing, because whatever the Father does the Son also does. 20 For the Father loves the Son and shows him all he does. Yes, to your amazement he will show him even greater things than these. 21 For just as the Father raises the dead and gives them life, even so the Son gives life to whom he is pleased to give it. 22 Moreover, the Father judges no one, but has entrusted all judgment to the Son… John 5:19-22 NIV
God is very willing to show you his plan and make it known to you through a Spirit of Revelation. There are things waiting to be discovered or released. He is also inviting you to use your creative initiative to come up with something new out of your own heart to fulfill that plan in a Spirit of wisdom. The plan in God's heart and the plan in my heart are now overlapped – That's Kingdom leverage. As a son created in His image, we touch creative new ideas by both spiritual revelations and wise initiatives… all creation is waiting for you (Rom 8:17-19).
I keep asking that the God of our Lord Jesus Christ, the glorious Father, may give you the Spirit of wisdom and revelation, so that you may know him better. 18 I pray also that the eyes of your heart may be enlightened… Eph 1:17-18 NIV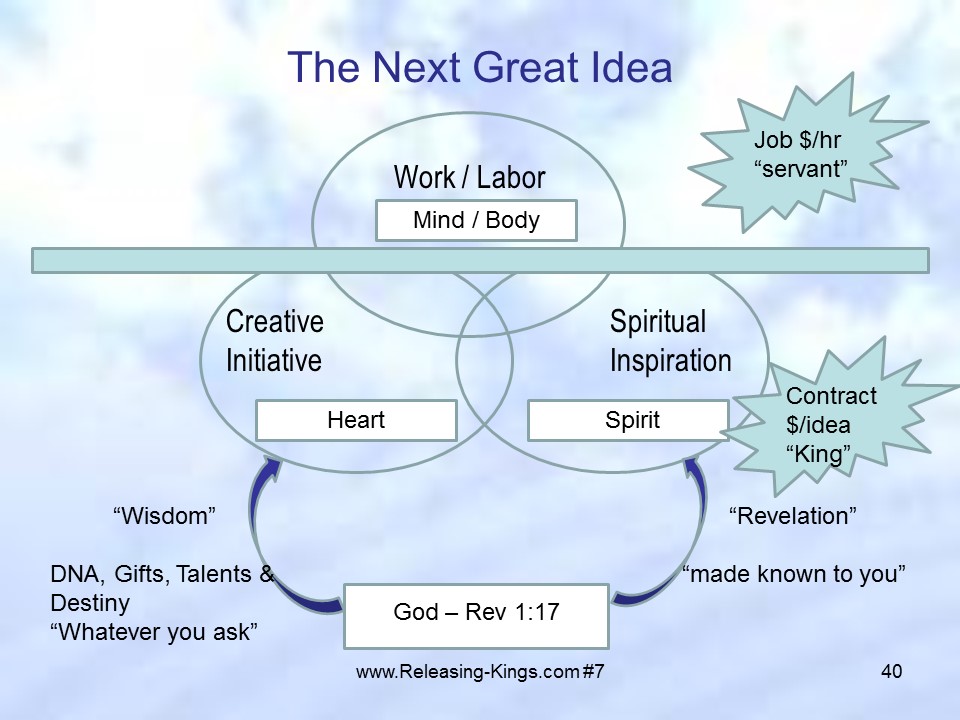 PS: there is a great article on the theological roots of creativity here.