10 keys to your purpose, and the Kingdom Business Coaching Field Guide.
Purpose is one thing, but Kingdom purpose implies you want to do what Father is doing. That's where the real juice is. Is your Purpose prophetically correct (anyone can discern its authenticity)? Is it in Father's heart too? Or is it just "yours." Does it bring others to "life?" Do they resonate?
Your Purpose is why you exist: it's the positive difference you want to make in the world. It flows from the desires God has written in your heart, your book (Ps 139:15-16).
As human beings, Purpose is the core driver of our most important decisions and motivates our most daring actions. Purpose is the language of our hearts – why we do things.
A strong sense of Purpose compels an individual to achieve long-term goals, especially when facing adversity and setbacks. Purpose is what pulls the spiritual help only God can strengthen us with.
Shared Purpose also instantly creates a deep connection with others. It builds instant rapport and trust when we find our tribe with the same Purpose in their heart.
Sharing a common Kingdom purpose is the definition of Ecclesia, the engine behind your Kingdom Business Culture. It carries an ambiance, a sense of God's presence in your business that people can feel. The perfect expression of your brand!
In a world where everyone seeks meaning, Purpose connects us and makes us feel part of something greater. We are here to bless nations with Reformation. It can go viral, starting with people, businesses, cities, then nations.
In his Ted Talk, Simon Sinek explains that 'people don't buy what you do, they buy why you do it.' They are asking if there is room in your Purpose for me? …room in your brand for me?
Companies looking to build their competitive agility are learning to move with the cloud and keep in step with God's actions. Kingdom Purpose provides the differentiation – prophetic agility!
A sense of Purpose, both for businesses and individuals, is the wellspring of innovation and work ethic. It's what attracts talented people who mentor excellence and enthusiasm in the youngsters.
Kingdom Business Culture is the perfect incubator to mature people into their Purpose. We are seeing what God has written in their book and leveraging the business purpose to ignite them. They blossom 40 hours a week in 1-on-1's, small groups, in a creative, industrious culture of people who help and care about one another because they share Purpose – Ecclesia!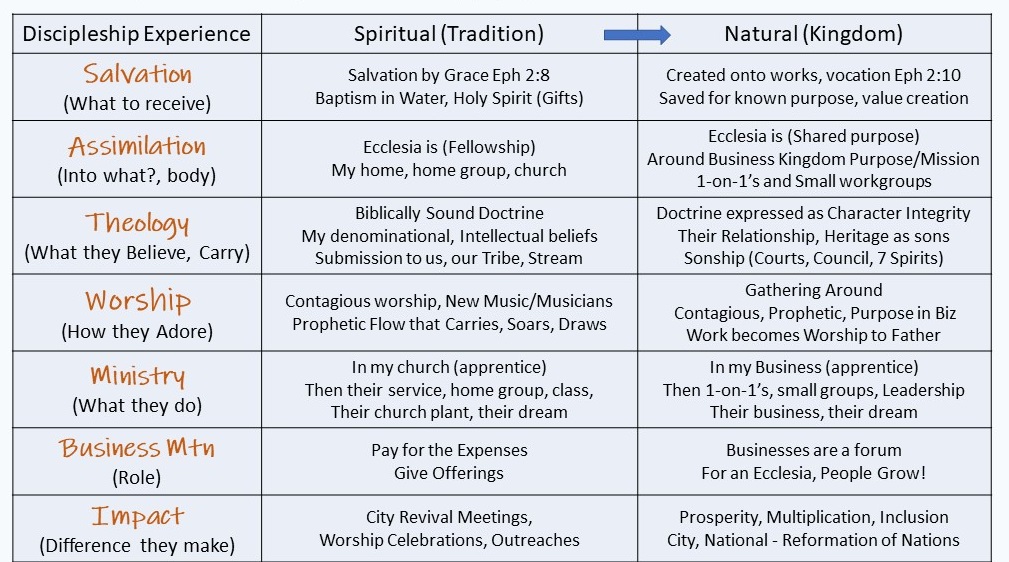 Progressing people into their hearts – Business is a great forum to pull people into their hearts, from 1) entry-level (just working for the money) to 2) leveraging their talents to 3) connecting them with their Purpose and engaging the spiritual treasure in their heart. Your staff can be an Ecclesia, an all-volunteer army of people who want to make your business thrive because they believe in and share its Purpose. Unity is never the goal, it's a natural byproduct of shared Kingdom Purpose (Ecclesia in Business).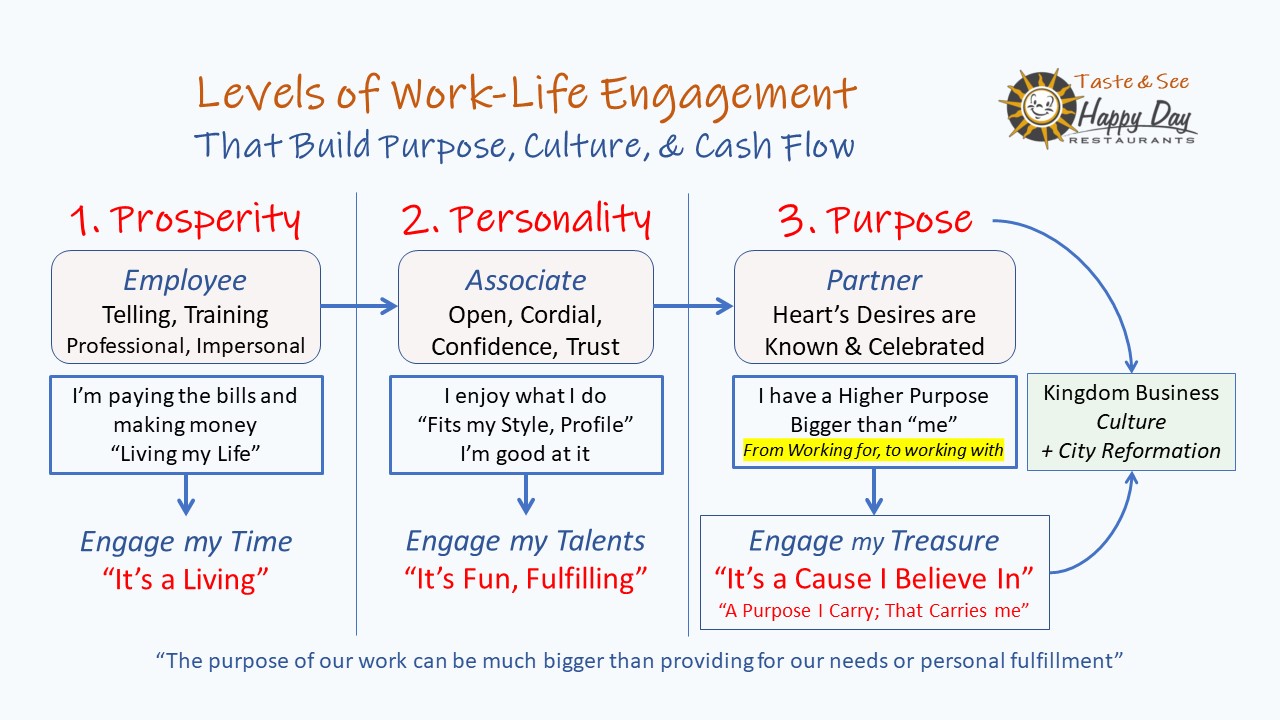 Reformation – For the last three weeks, a spontaneous, 24-hr youth revival has happened in Ashbury University in Wilmore, Kentucky. As of this writing, it has spread to 10 other universities and churches and even other nations. There is a business mountain version of the same thing, which I call Reformation, that can happen when your staff is heart-connected and becomes an Ecclesia with a shared Kingdom purpose that multiplies all by itself, just like the gospel. It takes a CEO who is intentional about creating Reformation. Then, you can have a Kingdom Business Culture energized by your unique Purpose. We can show you how, provide the references, and help you through the transition – details here.
PS: it will strengthen your cash flow, be more fun and passionate, and not feel religious! Ashbury is a spiritual jailbreak into freedom in Jesus. A Kingdom Culture in your business will feel the same; a work atmosphere focused on building His Kingdom around a specific and shared assignment from Heaven. Sharing a meaningful purpose with talented people who own the vision and help one another succeed – releases glory. That's when your staff ignites around Purpose, and work becomes worship. The Kingdom CEO's new assignment from Heaven is to translate sporadic youth revivals into lasting Business Reformation that pulls nations into blessing. Decree it! Reformation is intentional and viral. You're perfectly positioned in business.
2 Cor 3:17 – Now the Lord is the Spirit, and where the Spirit of the Lord is, there is freedom.
Cutting Room Floor 
How does being Purpose-driven improve business performance?  (reference)
An authentic and inspiring purpose is the best differentiator. Purpose is a core differentiator that sets your business apart from competitors. It's what customers and employees connect with, enabling your business to recognise emerging opportunities first.
Purpose-driven businesses also tend to outperform those without one. For example, Unilever's purpose-led brands grew 69% faster than the rest of the business in 2019 and delivered 75% of the company's growth.
Additionally, Purpose drives innovation and attracts and retains the best talent. Business leaders prioritising Purpose see higher market share gains and grow three times faster on average than their competitors while achieving higher workforce and customer satisfaction.
Moreover, PwC's research shows that millennials who strongly connect with their company's Purpose are 5.3 times more likely to stay.
Purpose-driven businesses also tend to outperform those without one. They grow 3 to five times faster on average.