Blog Video for post below.
We are in transition in our businesses and the world to a Kingdom culture. Sons and daughters are being invited to an exciting level of relationship with Father. End of the age in the bible is not the end of the world; it's the transition from one age to another. From Jesus' birth to the fall of Jerusalem in 70 AD, Taurus (the literal star movement in the heavens) transitioned to Pisces over decades. The age of sacrifice transitioned to the church age of grace. We are currently moving into Aquarius, the age of Kingdom and sonship. God is the same yesterday, today, and forever. Yet He's always doing something new. Times, seasons, strategies, and ages change so that our clay must remain pliable in the hands of the potter.
You have book/story – We all arrive at truth through a door, a story that defies logic, the door of our hearts. The gospel is that story that touches our hearts; not just a story, the experience of a reality in the spirit that trumps the logic of our five senses and three dimensions. Cultures and conversions happen through stories written in Books and discussed in the Council. When you tell the story of your book, it becomes obvious Father wrote it. Even unsaved or culturally hesitant people can hear the sound of it (Myths and Fairy Stories). Your story is important; it points to the reality of Father's purpose for your life.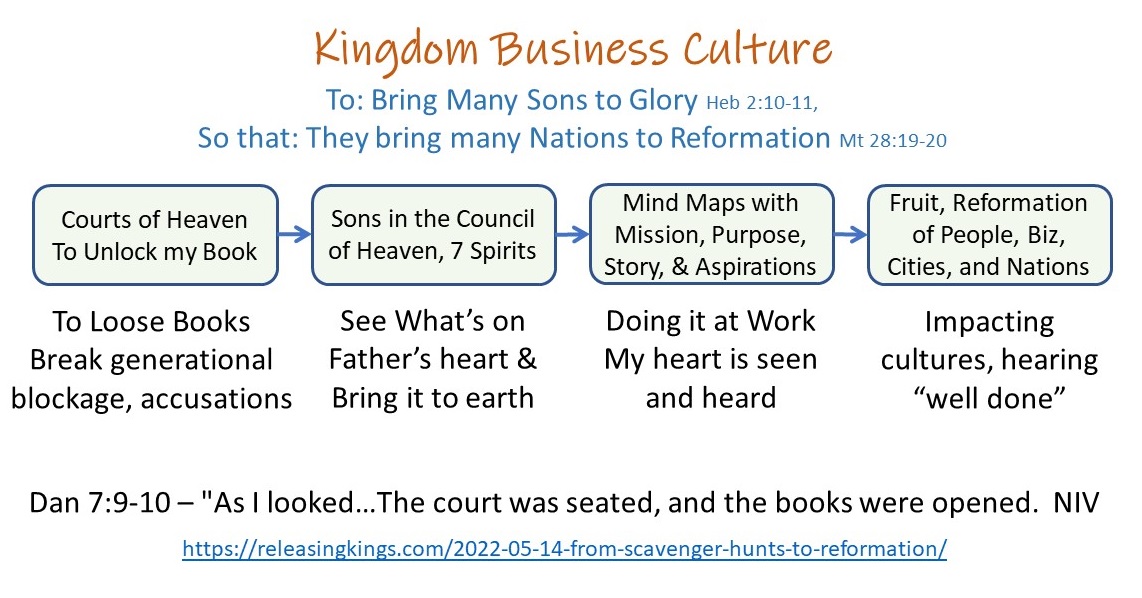 Conversations – We have been in a servant mode of hearing from God (Red light/green light). The nudges we get from Holy Spirit are green for go, yellow for caution, and red for stop. We're migrating from obeying piecemeal directions to Father sharing the purpose of His Heart in conversations so we can bring Heaven to Earth (Reformation). Instead of waiting for Holy Spirit to drop a mysterious trail of breadcrumbs, we're in Heaven at Father's table, getting clarity on His purpose and our purpose/book. Sons are having conversations and seeing in the Courts and Council of Heaven. We can hold your hand and make it simple, practical, and prophetic.
Ps 84:7 – They go from strength to strength, Every one of them appears before God in Zion. NASU
Early Adopters – Since this transition is ongoing, some have heard of Courts, Council, and Kingdom, and others have not. Our assignment is to lead the charge for the early adopters wanting to experience the new and grasp its spiritual reality and Biblical basis. Some will choose to wait for a later stage to join, it's OK. We're seeing a different age, a shift to sonship with new opportunities, and invitations to co-labor with Father to bring His Kingdom to earth and bless nations.
Father is moving now, early adopters are volunteering to bring Reformation to their mountain, and they are hungry to make Kingdom Culture practical in their business. That's who we help! Courts, Council, and Kingdom are real experiences more than policies, procedures, or doctrines. One mindset we are confronting is that although businesspeople are pragmatic, ethical, and industrious, they are not less spiritual or less prophetic than those in the church mountain. Father is no respecter of persons, and we're showing people how to make all this practical, participatory, and exciting. You're invited! This starting place deals with accusations from the enemy in the Courts of Heaven. Father's Council comes next.
Let's Go – Connecting with our hearts to write our story is an internal process. It's work and warfare. The conflict is like a courtroom in your heart (and in the Courts and Council of Heaven). You can hear the greatness of your story being proclaimed by your advocate (Jesus). But you can also hear accusations outlining the logic of why your story doesn't deserve to happen. Those voices don't disappear, and you need a strategy to deal with them.
The advocate – The brightness of your future should be woven into your story and dream. Take the steps to implement it wisely. Agree with them, even when it's too good to be true. It's always bigger, better, and more influential than we thought possible.
The adversary – Here's the tricky part. I used to say the devil is a liar and I'm dismissing his accusations – it's doesn't work! Accusations are real, have a valid basis, and they are prophetically sticky. Ignoring them and arguing with them doesn't work. The power of these accusations is embedded generationally in our family line. Part of our disqualification comes from outside us. Our bloodlines and our culture are both corrupt. We all come from a long line of compromise. So, what's the strategy?
Agree with your adversary quickly and stop the argument. Just admit that within yourself, you don't deserve the happy ending. Your personal story is part of something much bigger that carries you. The purpose behind your own life purpose is connected to a "higher purpose." I'm bundling up all of my disqualifications and disappointments, taking them to the cross, and trading them for that higher purpose. It's not a matter of whether I'm qualified or deserving; it's not about me. The destiny that drives my purpose is fueled by a higher purpose that belongs to Father. If I say no, someone else will just say yes and finish up my piece of the assignment. So why not just say yes?
Release your book – The humility to admit our insufficiency is the transparency of every great leader. Greatness never rides on the strength of self-sufficiency. We all need the help of other people and the grace of God himself. We only have two choices; our story will reflect the bright hope of the advocate's voice and be much better than we deserve and empowered by a higher purpose, (or) we will mirror the despair of living out the jail sentence that goes with our accusations. We'll give up and quit! Manage what you hear in the Courts. Take your accusations to the cross and let Father give you your book and the decrees to make it happen.
There is more:
The secret sauce – agree with your adversary quickly; I've got bigger fish to fry than "me" (Purpose).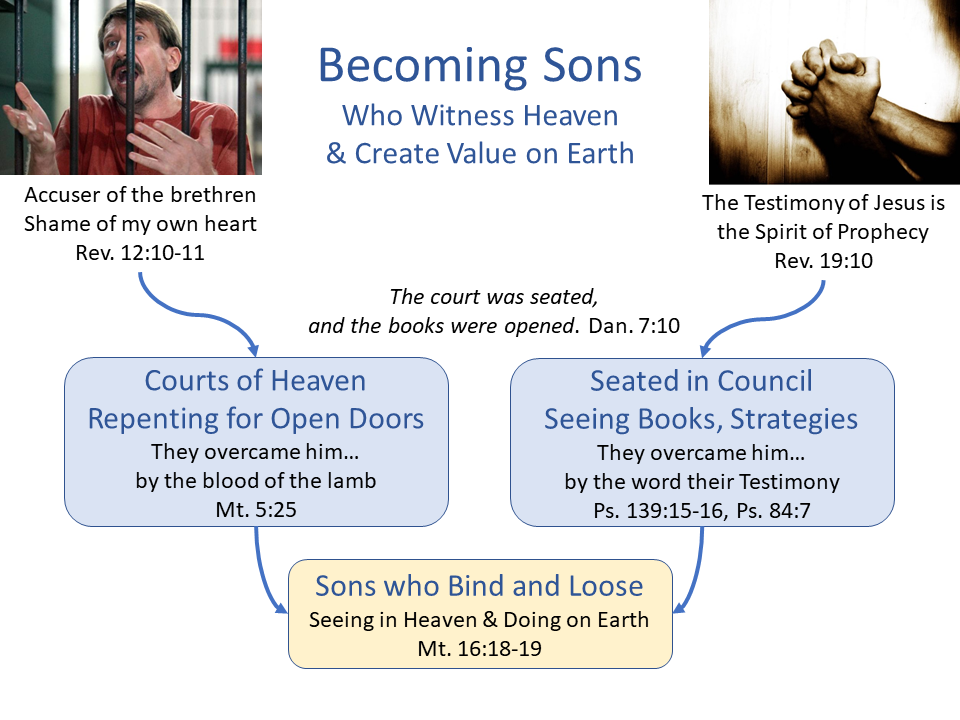 Here is a simple outline of how we'll approach it (protocol): more in the Seers-and-Doers Course.
Asking Father to open the Court to us (Is anything holding us back?)
Asking the Father to cover us; no eavesdropping, interference, deception or attack from the enemy
Entering His gates with thanksgiving and His Courts with praise
"Seeing" the courtroom and who is there
Seeing accusations plus the roots in generational covenants or compromises
Agreeing with the accusations, asking forgiveness for entering those compromises; Giving back what was gained (trading floors)
Allowing the Lord to show us the release
Seeing what the Lord has for us now – Release of our book
Asking for a decree to seal our release; open our book (get the specifics in the decree – multiple decrees)
Seeing the Council and the invitation to be a son that comes back
Q – Can I pray for others in the Courts by proxy? "Yes, we're with people in person as a first priority and we're taking people to the Courts by proxy to set them free.
Father is preparing a place for sons in the Council, and we are also in intercession via the Courts of Heaven (Standing in the Gap on their behalf).
We're praying for businesses and Nations in the very same way because they have books, a purpose in Heaven to release into the Kingdom on Earth.
John 14:2-3 (praying by proxy?) – In my Father's house are many rooms; if it were not so, I would have told you. I am going there to prepare a place for you.
3 And if I go and prepare a place for you, I will come back and take you to be with me that you also may be where I am. NIV