Servants Repent; Sons Redeem – The biggest question God has for sons isn't what you don't do trying to be a good Christian; it's what will you do? We all have a broken past for which the cross is the answer. We also have a religious tradition that if we just repent that God will start a sovereign revival and fix everything. He won't! It's probably time we should repent for repenting so much. It's too passive!
Servants know they have made mistakes and have been forgiven. They hear, "Go and mistake no more." Sons know they will make more mistakes and their Father will still love them. Failures don't scare sons. Our God is not looking for the blood of bulls and goats. He's looking for courageous sons who will co-labor with Him in the fray to redeem people and nations; knowing there will be victories and defeats – It's not about "me."
Jn. 5:17 – "My Father is always at his work to this very day, and I, too, am working."  18 For this reason the Jews tried all the harder to kill him; not only was he breaking the Sabbath, but he was even calling God his own Father, making himself equal with God.
Father puts Glory on Sons – Jesus tweaked the religious spirit when He said God was His Father and that He was working with Him. The Jews clearly understood the implication of the words; that Jesus was equal with God.
We all get that. What we struggle with is this question, "If we are also sons, in what sense are we equal with God?" It is a question that servants never dare to ask. God puts glory on His sons so we can share His purpose and do His works. Sons represent their Father. Righteous (G1349) means equitable in character or act. Father puts glory on sons in several ways:
Shows us all things – The Father loves His sons and shows them all He does (Jn. 5:20). My Father was a rancher, and he would take me with him when he worked. Dad was a great teacher who showed me all the little tricks in breaking horses, moving cattle, looking for health issues, putting up hay. When he shared those things, I felt included and important. He taught me everything he knew.
Makes room for our gift – For just as the Father raises the dead and gives them life, even so, the Son gives life to whom he is pleased to give it (Jn. 5:21). Jesus shared the Father's purpose so closely that He had the initiative to act out of His own will. Sons do co-labor with their Father and cooperate with the Holy Spirit, but there is a dimension in which we carry authority to act within ourselves. Amazing boldness and initiative is a trademark for sons (glory). In John 5:22 we even see judgment was given to the Son (and the sons). We implement Father's purpose on earth by binding deep states and loosing nations (Mt. 16:19).
Shares His Honor – Father shows us His purpose and gives us all this latitude so that we are honored and visible before men, "That all may honor the Son(s) just as they honor the Father." Honor (Timao G5091) means to prize or fix a valuation on. Both men and God put value on sons because there is real fruit and measurable results.! It's the same Glory and honor that allows our gift to work before men and our worship to work before God – We get glory and honor in abundance and give it back to our Father in extravagant worship.
Homework – As a Son, Jesus asked the Father to Glorify him twice – Can you pray the same prayer? He didn't stop there. Jesus gave sons the glory that the Father gave Him. Can you receive glory and steward it? Your Father wants to make your name great and to bless nations (Gen. 12:2-3). Will you let Him, invite him, and demand your glorious land – for the sake of His Kingdom and His glory?
John 17:1-2 "Father, the time has come. Glorify your Son, that your Son may glorify you. 2 For you granted him authority NIV
John 17:5 – And now, Father, glorify me in your presence with the glory I had with you before the world began.  NIV
John 17:22 – I have given them the glory that you gave me NIV
Life – Father has this life in Himself, but He granted sons to have the same life within themselves (Jn. 5:26). Why? Father wants many sons who will speak and cause the dead to hear and live (Jn 5:25). Those in the graves of their despair will hear the voices of sons and come out (Jn. 5:28-29).
You and I have a fantastic spiritual heritage. Jesus is the firstborn of many brothers and He is not ashamed to call us brothers. Father wants to put His glory on us. We can't afford to spend our lives looking in the rear-view mirror at all our frailties and shortcomings. The good news is that you have a book with a storied adventure of your calling in Christ in which you are the hero. The Kingdom is here and it's time to fill the earth with His glory – that would be you! All creation has been waiting for sons to arise! We're redeeming the purpose of God in people, in businesses, in mountains, and in nations. We're causing people, and businesses, and nations to hear and live. And, we're not allowing a few mistakes to stop us. We are so focused on seeing and doing the Father's purpose that we've lost our spiritual introversion and passivity.
Isa. 60:1-5 – Arise, shine, for your light has come, and the glory of the Lord rises upon you. 2 See, darkness covers the earth and thick darkness is over the peoples, but the Lord rises upon you and his glory appears over you. 3 Nations will come to your light, and kings to the brightness of your dawn. 4 "Lift up your eyes and look about you: All assemble and come to you; your sons come from afar, and your daughters are carried on the arm. 5 Then you will look and be radiant, your heart will throb and swell with joy; the wealth on the seas will be brought to you, to you the riches of the nations will come. NIV
Want more? We think you will enjoy these books and the online courses that go with them. Our latest release gives an overview of God's strategy for reformation, Intentional Reformation.
What's the value? – We have lots of great information in our books and courses – it's groundbreaking. Here's what I've learned in the last decade: things like heart connection, courts, council, tribe, and business progress are all better caught than taught. Relational discipleship starts with prophetically highlighting what's in a person's book. When we do that, they have a motive to go to the next level in their character, finances, and relationships themselves. As spiritual fathers, we are liberators, not sheriffs. And, those whose hearts we set free, love us back. Repentance has a place, but the redemption of Father's purpose in our lives, businesses and nations is the real goal. This whole Kingdom process is fun!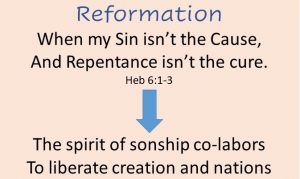 Cutting room floor
John 5:17-30
17 "My Father is always at his work to this very day, and I, too, am working."
18 For this reason the Jews tried all the harder to kill him; not only was he breaking the Sabbath, but he was even calling God his own Father, making himself equal with God.
19 Jesus gave them this answer: "I tell you the truth, the Son can do nothing by himself; he can do only what he sees his Father doing, because whatever the Father does the Son also does.
20 For the Father loves the Son and shows him all he does. Yes, to your amazement he will show him even greater things than these.
21 For just as the Father raises the dead and gives them life, even so the Son gives life to whom he is pleased to give it.
22 Moreover, the Father judges no one, but has entrusted all judgment to the Son,
23 that all may honor the Son just as they honor the Father. He who does not honor the Son does not honor the Father, who sent him.
24 "I tell you the truth, whoever hears my word and believes him who sent me has eternal life and will not be condemned; he has crossed over from death to life.
25 I tell you the truth, a time is coming and has now come when the dead will hear the voice of the Son of God and those who hear will live.
26 For as the Father has life in himself, so he has granted the Son to have life in himself.
27 And he has given him authority to judge because he is the Son of Man.
28 "Do not be amazed at this, for a time is coming when all who are in their graves will hear his voice and come out — those who have done good will rise to live, and those who have done evil will rise to be condemned.
30 By myself I can do nothing; I judge only as I hear, and my judgment is just, for I seek not to please myself but him who sent me. NIV
Jesus was lifted up on the cross, but The Father primarily exalted Him with resurrection and being seated at the right hand of God far above…
Eph 1:18-22 – I pray also that the eyes of your heart may be enlightened in order that you may know the hope to which he has called you, the riches of his glorious inheritance in the saints, 19 and his incomparably great power for us who believe. That power is like the working of his mighty strength, 20 which he exerted in Christ when he raised him from the dead and seated him at his right hand in the heavenly realms, 21 far above all rule and authority, power and dominion, and every title that can be given, not only in the present age but also in the one to come. 22 And God placed all things under his feet NIV
John 17:1-2 "Father, the time has come. Glorify your Son, that your Son may glorify you. 2 For you granted him authority NIV
John 17:5 – And now, Father, glorify me in your presence with the glory I had with you before the world began.  NIV
John 17:22 – I have given them the glory that you gave me NIV
John 12:32 – But I, when I am lifted up (Glorified, exalted) from the earth, will draw all men to myself." NIV
Firstborn among brothers… glory
Rom 8:28-30 – And we know that in all things God works for the good of those who love him, who have been called according to his purpose. 29 For those God foreknew he also predestined to be conformed to the likeness of his Son, that he might be the firstborn among many brothers. 30 And those he predestined, he also called; those he called, he also justified; those he justified, he also glorified.  NIV
Heb 2:10-12 – In bringing many sons to glory, it was fitting that God, for whom and through whom everything exists, should make the author of their salvation perfect through suffering. 11 Both the one who makes men holy and those who are made holy are of the same family. So Jesus is not ashamed to call them brothers. 12 He says, "I will declare your name to my brothers; in the presence of the congregation I will sing your praises."  NIV