Plastic smiles – We all know the rules, and we all know how to put on a happy face when the rules get broken. We also know what our hopes and dreams look like and we know how to hide the pain of their demise under the same happy face. The happy face looks about the same even when things go right. The only problem is future. Most of our hearts are well trained to expect mediocrity or worse. We can't get too enthusiastic because that's not the reality of our personal history.
Work harder – We've also seen ourselves and others in the 'performance' phase of maintaining that happy face with the sheer force of discipline. It's embarrassingly obvious that it's an intellectual thing and not from the heart. The fraudulence is most painful right before the train wreck. It divides us into periods of self-deceived euphoria and private depression.
Only believe – There is another popular new-age theory that enthusiasm, a positive mental attitude, and positive words work like faith to bring about the desired end state. We create this alternate reality in our minds, follow-up with the appropriate decisions and voila – we're rich, skinny and famous. The spell of motivational hype lasts until you walk out of the conference and back into the real world.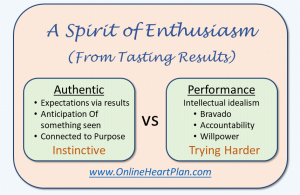 Fruit – Real enthusiasm can start when you see real results – not too complicated. Discernment is simply inspecting the fruit of a life or an opportunity. The whole 'screw up your enthusiasm' to make dreams come true really does leave people screwed. Taste and see is a much wiser approach.
Decisions and perspectives come from our hearts, not the wavering winds of intellectual speculation. The word enthusiasm began with the concept of en-theo (in God).
Prov. 4:23 – Above all else, guard your heart, for it is the wellspring of life.  NIV
Matt. 12:34-36 – For out of the overflow of the heart the mouth speaks. 35 The good man brings good things out of the good stored up in him, and the evil man brings evil things out of the evil stored up in him. 
We are known or discerned by what bubbles up out of our hearts – words and deeds aren't things we just put on and off. They flow out of our hearts. Authentic change comes when we change our hearts. Just as an aside, we only fool ourselves when we try to say the right thing when something else is in our hearts. Everybody can spot the duplicity. It's just an "act" that is easily discerned and universally despised.
Authentic Enthusiasm – Genuine optimism flows out of an actual heart experience – the same taste and see policy premised on results. Where do I get real juice? En-theo or in God. The experience of ascending into the courts and council of heaven is a practical pathway to see what the Father is doing and get a perspective on things to come. He does reveal his purposes and strategies. Our job as sons is to taste and see them in heaven and bring them to earth. On earth as it is in heaven is the Kingdom strategy for reformation – all the way from me to my business to the nations. My mojo comes from seeing real results in heaven before they show up on earth. I'm enthusiastic from the heart because I have tasted and seen what the Father is doing. My enthusiasm isn't dampened by setbacks or exalted by success. I've seen something real in heaven, and I'm co-laboring with Father to make it happen on earth. It didn't even start with me; I've just been invited to share it and own a piece of it. It's an assignment I'm faithful with and a party I'm excited about.
Through thick and thin – The ideal life of the marketing and motivational world (skinny, rich and famous) didn't align with Paul's persecution, prison, thorns, blindness, and execution. It may not align with your assignment either! Enthusiasm comes from a much deeper (higher) place.
This blog came from a court and council session of my own. An excerpt is below. The notes are at this link 2019-09-06 Dancing (Council session).
I put my ashes, my morning, my despair, my brokenness and my shamefully low expectations on the trading floors. Jesus said, I want to you be the hero that brings good news and sets captives free and heals the brokenhearted by unveiling their purpose. You are exactly where you should be. I have redeemed your brokenness for beauty and for purpose.
Isa 61:1-3 – The Spirit of the Sovereign Lord is on me, because the Lord has anointed me to preach good news to the poor.
He has sent me to bind up the brokenhearted,
to proclaim freedom for the captives and release from darkness for the prisoners,
to proclaim the year of the Lord's favor and the day of vengeance of our God,
to comfort all who mourn, and provide for those who grieve in Zion —
to bestow on them a crown of beauty instead of ashes, the oil of gladness instead of mourning,
and a garment of praise instead of a spirit of despair.
They will be called oaks of righteousness, a planting of the Lord for the display of his splendor.  NIV
You're Invited (to the dance) – We've developed two online courses to bring prophetic and practical clarity to your purpose, vocation or business and a success-path to seeking the Father in the courts of heaven and the council. It's an experience with the Father and a relational tribe that works.
Stories from this tribe are here.
The Heart Plan ($997) – (OnlineHeartPlan.com) will help you fish your purpose out of the deep waters of your heart and get it in writing. Watch the free videos. You can take this class anytime or wait for the next round, and we'll go through it again as a group with weekly zoom calls (Starts September 6). The Heart Plan is based on the ideas in Releasing Kings.
Prov. 20:5 – The purposes of a man's heart are deep waters, but a man of understanding draws them out.
Seers and Doers ($997) – (Seers-and-Doers.com) will help you navigate the courts and council of Heaven with your Father and the Spirit of Wisdom in a practical way. Start with Seers and Doers via Amazon.com.
Ps. 84:7 – They go from strength to strength, Every one of them appears before God in Zion. NASU
Scaling up to a Wealth Mentality ($97) – is our newest self-help course. We think you'll enjoy it. Great lead up to the Heart Plan.