We are in a season where God's people understand that His will can be found in the desires of our hearts. That's how we define a King (connected to his/her heart's desires). Traditionally, doing God's business was always presumed to be sacrificing my will and picking up the cross of His will, laying down my life, dying to self, surrendering, emptying, more of you – less of me, etc. That mentality presumes an evil heart and sets us up for a lifetime of religious self-sabotage that drains our spiritual vitality. The Kingdom of God is within you (so is the Father, Jn. 14:10). We're created in God's image with specific unique gifts and talents for a specific assignment in the Kingdom. We're already wired for our destiny. When we connect with what God has written in our hearts, we find a natural synergism with Jesus' Kingdom, and we enter a new realm of fellowship with our Father.
Servants try to motivate, discipline, and hold themselves accountable to operate outside their hearts. We may start there as babes in Christ, but real maturity is finding the Father's heart overlapping our own heart's desires. It's fun, it causes us to feel alive, and we can grow from one glory to the next for the rest of our lives into greater levels of fruitfulness.
Dreams do come true – When we ask people to describe the desires of their heart, with this concept in mind, we almost always get a mental answer on the first try instead of what's really in the person's heart – what God wrote. It's easy to discern the difference between heart and head. After listening to my own words and experiencing a few examples of right heart answers and wrong head answers, then anyone can do it. It's not hard.
Preaching – About half the time when we ask people what God is saying (or saying to them), what comes out is a mental/prophetic version of what they think God is saying to other people. This tendency to link our identity with preaching or exhorting others is the pulpit model, but it isn't healthy to lecture in a relational context. It sounds out of place in contrast with the pure voices in the council. Creation is Waiting for Sons, not Sermons.
A preaching identity can be rooted in the wounding of our dream being deferred. We trade away the disappointment of our own vision to participate in someone else's. Wisdom is known by her children (Mt. 11:19). Preaching to others is trying to adopt the children of another person's vision. The Lord spoke to me a few days ago and said it this way, "Stop trying to give birth to other people's children. You're not barren. Have your own kids (dreams)."
As a teenager, I would help dad check the cows at night during calving season. Occasionally a cow would have a calf, and another cow, ready to be a mama, would watch the process and lick the newborn calf off after it was born and try to adopt it as her own. It wasn't always easy to figure out what kids belonged to what moms when a half dozen calves were born in the night, and seven cows were mothering six calves in the morning.
The quick fix – Another incentive for preaching identity is instant gratification. Dreams take years to live or die and leave a legacy when they succeed and wounds if they fail. Helping someone else prophetically feels like a home run and offers an immediate victory. Compared to the work and perseverance of making a dream come true, handing out revelations to other people feels like microwave Christianity and has an addictive component. My dream is in the toilet, but I will use my prophetic voice, wise counsel, and miraculous grace to help others do immediately what I failed at over decades. It's mostly an attempt to redeem the pain in our own hearts, and it mostly doesn't work. Here's why.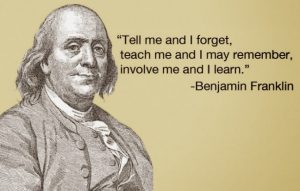 Fathers – There is an open door in the spirit for apostolic fathering. It's premised on two things: 1) persevering work, and 2) working on the right thing! People are not mentored when we helicopter in with a prophetic word, a new exhortation, or even an online course! It takes a relationship and it lasts longer than a sermon. Wisdom is patient. She waits for people to grow and develop, and she waits for the right timing.
We teach from our example (our fruit, our work, our tenacity, and our results).
We all learn by doing (connecting with, then doing what God wrote in the desires of our heart).
I'm a Father when I connect you with what's in your heart;

I'm a preacher when I connect you with what's in my heart.
We can (and should) teach people the revelation of evangelical character and the practice of miraculous, charismatic gifts, but neither leadership, anointing, nor charisma are ends in themselves. Kingdom starts when hearts connect with works that produce value and eventually, wealth. People do respond to the marketing gimmick of wealth creation and free time to do what they want. But their hearts long for Kingdom purpose and works that create value for others. Money can never be the first goal, but cash flow should always be a spiritual byproduct of the value we create. Fathers show us how, instead of just teaching us what. Our hearts learn when we are participants instead of spectators. The experience of Kingdom is much more caught (from the deeds of fathers) than taught by the words alone.
Wisdom is patient, persevering, creative, hard-working, enthusiastic, and fruitful – so are we.
1 Cor. 4:20 – For the kingdom of God is not in word but in power NKJV
James 2:18 – But someone will say, "You have faith; I have deeds." Show me your faith without deeds, and I will show you my faith by what I do. NIV
1 Cor. 4:15 – For though you might have ten thousand instructors in Christ, yet you do not have many fathers NKJV
How do I make this transition? We've developed two online courses to bring prophetic and practical clarity to your purpose, vocation or business and a success path to seeking the Father in the courts of heaven and the council. It's an experience with the Father and a relational tribe that works. The stories are here.
The Heart Plan will help you fish your purpose out of the deep waters of your heart and get it in writing: OnlineHeartPlan.com. Watch the free videos. You can take this class anytime or wait for the next round, and we'll go through it again as a group with weekly zoom calls (Starts September 6). Start by reading Releasing Kings.
Seers and Doers – Seers-and-Doers.com will help you communicate with your Father and the Spirit of Wisdom in a practical way. Start with Seers and Doers via Amazon.com.