Knowing your identity has been all the rage for the last few years because "who we are" is the foundation for what we believe and do. Although it is true, it's not the whole story. Who you are (identity) is partly shaped by what you actually do. The theological and practical debate is well framed in the different translations of one verse;
Luke 2:49 – Didn't you know I had to be in my Father's house? NIV
Luke 2:49 – Did you not know that I must be about My Father's business? NKJV
In one camp, we are instructed to be like Mary instead of Martha and rest at the master's feet and enjoy His presence (be in His house). Either He will do the works, or the works were finished at the cross. Us doing works is painted as a bit carnal, beneath the dignity of those who are truly spiritual. In the second camp, we are invited to co-labor with Him. It even goes one step further: intimacy is rooted in co-laboring with Him! You are my friend if you do what I command (Jn. 15:14). Great works and exploits are celebrated as fruit in this camp. They have jobs and businesses and a vision to bring heaven back to earth. Sons contend for nations.
Roots and fruits – We have all been around people (and have been people) who invented work that drained the life out of us, and we promised never to subject ourselves to dead, religious works again. But now, we are seeing examples of people who can see what the Father is doing and do it with him. From miracles to business to politics, mighty men and women are doing exploits. It's fun, and co-laboring with Jesus is meat that feeds our spirit. It's not cool or healthy to be passive in the Kingdom. Sores are seers and doers. They know what their Father is doing and they volunteer and take the initiative to do it with Him. As heirs, they own their part of the Kingdom (that the Father was pleased to give them) and they act like they are responsible for it!!! They make plans and allow the Father to tweak them – regularly. Then they do stuff and come back rejoicing that even the demons were subject to them in Jesus' name.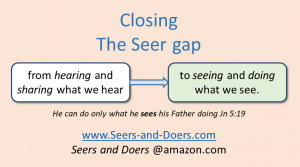 Identity comes from where? – Our self-concept comes from several places: 1) what God says about us, 2) what we believe about ourselves, 3) how others frame us or perceive us, and 4) by what we do. Listen to the way Jesus talked about works:
John 4:34-35 – "My food," said Jesus, "is to do the will of him who sent me and to finish his work." NIV
John 5:17 – My Father is always at his work to this very day, and I, too, am working. NIV
John 6:38 – For I have come down from heaven not to do my will but to do the will of him who sent me. NIV
John 8:29 – He has not left me alone, for I always do what pleases him. NIV
John 9:4-5 – As long as it is day, we must do the work of him who sent me. Night is coming, when no one can work. NIV
Works do not save us, but if you want intimacy in your relationship with Jesus, you will go with Him when He's working. You will also raise your hand and volunteer to be sent and multiply talents when He's away. Trees are known by their fruit – so are we.
Matt. 7:17-18 – Even so every good tree bringeth forth good fruit; but a corrupt tree bringeth forth evil fruit. A good tree cannot bring forth evil fruit, neither can a corrupt tree bring forth good fruit. KJV
James 2:17-18 – In the same way, faith by itself, if it is not accompanied by action, is dead. But someone will say, "You have faith; I have deeds." Show me your faith without deeds, and I will show you my faith by what I do. NIV
1 Thess. 1:3-4 – We continually remember before our God and Father
your work produced by faith,
your labor prompted by love, and
your endurance inspired by hope in our Lord Jesus Christ.
For we know, brothers loved by God, that he has chosen you NIV
There is a shift in the Kingdom right now. A world-wide reformation that touches every mountain and nation is underway. Laborers are few. There is a trumpet sounding, an army is assembling, and you're being invited to play a role. The correct answer is, "Yes Lord." We can help you from a very practical "how to" standpoint. There is a tribe! You have a purpose! What you do matters!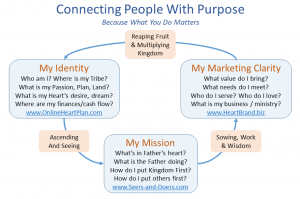 Your identity and your crown come from the role you play in the Kingdom (what you do). Figure it out! Sons are bringing heaven to earth, and you're invited to become one.
How? – OK, John, how do I make this transition? We've developed two online courses to bring prophetic and practical clarity to your purpose, vocation or business and a success path to seeking the Father in the courts of heaven and the council:
The Heart Plan will help you fish your purpose out of the deep waters of your heart and get it in writing: OnlineHeartPlan.com. Watch the free videos. You can take this class anytime or wait for the next round, and we'll go through it again as a group with weekly zoom calls (Starts August 26 and September 6). Start by reading Releasing Kings.
Seers and Doers – Seers-and-Doers.com will help you communicate with your Father and the Spirit of Wisdom in a practical way. Start with Seers and Doers via Amazon.com.
Suggestions
Online Courses (both have free introductory videos)
Books:                                                                                                                                              
If you're one of those young lions hungry to birth a reformation in the Netherlands, contact Marcel van den Berg http://opzoeknaarhetkoninkrijk.nl/
For those of you who own a Business, join Larry Nault and me at Building A Kingdom Company.
If you're in education, please get acquainted with David Nycz at http://www.educationviaheart.com/
Releasing Kings is available in French "Libération des Rois pour le ministère dans le monde du travail" ISBN:  978-90-78643-08-1