Over the last month, I've been part of a tribe of people moving from children who have entered the Kingdom to sons who inherit and possess their calling spiritually and practically. They have distinct ministry gifts, yet they prosper in businesses or vocations. Moving from God's child to God's son to an inheritance that belongs to you is a natural Kingdom progression of maturity. Right now, we don't just need to bind enemy activity; we are displacing enemy rule by standing up in our calling. The Father is placing sons in positions of influence to bless nations. It's a season in the spirit to volunteer.
Children are under – After salvation, we are discipled by being under concepts like stewardship and direction. We can still be under the influence of the spirit of the world system, which is prone to keep us under control, serfdom, and poverty. Except for the influence of Jesus, communism is the natural inclination of political systems around the world. Children are often under the illusion of the promise that others will solve their problems (miracles from heaven). We all go through this stage. We can see the promise, but struggle under all the obstacles. It feels like the desires God wrote in our hearts are always out of reach. The revelation is that entering the Kingdom is stage not a goal. We're on our way to possess the Kingdom, co-labor in it, and rule over it.
Rev. 5:10 – And have made us kings and priests to our God; And we shall reign on the earth. NKJV
Sons are different (Gal. 3:23-4:7) – Jesus made us heirs, and the Father is pleased to give us the Kingdom (Lu. 12:32). Heirs aren't stewards; they are owners. It's a different attitude and a different place in the spirit. It positions our hearts to be like our Father. That's why He's the King of kings – we are like Him; created in His image! We can give life to the dead and create (call things that are not as though they were) Rom. 4:17. We even carry a sense of possessing nations because our father Abraham was the father of many nations, and Father God has invited us to ask for them (Ps. 2:8).
Rom. 4:17 – As it is written: "I have made you a father of many nations." He is our father in the sight of God, in whom he believed — the God who gives life to the dead and calls things that are not as though they were.  NIV
The Kingdom is constantly growing from a grain of mustard seed into a mighty tree because the Father multiplies the Kingdom through His sons. We are naturally healthy, vital, creative, industrious, prosperous, and generous. Cups overflow so we can bless others. It's fun!
Keys – Sons know what is in their book or calling because they've seen it. It's not just a positive attitude or emotional hype. Sons are seers and doers; first, they see what's in heaven, and that is the root of their motivation. They know what the Father is doing, and they know their personal role.
Sons can see what the Father is doing and are very intentional about co-laboring with Him. Sons have a plan to get there. We call it a heart plan; knowing your purpose, the goals that flow from that purpose, and the cash flow to implement it (all in writing)! We're intentional, prophetic and practical; priests and kings who bind and loose.
And, they know that receiving the Kingdom isn't an accident; We inherit destinies with work and warfare. We're not surprised that it's through much tribulation (Acts 14:22). Whatever it takes to clarify our calling and bring it to earth – that's what we do.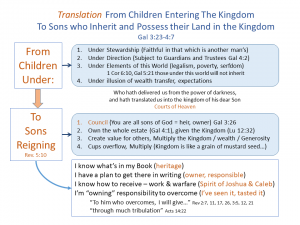 How? – OK, John, how do I make this transition? We've developed two online courses to bring clarity to your purpose and a success path to seeking the Father in the courts of heaven and the council:
The Heart Plan will help you fish your purpose out of the deep waters of your heart and get it in writing: OnlineHeartPlan.com. Watch the free videos. You can take this class anytime or wait for the next round, and we'll go through it again as a group with weekly zoom calls. (Starts June 14, 2019, and September 6)
Seers and Doers – Seers-and-Doers.com will help you communicate with your Father and the Spirit of Understanding in a practical way. Read Seers and Doers via Amazon.com. (Started May 31, 2019)
Suggestions
Online Courses (both have free introductory videos)
Books:                                                                                                                                              
If you're one of those young lions hungry to birth a reformation in the Netherlands, contact Marcel van den Berg http://opzoeknaarhetkoninkrijk.nl/
For those of you who own a Business, join Larry Nault and me at Building A Kingdom Company.
If you're in education, please get acquainted with David Nycz at http://www.educationviaheart.com/
Releasing Kings is available in French "Libération des Rois pour le ministère dans le monde du travail" ISBN:  978-90-78643-08-1