I'm excited about Intentional Reformation from a personal level all the way to nations. This season is distinctly different because there are kings making a difference in their mountains. We are all being invited into our Kingdom Books, and much higher levels of initiative and cultural influence. There is a trumpet sounding, and His army of sons is gathering.
Background – We've all enthusiastically gone down a path we thought was God, and it turned out to be a total dead end. With shame and repentance, we vowed before the Lord never to get out from under His wings again. We shifted our theology to being empty vessels void of self will. We basked in His presence, celebrated His rest and piously pictured ourselves on spiritual recliners; allowing (and waiting for) God to perform the miracles. Testimonies of this phase are carefully pruned of any human initiative to give God all the glory for His power and plan.
Sons – Although the above scenario is a legitimate phase of our spiritual growth, it has often been preached like an end state. In practice, it will eventually get you the dial tone in your relationship with God. He's the King of kings, and we're redeemed and designed to operate as both priests and kings who rule on the earth and get things done. Spiritual couch potato isn't on the menu.
Rev. 5:10 – And hast made us unto our God kings and priests: and we shall reign on the earth. KJV
The place of rest is cooperating and co-laboring with Father. He wrote the desires in our hearts so that dreams could come true and we so that we can take initiative and do exploits. It's Fun! It's how the Kingdom works! We're in heaven seeing what the Father is doing and bringing those initiatives back to earth. The glory that fills the earth and His coming Kingdom is bringing heaven to earth. That's our prayer and our assignment: on earth as it is in heaven, Mt. 6:10.
Listen to the way Jesus and Paul said it:
John 5:17 – Jesus said to them, "My Father is always at his work to this very day, and I, too, am working." NIV
John 14:10 – it is the Father, living in me, who is doing his work NIV
John 14:12-14 – anyone who has faith in me will do what I have been doing. He will do even greater things than these, because I am going to the Father. 13 And I will do whatever you ask in my name, so that the Son may bring glory to the Father. 14 You may ask me for anything in my name, and I will do it. NIV
Eph. 2:10 – For we are God's workmanship, created in Christ Jesus to do good works, which God prepared in advance for us to do NIV
Phil. 2:13 – For it is God who works in you to will and to act according to his good purpose. NIV
We're not just servants doing what the Father tells us to do. Sons carry the Father's heart and aren't afraid of their own initiative. Like their Father God and the firstborn Son (Jesus), we can create and loose His Kingdom on earth. Sons operate in mountains, and their influence goes far beyond sermons. We're here to redeem nations!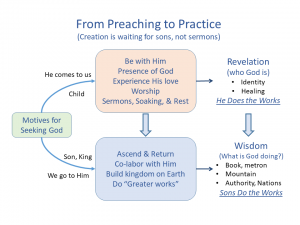 Heart Plan Zoom Stories – We just finished the first Online Heart Plan. Stories of the results are on this video, and a summary of what people said is below. The next step is www.Seers-and-Doers.com. Starts May 31, 2019 (next Friday and you're invited. Watch the free video on the link.
Here's what I heard (our report card from the Heart Plan Tribe):
1. Getting prophetic and practical clarity is extremely helpful. It also creates space for our spouse; that our books are unique.
2. Most are coming through a place of transition. Having a plan to come out the other side makes a huge difference.
3. Tribe – Everyone loved the support. There is a certain respect that comes from knowing what God wrote in another person's heart.
4. We "over-delivered" with the videos, text, downloads, personal availability, facebook page, and the tribe of zoom calls (collaboration).
5. Taking a season to rethink where we're at and where God and we want to go is exciting.
6. The process of discovering our hearts was encouraged by hearing the stories of other people unpacking theirs. It's not easy, but it's possible.
7. There is some warfare involved in getting clarity on the direction of your heart. The enemy doesn't want you to move from serf to king. The courts of heaven and council are great tools to overcome resistance and achieve clarity.
8. Getting the heart plan in writing was a key to get to clarity.
9. The collaboration, prayer, and interaction of the Tribe were key. New friendships and additional business networks resulted.
10. "I didn't realize how dead my dreams were until I got into this course." My heart came alive, and I appreciated the tribe listening to my dreams and supporting me.
Online Courses (both have free introductory videos)
Books:                                                                                                                                              
If you're one of those young lions hungry to birth a reformation in the Netherlands, contact Marcel van den Berg http://opzoeknaarhetkoninkrijk.nl/
For those of you who own a Business, join Larry Nault and me at Building A Kingdom Company.
If you're in education, please get acquainted with David Nycz at http://www.educationviaheart.com/
Releasing Kings is available in French "Libération des Rois pour le ministère dans le monde du travail" ISBN:  978-90-78643-08-1