One of the keys to the kingdom is knowing God works through voluntary sons, who in turn work out of the desires Father wrote in their hearts (Jer. 31:33-34; Heb. 8:10-11). There is a distinct authenticity that is readily apparent in sons connecting with their hearts. Plus, it's fun! The blueprint for our kingdom assignment is both in our hearts and God's heart. I'll find the same thing in both places. Is it easy to figure out what that is? No! Most people struggle, and many give up and never connect with either their hearts or God's heart in a way that causes their life, ministry, and vocation to become an integral story that produces fruit and leads to an intentional objective. Many sincere believers spend their lives wandering and wondering through an unexplainable wilderness, bouncing off life's blessings and tragedies in an unpredictable, cosmic game of ping pong. It doesn't have to be this confusing.
Jer. 29:11-14 – For I know the plans I have for you," declares the Lord, "plans to prosper you and not to harm you, plans to give you hope and a future. 12 Then you will call upon me and come and pray to me, and I will listen to you. 13 You will seek me and find me when you seek me with all your heart. 14 I will be found by you," declares the Lord NIV
Is there a plan? – Yes, there is a plan. Where is it? It's in your heart and God's heart. How do I find it? Connect with a man of understanding to draw it out. So, who is the man of understanding? I don't think it's a coincidence that Understanding is one of the seven spirits of God (Isa 11:2-3; Rev 5:12, 7:12). A wise mentor can help us connect with our hearts, but they always point us back to the Father and the Spirit of Understanding. Running back and forth to a human mentor can help, but it isn't a permanent solution. The Father wants to talk to us Himself! … Regularly!
Prov. 20:5 – A plan in the heart of a man is like deep water, But a man of understanding draws it out. 
The context of the plan – We can see the context of Proverbs 20:5 in verse 4. God's plan for us includes our vocation and finances, not just our spiritual ministry or the theme of our preaching. We are still transitioning out of the poverty of believing that God's call is a sermonic platform for us to tell others what to do – It's simply not! Our calling is always about providing value to other people around what they want to have; not around what we want to preach.
Prov 20:4-5 – The sluggard does not plow after the autumn, So he begs during the harvest and has nothing.  A plan in the heart of a man is like deep water, But a man of understanding draws it out.  NASU
The degree of difficulty – Is it easy to fish that purpose out of the deep water of my own heart? No, it takes faith (an awareness that it's in there waiting to be found) and persistence (to seek God for as long as it takes to find it). It's the nature of God to hide things from us to deepen our hunger for Him and our purpose in life. Most believers expect finding their purpose to be easy and automatic. It's not. Purpose unfolds over a lifetime of hunger for God and knowing where to look. In the natural, our hearts are unsearchable, Prov.25:3.
Heb. 11:6 – And without faith it is impossible to please God, because anyone who comes to him must believe that he exists and that he rewards those who earnestly seek him. NIV
Prov. 25:2-3 – It is the glory of God to conceal a matter; to search out a matter is the glory of kings. 3 As the heavens are high and the earth is deep, so the hearts of kings are unsearchable. NIV
Deut. 4:29-30 – But if from there you seek the Lord your God, you will find him if you look for him with all your heart and with all your soul.  NIV
Prov. 8:17-18 – I love those who love me, and those who seek me find me. 18 With me are riches and honor, enduring wealth and prosperity.  NIV
Hearing other's hearts – Once I can draw the purpose out of my own heart and God's heart, I'll connect with my ministry in terms of my life and vocation or business. The very next step in a prospering vocation or business is my ability to hear what's in another person's heart. If the product I have brings value to other people, they are more than happy to buy it, promote it, and celebrate it (and me) because they see the fruit of what I bring to their lives, whether it's a widget or a service. Hearing hearts is the secret to marketing and ministry!
Summary – The spiritual and business side of your life purpose flows out of three skills:
Our ability to discern the purpose that God wrote in our heart,
Our ability to prophetically connect with God's heart; what He is doing, and
Our ability to hear what's in the heart of other people and bring them value that furthers their purpose and makes their dream come true.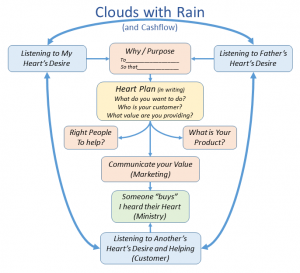 We've developed two online courses to bring clarity to your purpose and a success path to seeking the Father in the courts of heaven and the council:
The Heart Plan will help you fish your purpose out of the deep waters of your heart and get it in writing: OnlineHeartPlan.com. Watch the free videos. You can take this class anytime or wait until September, and we'll go through it again as a group with weekly zoom calls.
Seers and Doers – Seers-and-Doers.com will help you communicate with your Father and the Spirit of Understanding in a practical way. Read Seers and Doers via Amazon.com. (Starts May 31, 2019)
Suggestions:                                                                                                                                              
If you're one of those young lions hungry to birth a reformation in the Netherlands, contact Marcel van den Berg http://opzoeknaarhetkoninkrijk.nl/
For those of you who own a Business, join Larry Nault and me at Building A Kingdom Company.
If you're in education, please get acquainted with David Nycz at http://www.educationviaheart.com/
Releasing Kings is available in French "Libération des Rois pour le ministère dans le monde du travail" ISBN:  978-90-78643-08-1