We're just wrapping up the beta edition of www.OnlineHeartPlan.com. The biggest and most pleasant surprise was getting to meet new people and helping them articulate their book or the desires of their heart (their dream). It morphed into a tribe of people with intersecting relationships who love and support one another. That course can be taken online anytime, but we'll go through it again with another group doing Zoom calls starting in September.
My second surprise was the connection between Releasing Kings and Seers and Doers. The Heart Plan is both prophetic and practical. We wrote a life purpose statement, wrote goals and put them on a mind map and then put the whole story in a short business plan with cash flow. Trying to do that stirs up all kinds of spiritual issues that get resolved in the Courts of Heaven and the Council. Now, I'm not even sure which course should come first?
Third surprise – Everyone had a large and significant calling or book. Most are in transition, struggling to believe their dream might be possible. Each is moving from serf to son. Each is moving from a sense of "I can't make it" or "I don't know what to do" – to – "I have enough clarity to move forward" and "I will make it." FYI, those mindset shifts usually happened in the courts and the council. The "experience" of encountering the Father in heaven made the difference… in people, on earth. We find our real self in heaven, and we bring that person and those things back to earth. Jesus is the King of kings and He has many friends; sons of the Father.
Where are we going? – Luther's reformation gave us justification by faith and personal access to salvation and the presence of God. This reformation is about releasing sons who operate out of the desires God wrote in their hearts. They are authentically themselves yet fully able to do greater works because they carry the Father in them. This reformation is about access to the Father's works and returning nations to His family. The Courts of Heaven and God's Council arrived just in time for sons to use them to build the Kingdom in their mountain. Sons can navigate heaven and their prophetic purpose as priests, and as kings, they can clearly articulate their prophetic path in business plans, manage cash flow and make wise decisions. They know they are more than conquerors.
You're invited – I think you will enjoy this class (www.Seers-and-Doers.com). Starts May 31 for eight weeks. Questions – read Seers and Doers then talk to John.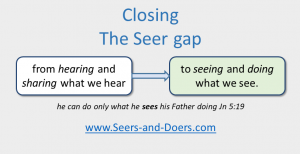 These two courses are part of a larger strategy designed to help bring your book from heaven to earth.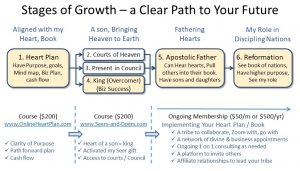 Suggestions:                                                                                                                                              
If you're one of those young lions hungry to birth a reformation in the Netherlands, contact Marcel van den Berg http://opzoeknaarhetkoninkrijk.nl/
For those of you who own a Business, join Larry Nault and me at Building A Kingdom Company.
If you're in education, please get acquainted with David Nycz at http://www.educationviaheart.com/
Releasing Kings is available in French "Libération des Rois pour le ministère dans le monde du travail" ISBN:  978-90-78643-08-1