We've all seen sales personalities who are overly exuberant. We're never sure we can trust what they say, but we admire their enthusiasm and results. Are they that energetic all the time or are they bipolar and crash in private? Do they believe what they say, or is it just a pitch? Sometimes we wish we could have some of their enthusiasm.
Personalities and DISC profiles aside, we're all called to be excited about God and love Him with all of our hearts. We love worship when it's alive, and we're all deeply moved by the presence of God. It's not hard to be wholehearted when the Holy Spirit is tangible, and the prophetic atmosphere is electric. Our hearts do leap during those times.
The problem is on Monday morning when we go back to work. We feel like Joseph checking back into Potiphar's prison after a weekend pass. Now is a season of Kingdom and reformation. There is a place where the other six days are six times more exciting than Sunday, or a conference or a spiritual high. Our enthusiasm doesn't have to be a vicarious experience that depends on an atmosphere someone else creates! Here's how you can choose to be wholehearted in your mountain.
Prophetic Clarity, What's in my Book? – You will never be enthusiastic about life living out of someone else's vision. We each have a unique design and a specific role in the Kingdom. Most people have a tough time articulating their kingdom purpose and the intentional goals and plans that naturally flow from their calling. That's why I'm excited about the Online Heart Plan. We can clarify our Kingdom purpose and get it in writing. It's a prophetic and practical process that points to something specific that ignites my heart. The why questions our hearts always ask get answers, "Can I do this?" "Do I deserve it?" "Where do we start?"
Personal enthusiasm isn't something we can manufacture. Being wholehearted about my business life happens when I tap my Kingdom purpose and start walking in my original design. When my heart and my Father's heart overlap with the same desires, that's when the party begins. It's exciting, and it works!

Personal enthusiasm has roots in three things:
Unwavering Faith isn't something I can generate. My willingness to be committed to a path and staying committed for a lifetime flows out of doing what my Father is doing. That means regular confirmations and strategic course corrections – FROM GOD. We don't live by bread alone. Life and vitality come from the freshness of continually hearing from God. That's why I'm now a big fan of sons being in the council per Seers and Doers. That's why we're helping people practically navigate accessing heaven in a second online course that will start in June.
Ps. 84:7 – They go from strength to strength, Every one of them appears before God in Zion.
Extraordinary Effort – Once my assignment is clear (and fun) I can engage even if it's hard. I'm throwing myself into work and warfare. I see the bigger picture of Kingdom and nations. I no longer interpret resistance and setbacks as personal failure or rejection. When a tragedy strikes, I'm not blaming God or myself; I'm leveraging it for a resurrection. I'm not surprised at the degree of difficulty or the role of suffering. It's all part of knowing Jesus and playing my role in the Kingdom. After the resurrection, I'm stronger, deeper and more mature. Once I put my hand to the plow and get started, I have a sense of being strong enough because of His power working in me. I can feel a shift in my authority and stature. I don't get weary in well doing because I can feel the progress and hear 'well done' along the way. (Heb. 6:11-12, Gal. 6:9)
Phil. 3:10 – I want to know Christ and the power of his resurrection and the fellowship of sharing in his sufferings, becoming like him in his death.  NIV
Phil. 4:13 – I can do all things through Christ who strengthens me
Eph. 3:20 – to him who is able to do immeasurably more than all we ask or imagine, according to His power that is at work within us
Divine Favor – The minute we get on the track of co-laboring with the Father, we start to feel His wind in our sails. His Favor isn't magic. We don't wait for it to sovereignly fall on us for no reason at some random frequency. The eyes of our Father search the earth continually watch for those who wholeheartedly work with Him. He loves to give us everything we ask.
2 Chron 16:9 – For the eyes of the Lord range throughout the earth to strengthen those whose hearts are fully committed to him. NIV
Increasing expectations – Our wholeheartedness gradually results in fruit. Our dream progresses from 1) Possible when we have prophetic clarity, to 2) Probable when we have a credible heart plan in writing, to 3) Inevitable when we start to see the results of our work.
Celebrating Results – The best result that flows from my calling is that I have created something of value that blesses people and enables them to create even more value. It multiplies. Our hearts are set on creating value in a way that wealth follows. We're not after a supernatural wealth transfer (a spiritual lottery) nor are we seeking Something for Nothing. The prophetic and practical aspects of my purpose and work attract the engagement of other people to my team. I carry the satisfaction of hearing Father say, "Well done; this is my son in whom I am well pleased."
Wow, I'm almost as excited as that salesman I thought was weird. My heart is connecting with who I am, and it's exciting to be this authentic! When Jesus Got through tipping over the money changers tables (Jn. 2:17), the dismayed disciples were reminded of Ps 69:9, "Zeal for your house will consume me."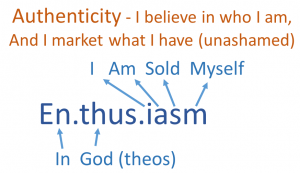 Five superpowers flow from knowing your purpose! Check it out.
Suggestions:                                                                                                                                              
If you're one of those young lions hungry to birth a reformation in the Netherlands, contact Marcel van den Berg http://opzoeknaarhetkoninkrijk.nl/
For those of you who own a Business, join Larry Nault and me at Building A Kingdom Company.
If you're in education, please get acquainted with David Nycz at http://www.educationviaheart.com/
Releasing Kings is available in French "Libération des Rois pour le ministère dans le monde du travail" ISBN:  978-90-78643-08-1