Want to know why lottery winners are statistically more likely to face bankruptcy than the rest of us? It's easy, they didn't learn to create value. The mental model of getting something for nothing isn't scriptural, but it does have a root in Christianity (and in me)! We freely give because we freely received. But what we received came because Jesus (God with us) paid a great price. We were each bought with a price (1Cor. 6:20)!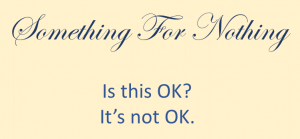 Part of the confusion comes from an often-quoted verse:
Deut. 8:18 – But remember the Lord your God, for it is he who gives you the ability to produce wealth, and so confirms his covenant, which he swore to your forefathers, as it is today.  NIV
The natural sense of this translation is that God gives us wealth to confirm his covenant to bless His people. In other words, He owes it to us according to His own covenant, and we just have to exercise the faith to receive it! The problem with this view is that wealth Cayhil (H2428) means the ability to produce something (as in creating something of value via "work," rather than receiving money). Cayhil is used 243 times and is much more often translated as:
Valor – might men of valor in Ju. 6:2, 8:3
Able men 18:25 (also army or host)
Do valiantly Num. 24:18
Strength 84:7 They go from strength to strength, Every one of them appears before God in Zion. NASU
This last one is my favorite because it gives the sense of appearing in the courts and council to get this ability to produce something on earth. The something we produce is God's Kingdom on earth. His covenant promise is to build that Kingdom through sons. Now read the Douay-Rheims translation
Deut 8:18 – But remember the Lord thy God, that he hath given thee strength, that he might fulfill his covenant, concerning which he swore to thy fathers, as this present day sheweth. Douay-Rheims
Can you see it? God gives us an anointing or power to be valiant so we can co-labor with Him to fulfill his covenant i.e., bring His Kingdom to earth. Believers aren't passively standing in line for a wealth transfer or expecting "something for nothing." We are looking for ways to create value for others (ministry) in a business or a 7-mountain context. We're not here to receive. We're here to create, produce and bless nations. When we seek the Kingdom first and "give value" to others out of a valiant (read entrepreneurial or bold) spirit, we create wealth as a by-product. We're not trying to make money or create wealth "first." We are creating value that other people want, and wealth is created "second."
Can you see why a motive or opportunity to get rich quick doesn't work? It tries to skip the "value creation" step that goes first. Money flies away from people and business opportunities that skip value creation.
Prov. 23:4-5 – Do not wear yourself out to get rich; have the wisdom to show restraint. Cast but a glance at riches, and they are gone, for they will surely sprout wings and fly off to the sky like an eagle. NIV
I don't want something for nothing – Why not? I know it doesn't work. I want to set my heart on being valiantly creative and productive and providing others with something they really value – enough to buy.
2 Sam. 24:24 – I will not sacrifice to the Lord my God burnt offerings that cost me nothing. NIV
The nature of giving is giving value. Can you see why just giving money can feed entitlement and destroy lives and families and cultures? It suggests that the stronghold of getting something for nothing is true. It's not! When we give value, it multiplies and returns to us. Creating value is what God can bless and scale and multiply and prosper. Measure comes from metron and refers to my responsibility or sphere of influence. It is my ministry; my ability to produce something of value.
Luke 6:37-38 – Do not judge, and you will not be judged. Do not condemn, and you will not be condemned. Forgive, and you will be forgiven. 38 Give (Value), and it will be given to you. A good measure (Metron), pressed down, shaken together and running over, will be poured into your lap. For with the measure (Metron) you use, it will be measured to you. NIV
It's not wrong to be generous and give money. Just realize it's not a recipe for multiplication. Don't give money with an expectation that it will be given back – it won't. It's much better to give value that blesses people and helps them multiply. Giving value will yield a great return. Give value out of your metron, your calling, ministry, book or business.
Give people the ability to valiantly produce from the script written in their heart (the way God does according to covenant). They will love you for it. You are the hero in this Kingdom story. God has made room for you to do exploits that make a difference. He's already written the script for your involvement in the desires of your heart. We help people access that script with an On-Line Heart Plan. Check it out. Lives are changing!
How do I make this transition? We've developed two online courses to bring prophetic and practical clarity to your purpose, vocation or business and a success path to seeking the Father in the courts of heaven and the council. It's an experience with the Father and a relational tribe that works. Stories from this tribe are here.
The Heart Plan – (OnlineHeartPlan.com) will help you fish your purpose out of the deep waters of your heart and get it in writing. Watch the free videos. You can take this class anytime or wait for the next round, and we'll go through it again as a group with weekly zoom calls (Starts September 6). Start by reading Releasing Kings.
Prov. 20:5 – The purposes of a man's heart are deep waters, but a man of understanding draws them out.
Seers and Doers – (Seers-and-Doers.com) will help you navigate the courts and council of Heaven with your Father and the Spirit of Wisdom in a practical way. Start with Seers and Doers via Amazon.com.
Ps. 84:7 – They go from strength to strength, Every one of them appears before God in Zion. NASU
Suggestions:                                                                                                                                              
If you're one of those young lions hungry to birth a reformation in the Netherlands, contact Marcel van den Berg http://opzoeknaarhetkoninkrijk.nl/
For those of you who own a Business, join Larry Nault and me at Building A Kingdom Company.
If you're in education, please get acquainted with David Nycz at http://www.educationviaheart.com/
Releasing Kings is available in French "Libération des Rois pour le ministère dans le monde du travail" ISBN:  978-90-78643-08-1