The video is here.
Obedient servants try to meet the Lord's expectations by following directions and doing so rather poorly. The reason is that we're not designed to be servants. God is very relational and it's His desire to show us the purpose behind what He's doing and engage us in carrying it out. His friends have a deep desire to exceed His expectations. We understand God's hidden purpose and that is exactly what positions us for excellence – going beyond the letter. We carry His Spirit and co-labor in the spirit of His intentions. He wants us to part of His council.
I no longer call you servants, because a servant does not know his master's business. Instead, I have called you friends, for everything that I learned from my Father I have made known to you. John 15:15-16 NIV
Surely the Lord God does nothing unless He reveals His secret counsel To His servants the prophets. Amos 3:7 NASU
The Lord confides in those who fear him; he makes his covenant known to them. Ps. 25:14 NIV
From the Heart – God designed us to be to be sons and Kings. We are not motivated by external carrots and sticks. He designed to be internally motivated from our own hearts and to share a part of His own heart. That's what makes us tick. We are naturally most alive spiritually and motivationally when we have these three aspects of our purpose (book).
Autonomy – the desire to be responsible for that which is our own (metron). We each have a book, a calling and race that defines our unique purpose. We're not all stamped out of the same cookie cutter.
…let us run with perseverance the race marked out for us. Heb. 12:1 NIV
Mastery – Being excellent at what we do. We are designed to be very good at something. Humility is submitting to that excellence and expressing it for God and men.
Run in such a way as to get the prize. 1 Cor. 9:24 NIV
For we are God's workmanship, created in Christ Jesus to do good works, which God prepared in advance for us to do. Eph. 2:10 NIV
Purpose – connecting to something bigger than myself. I'm seeing and doing the Kingdom, usually part of a tribe or team who carry the same purpose (ecclesia).
Therefore I do not run like a man running aimlessly.  1 Cor. 9:26 NIV
A spirit of generosity – We have this sense of having a Father who loved us first and always exceeds our expectations. It's very natural to long for ways to love Him back and exceed His expectations as an act of worship and thanksgiving.
My cup runs over. Ps. 23:5 NKJV
They feast on the abundance of your house; you give them drink from your river of delights. Ps. 36:8 NIV
I have come that they may have life, and have it to the full. John 10:10 NIV
to him who is able to do immeasurably more than all we ask or imagine, according to his power that is at work within us, Eph. 3:20-21 NIV
When we discover we're supposed to be ourselves, five things start to roll out of our Kingdom lifestyle: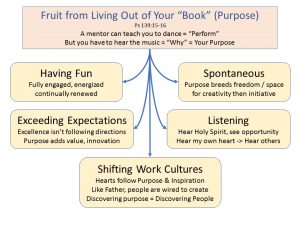 We start having fun – It's not a burden to be ourselves and fulfill our purpose – It's fun! Our work and ministry start to become the same thing and we're fully engaged and continually renewed by it. Enthusiasm comes from two root words: en theo (in God).
We're free to be spontaneous – When I'm connected with my heart and my purpose, what to do next flows out of me very naturally. My identity and my work is secure and connected to the Father's heart. Now I have the space to be creative and the courage to take initiative with those ideas.
Now I'm listening – to my own heart and the heart of God. An amazing thing happens at this step. I start hearing what God has put in the hearts of other people. And, I can help them connect to that inner voice of the Father releasing their hearts. Now it's fun to listen!
I'm exceeding my Father's expectations – Knowing my purpose and knowing I'm on the same page with my Father frees me from just following directions. I'm a friend with the latitude to make a few mistakes and think of it as normal. I expect to add value and innovation to the Kingdom. We're Abraham's sons – our heritage is the nations and our words / His words give life to things that have died, and we speak things into existence that were not here before.
As it is written: "I have made you a father of many nations." He is our father in the sight of God, in whom he believed — the God who gives life to the dead and calls things that are not as though they were. Rom. 4:17 NIV
Shifting cultures – Exceeding my Father's expectations goes the extra mile, loves when love isn't deserved, forgives 7 X 70, and multiplies talents. The attitude of going far beyond the minimum births creativity and innovation and blesses the heart of God. Exceeding expectations has a huge impact on those around us. It's spiritually contagious because that's how God wired us . . . for abundance, extravagance, excellence, enthusiasm, adventure and integrity. People are wired to follow the heart of God. Those who exceed expectations are always the leaders.
I have heard that the spirit of the gods is in you and that you have insight, intelligence and outstanding wisdom. Dan. 5:14-15 NIV
Now Daniel so distinguished himself among the administrators and the satraps by his exceptional qualities that the king planned to set him over the whole kingdom. Dan. 6:3 NIV
Examples – Jesus, how can I bless your heart by exceeding your expectations???
I'm not just contending for my own book anymore. . . "Intentional Reformation" of nations.
Ask of me, and I will make the nations your inheritance, the ends of the earth your possession. Ps. 2:8 NIV
I'm enlarging my tent to receive . . . the backlash of His generosity and delight.
Give, and it will be given to you. A good measure, pressed down, shaken together and running over, will be poured into your lap. For with the measure you use, it will be measured to you." Luke 6:38 NIV
Suggestions:                                                                                                                                              
If you're one of those young lions hungry to birth a reformation in the Netherlands, contact Marcel van den Berg http://opzoeknaarhetkoninkrijk.nl/
Podcast #5 with Tyler McCart
Podcast #3 and #4 Micro-church– The most recent interviews with Shae Bynes
Podcast #1 and Podcast #2 – fun interviews with Steve Reiter and John Ramstead
Books – Releasing Kings and Desire to Destiny
Heart Plan in Europe – HeartPlan.eu
For those of you who own a Business, join us at Building A Kingdom Company.
Releasing Kings is available in French "Libération des Rois pour le ministère dans le monde du travail" ISBN:  978-90-78643-08-1
 Releasing Kings is available in Dutch "Moderne Koningen"