The video is here.
We all want to be overcomer's. The question is how. The Kingdom is exciting and is progressing from individuals all the way to nations. It's easy to see the advance even in the news. Kingdom warfare and casualties are also a reality. Even though Jesus has already won the victory, there are enough delays and defeats to confuse us all!
In putting everything under him, God left nothing that is not subject to him. Yet at present we do not see everything subject to him. 9 But we see Jesus, who was made a little lower than the angels, now crowned with glory and honor because he suffered death, so that by the grace of God he might taste death for everyone. Heb 2:8-9
But we see Jesus – Committing ourselves to Jesus' lordship and putting the Kingdom first, signs us up for both the victories and the battles that precede them. Warfare is often pictured as survival . . . standing firm until it's over (e.g., Eph 6:10-18, Dan 7:21, 25, Rev 12:17, 13:7). There are seasons when we don't win. In fact, resurrection is one of the strategies of warfare! When all our best efforts don't work, God can still redeem us from a failure. All things can still work together for GOOD (Rom 8:28). Ships sink but believers float. Hebrews 11 is the honor role of overcomers who died waiting for their inheritance. They still believed even though they didn't see the promise in their lifetime. Kingdom initiatives often take longer than we live, yet we're not waiting for heaven to see the next reformation and play our role.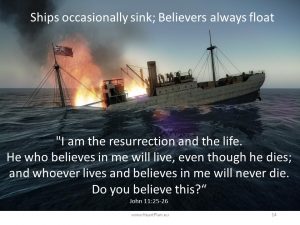 Put your Nike's on – So, it's a bit risky to define overcoming as success. It's an attitude of faith that is superimposed over good and bad circumstances that puts us on a persistent trajectory toward our book and our Father's purposes. We overcome when we can "see Jesus" even if everything goes wrong. Doing exploits to expand the Kingdom or getting martyred for trying . . . both get the same pay!
His commandments are not burdensome. 4 For whatever is born of God overcomes (nikao) the world; and this is the victory (nike) that has overcome (nikao) the world — our faith. 1 John 5:3-4 NASU
nikao (nik-ah'-o) NT:3528; from NT:3529; to subdue (literally or figuratively): KJV – conquer, overcome, prevail, get the victory.
nike (nee'-kay) NT:3529; apparently a primary word; conquest (abstractly), i.e. (figuratively) the means of success: KJV – victory.
They overcame (nikao) him by the blood of the Lamb and by the word of their testimony; they did not love their lives so much as to shrink from death. Rev 12:11 NIV

What's the goal? – At one level, the goal is exploits of faith, great victories and dislodging enemies from their seat over the nations. God does all that through sons, so the real goal starts with being a son who knows how to co-labor with the Father. That maturity is incubated and empowered in weakness. Experiencing the power of His resurrection only happens through "ships sinking."
But he said to me, "My grace is sufficient for you, for my power is made perfect in weakness." Therefore, I will boast all the more gladly about my weaknesses, so that Christ's power may rest on me. 10 That is why, for Christ's sake, I delight in weaknesses, in insults, in hardships, in persecutions, in difficulties. For when I am weak, then I am strong. 2 Cor 12:9-10 NIV
So back to the context of Hebrews 2 . . . though the kingdom can seem like a mess, it's the mess that is the means to bring many sons to glory. We become part of God's family, Jesus calls us brothers, and we are seated with Him for a reason – to rule or lead. We use that leadership, authority and power to fix "messes," not just passively endure them.
In bringing many sons to glory, it was fitting that God, for whom and through whom everything exists, should make the author of their salvation perfect through suffering. 11 Both the one who makes men holy and those who are made holy are of the same family. So Jesus is not ashamed to call them brothers. Heb 2:10-11 NIV
And God raised us up with Christ and seated us with him in the heavenly realms in Christ Jesus, 7 in order that in the coming ages he might show the incomparable riches of his grace, expressed in his kindness to us in Christ Jesus. Eph 2:6-7 NIV
To him who overcomes, I will give the right to sit with me on my throne, just as I overcame and sat down with my Father on his throne. Rev 3:21-22 NIV
He who overcomes will inherit all this, and I will be his God and he will be my son. Rev 21:7 NIV
What carries us – For starters, we overcome from a foundation of knowing we are His sons (contentment). The wind beneath our wings (initiative) comes from knowing something about our assignment (the word of their testimony from Rev 12:11). That testimony, or story, is our book – the one Jesus wrote in our heart. It's His testimony about us; that's the theme of his continual intercession for us.
At this I fell at his feet to worship him. But he said to me, "Do not do it! I am a fellow servant with you and with your brothers who hold to the testimony of Jesus. Worship God! For the testimony of Jesus is the spirit of prophecy." Rev 19:10 NIV
Knowing that we have a book (Ps 139:15-16) and knowing something about the story, is what fills our hearts with the tenacity to overcome. We each carry a calling that is very prophetic and powerful. When that purpose is touched, we come to life and co-labor with what our Father is doing from the heart.
Evangelism of the heart – Whether I talk to believers or pre-believers, I try to touch the purpose or dream God wrote in their heart (either formally via the Heart Plan or conversationally as friends). We are all ignited by our book. We are all carried by the wind of the Holy Spirit through great trials and delays to places of thrilling victories. The nations are God's inheritance. There is some aspect of redeeming nations with your name on it. When you touch it, your heart will come alive and so will your relationship with the Father. He's already there, waiting to unpack your inheritance.
PS – Can you see the prophetic leverage used by a shoe company for marketing? It's God's Kingdom message to people's hearts . . . the gospel! "Just Do I!"
Suggestions:                                                                                                                                              
If you're one of those young lions hungry to birth a reformation in the Netherlands, contact Marcel van den Berg http://opzoeknaarhetkoninkrijk.nl/
Podcast #5 with Tyler McCart
Podcast #3 and #4 Micro-church– The most recent interviews with Shae Bynes
Podcast #1 and Podcast #2 – fun interviews with Steve Reiter and John Ramstead
Books – Releasing Kings and Desire to Destiny
Heart Plan in Europe – HeartPlan.eu
For those of you who own a Business, join us at Building A Kingdom Company.
Releasing Kings is available in French "Libération des Rois pour le ministère dans le monde du travail" ISBN:  978-90-78643-08-1
 Releasing Kings is available in Dutch "Moderne Koningen"