The video is here.
It's helps all of us to know where we're going and how we and God plan to get there. Kingdom is all about co-laboring with Christ to do what the Father is doing. There is plenty of room for initiative and creativity that is fueled by understanding where we are going and why?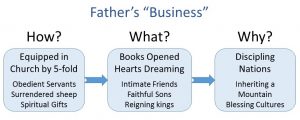 Equipped in church – When we first get saved, we end up in a fellowship of other believers we call church. It's an incubation of life and healing where we are equipped by apostles, prophets, evangelists, pastors, and teachers (5-fold). When we ask Jesus into our hearts and allow Him to be Lord of our lives it translates to something. We learn that surrender is really freedom, serving is really leading and spiritual gifts empower us to do much more than we can in our own strength – It's an amazing ride!
In fact, the experience of being carried by the wind of the Spirit is so much fun that we naturally want to camp out at this stage. There is a big pull to be a full-time minister and throw ourselves into the vision of the church and spend our lives in prayer, worship and preaching. However, it's just a beginning. We can't make a goal out of the tools, but we can take them with us. For example, the purpose of the education mountain is bigger than creating more teachers. We're in training for reigning.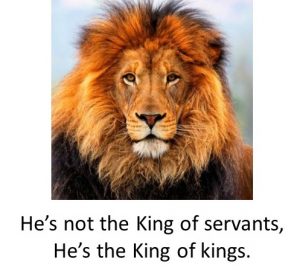 "What" is kings – The real goal of equipping is graduation from that which is another man's into a grasp of our own calling or book (Ps 139:16). We are moving from servant to friend and we know something about the Father's business and we're not afraid to ask "whatever" (Jn 15:15-17). We see that God wrote His desires into our own hearts and we're giving ourselves permission to pursue them. Jesus isn't the King of servants, He's the King of kings. It's at this stage that we connect the dots between our destiny, our vocation, our ministry and our finances. We have a vision for our mountain and an ability to create wealth via our work or a business. Now our network or team includes people with a similar heart's desire and we're pooling ideas, energy, and effort into something that is synergistic with what the Father is doing. We're part of something much bigger than ourselves, i.e., Kingdom.
Those who are led by the Spirit of God are sons of God … then we are heirs — heirs of God and co-heirs with Christ, if indeed we share in his sufferings in order that we may also share in his glory. Rom 8:14-17 
The big "Why" is nations – Our Father has always had a heart for the nations. Between the fall, the flood and that whole tower of Babel thing, the nations strayed and for a season God invested himself in one nation (Israel) whom he later divorced because they strayed too. His plan of redemption started with Jesus and He's restoring His people, His Kingdom "and" His nations. There are some other geographical entities over God's turf that need to be replaced … that's part of our job.
We're not here to just to sit in church, nor just to save souls and wait for heaven, we're here to establish His Kingdom and reclaim the nations. Psalm 2 sounds like a promise for Jesus. But, when Jesus quotes that verse in Revelation 2, He gives that promise to us! It's our job to liberate nations, e.g., from the spirit over them that causes the corruption, the terror, the tyranny and the poverty. We're not waiting for heaven to do it. The Kingdom is here, the invitation is for now and the offer is for all of us and all nations. Jesus gave us a clear commission for nations … now. It's an invitation to a battle, because the kingdom is not yet entirely present (Heb 2:8), and I am not yet entirely perfect, yet we're pressing on to take hold of that for which Christ Jesus took hold of me (Phil 3:12-14). It's our job as sons to co-labor with our Father to bring it … into the here and now.
I will proclaim the decree of the Lord: He said to me, "You are my Son; today I have become your Father. Ask of me, and I will make the nations your inheritance, the ends of the earth your possession…" Ps 2:7-9 
To him who overcomes and does my will to the end, I will give authority over the nations … just as I have received authority from my Father. Rev 2:26-28 NIV
"All authority in heaven and on earth has been given to me. Therefore go and make disciples of all nations, … I am with you always, to the very end of the age." Matt 28:18-20 NIV
As the sons of God all creation has been waiting for, our commission is to inherit the nations and set them free. Jesus already conquered the heavens, but our job is to implement that victory on earth in every sector (mountain) of culture – business, government, arts and entertainment, education, media, family and church. We are two things:
Priests – who can intercede for people, open books, answer accusations, and get decrees in the courts of heaven and,
Kings – who can lead practical initiatives, create wealth, manage cash flow, and make a difference in every mountain to bless cultures around the world.
Stand a bit taller because we are the glorious riches of His inheritance in the saints (Eph 1:18). God has chosen to do all this through us. It's an hour to volunteer for your own destiny, not for our sake or our glory, but for the nations and the people under the oppression of the wrong kingdom. We're setting captives free and having a party doing it. We're more than conquerors – way more.
Personal story – As I'm writing this to emphasize "nations," I'm thinking back over the last year of sharing this with people in different countries and states. It's something God is saying around the world through many others as well. There is a trumpet sound of Kingdom. It's easy to see progress in politics and business. And there is a huge anointing on the message and huge open doors in the practice. Like people, businesses, cities and nations have a book or a call. When we prophetically speak out loud what is written in the heart of a nation, people are drawn to it and blessed by it. It overlaps with something God wrote in their heart as well. Whether a person or a nation, when we touch our purpose / book we feel special – chosen, called and loved by our Father. It's powerful!

Suggestions:                                                                                                                                              
If you're one of those young lions hungry to birth a reformation in the Netherlands, contact Marcel van den Berg http://opzoeknaarhetkoninkrijk.nl/
Podcast #5 with Tyler McCart
Podcast #3 and #4 Micro-church– The most recent interviews with Shae Bynes
Podcast #1 and Podcast #2 – fun interviews with Steve Reiter and John Ramstead
Books – Releasing Kings and Desire to Destiny
Heart Plan in Europe – HeartPlan.eu
For those of you who own a Business, join us at Building A Kingdom Company.
Releasing Kings is available in French "Libération des Rois pour le ministère dans le monde du travail" ISBN:  978-90-78643-08-1
 Releasing Kings is available in Dutch "Moderne Koningen"
Ask of me, and I will make the nations your inheritance, the ends of the earth your possession. Ps 2:8 NIV
All the ends of the earth will remember and turn to the Lord, and all the families of the nations will bow down before him, 28 for dominion belongs to the Lord and he rules over the nations. Ps 22:27-28 NIV
Rise up, O God, judge the earth, for all the nations are your inheritance. Ps 82:8 NIV
Then the Lord reached out his hand and touched my mouth and said to me, "Now, I have put my words in your mouth. 10 See, today I appoint you over nations and kingdoms to uproot and tear down, to destroy and overthrow, to build and to plant." Jer 1:9-10 NIV
"All authority in heaven and on earth has been given to me. Therefore go and make disciples of all nations, … I am with you always, to the very end of the age." Matt 28:18-20 NIV
And again, Isaiah says, "The Root of Jesse will spring up, one who will arise to rule over the nations; the Gentiles will hope in him." Rom 15:12 NIV
To him who overcomes and does my will to the end, I will give authority over the nations Rev 2:26 NIV
The nations will walk by its light, and the kings of the earth will bring their splendor into it. 25 On no day will its gates ever be shut, for there will be no night there. 26 The glory and honor of the nations will be brought into it. Rev 21:24-27 NIV
O praise the LORD, all ye nations: praise him, all ye people. Ps 117:1  KJV
All the nations you have made will come and worship before you, O Lord; they will bring glory to your name. Ps 86:9 NIV
Who will not fear you, O Lord, and bring glory to your name? For you alone are holy. All nations will come and worship before you, for your righteous acts have been revealed." Rev 15:4 NIV