The video is here.
One of the great secrets of Christianity is that people aren't perfect … not leaders, not followers, not anybody! At some level we are all putting the "fun" back in dysfunctional. There are no perfect marriages, families, linage, in-laws or jobs. We all come from a long line of somewhat flawed individuals who weathered injustice, chaos and victimization. We are a bit silly when we pretend to be much different. Having children adds some humility to all of us. I like this "somewhat dark" video by Jordan Peterson. It's reality!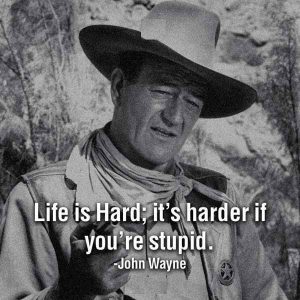 Examples – Abraham pretended not to be married to his wife in an act of self-preservation. His son Isaac did the same and his grandson, Jacob was known as the "supplanter." Yet somehow, we worship the God of Abraham, Isaac and Jacob.
David's leadership gathered a crowd of misfits that started with his own family.
David left Gath and escaped to the cave of Adullam. When his brothers and his father's household heard about it, they went down to him there. 2 All those who were in distress or in debt or discontented gathered around him, and he became their leader. About four hundred men were with him. 1 Sam 22:1-2 NIV
This dubious start later included an event where our famous King covered up an adultery, that produced an illegitimate child. Add to that, the murder of Bathsheba's husband, after which David married her. Yet, David was known as a man after God's own heart!
After removing Saul, he made David their king. He testified concerning him: 'I have found David son of Jesse a man after my own heart; he will do everything I want him to do.' Acts 13:22 NIV
So what is the key to God's favor? It is not your sterling character (if you're honest). It's not your perfect behavior (as we all can plainly see). There is some other missing ingredient that represents a key to God's Kingdom. Let me share a personal story.
My story – I just learned on face book that I've been involved with Releasing Kings for 18 years. I've been helping people connect the desires of their hearts with a Kingly, "can do" attitude to start businesses, create wealth, fulfill destiny and make a difference in the world. I had invested our nest egg with a good friend and seen it multiply to several million dollars while we lived out of the overflow for several years. I was helping the needy, funding business startups and having the time of my life because my own dream was coming true and I was a personal example of the message of Releasing Kings.
About year 10, the guy who invested our nest egg committed suicide and two weeks after the funeral the FBI couldn't find anyone's nest egg. We were instantly broke with over 100K on credit cards with a 450K mortgage payment due in addition to a house mortgage and outstanding taxes. I went back to work as an engineer and experienced something I had never tasted before – depression. I wasn't sleeping well. I was moody with thoughts of suicide. I would wake up at night in panic attacks that morphed into fits of rage and my health was no longer perfect. It lasted months! I wasn't mad at anyone but God. It felt like He had abandoned me.
I prayed every day, and mostly got the dial tone. But as I went through the cycles of grief (6+ months), I was afraid if I committed suicide that I would pass an angel coming down to earth with a wheel barrel full of money to solve my problem (I actually have a long history of God's blessings). The wheel barrel never came, but the Lord did speak to me. He said two things, 1) "John, you didn't make a mistake and neither did I. This stuff happens in life. Your book hasn't changed. Now you decide, do you want to come home? Or, do you want to inherit your destiny?" I chose to contend for my inheritance, in spite of my new limp. As I write this, the legal proceedings are still outstanding and I can't say it's all over and I got a great victory. I just agreed with the Lord that I would do everything in my power to fulfill what is written in my book.
None of us have a perfect story. Life is not guaranteed to be fair or predictable or pretty. We can be reconciled to God through the cross. He can wash away our mistakes and forgive us and we can go to Heaven. I just want to point out that it isn't enough just to keep on living. Kingdom is about abundant life, right here and now!
… we were reconciled to him through the death of his Son, how much more, having been reconciled, shall we be saved through his life! Rom 5:10-11 NIV
Choosing life – My character flaws and my performance issues can be washed away, but what am I left with? Salvation from these unexplained events comes from Jesus' life, the power of his resurrection. The good news of the gospel isn't primarily about my problems and Jesus' death on the cross, it's the fact that He's alive today and He's building His Kingdom and we're invited to play a role.
Our personal key to the Kingdom is figuring out what's in my book and volunteering to complete my course. I'm not perfect and neither are my circumstances. I could spend my energy trying to clean up my life and make it perfect before I start on my book or destiny … it just wouldn't work. God isn't looking for perfect. He's looking for people who will work with Him to build the Kingdom and make disciples of nations. Life really is chaotic. People that live for purpose make sense of the chaos.
Living for purpose, not perfection – I have a long string of great stories, great friends and amazing things that God has done through me around the world. Many have been blessed. Here's the secret … I'm not perfect, just willing. I won't allow my past, my present circumstances, dysfunctional people or the accuser of the brethren to dissuade me from my vision. I decided to spend my life for Jesus, the Kingdom and the nations. It's actually a lot of fun, and the pressure's off because God and I both agree that I'm not perfect and it's OK. He's looking for a willing heart … something I do have. So, I'm trusting the desires He wrote in my heart and going after my book … and when I make a mistake, or something goes wrong, neither God nor I am surprised! Wisdom is having a heart for God; trying to be perfect is just "stupid." Pretending to be prefect is even worse.
Life begins with resurrection from the ashes of death. It continues when we connect our hearts with the Kingdom purpose that Father wrote there. My choice to minister through my own imperfection has opened many doors into the hearts of other people. Before my scrape with death, I could maintain the appearance of perfection. It did look like I had it together! Now all the pretense is gone, and my heart is actually healthier. And, to my surprise, other imperfect people welcome the perfume of resurrection (aka the smell of death). It smells like Jesus. We all face the same decision – choosing the destiny in our book means being reconciled with our share of life's imperfections, inside us and outside us. Life (vitality, zeal, enthusiasm, purpose) is not just a gift, it's something we choose.
I will give you a new heart and put a new spirit in you; I will remove from you your heart of stone and give you a heart of flesh. And I will put my Spirit in you and move you to follow my decrees and be careful to keep my laws. You will live in the land I gave your forefathers; you will be my people, and I will be your God. Ezek 36:26-29 NIV
My frame was not hidden from you when I was made in the secret place. When I was woven together in the depths of the earth, your eyes saw my unformed body. All the days ordained for me were written in your book before one of them came to be. Ps 139:15-16 NIV
Suggestions:                                                                                                                                              
If you're one of those young lions hungry to birth a reformation in the Netherlands, contact Marcel van den Berg http://opzoeknaarhetkoninkrijk.nl/
Podcast #5 with Tyler McCart
Podcast #3 and #4 Micro-church– The most recent interviews with Shae Bynes
Podcast #1 and Podcast #2 – fun interviews with Steve Reiter and John Ramstead
Books – Releasing Kings and Desire to Destiny
Heart Plan in Europe – HeartPlan.eu
For those of you who own a Business, join us at Building A Kingdom Company.
Releasing Kings is available in French
"Libération des Rois pour le ministère dans le monde du travail"
ISBN:  978-90-78643-08-1
 Releasing Kings is available in Dutch
"Moderne Koningen"