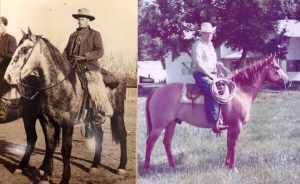 My Grandfather (Jess ~ 1915) and Father (Ford – 1975)
My grandfather raised horses in Montana and my dad had a cattle ranch and used good horses all the time. Growing up, I wanted to be just like dad, so starting at six years old, he gave me a series of horses that fit my maturity: first a pony, then an older, gentle horse, then his own favorite horse, then horse of my own, then he raised two colts for me to train myself and let me pick the one I wanted. After that he bought a registered quarter horse that I trained and rode for years. All through the series he gave me suggestions on riding and training horses … always in the context of working with cattle and getting a job done on the ranch. When I was 12 the colt was old enough to start riding and he still gave me guidance, but he never rode the colt. She was a beautiful filly and a great horse that saw lots of use on the ranch and she was a grand champion at the fair. The quarter horse turned out just as good, also a grand champion at the fair. My dad got on him once for the picture above. Because I was interested in something that was close to my dad's heart, he went out of his way to help me and he was proud of his son. My dad did love me, but that wasn't the whole story. I loved him, wanted to be just like him and went with him all the time. We worked together!
Our heavenly father is the same, when we seek what's in His heart and put the Kingdom first and work together, He goes way out of His way to show us how and open doors of favor, and give us that which is own. Like my natural father, as our stature grows, and our hearts are aligned with His to co-labor, He keeps giving us bigger and better "horses." Fathers aren't afraid to be extravagant with their sons. It feels good!
And Jesus grew in wisdom and stature, and in favor with God and men.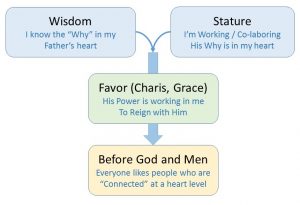 I hadn't noticed the parallels in "growth." There is a pattern we can apply in our lives.
Samuel – And the boy Samuel continued to grow in stature and in favor with the Lord and with men. 1 Sam 2:26 NIV
John the Baptist – And the child grew and became strong in spirit; and he lived in the desert until he appeared publicly to Israel. Luke 1:80 NIV
Jesus – And the child grew and became strong; he was filled with wisdom, and the grace of God was upon him. Luke 2:40 
And Jesus grew in wisdom and stature, and in favor with God and men. Luke 2:52 NIV
Wisdom is knowing why. Wisdom takes initiative based on knowing what's in my Father's heart and what's in my book. The beginning of wisdom is the fear of God. That means I'm cooperating and co-laboring with my Father, yet, as a king and friend, I am free to innovate out of my own heart.
Stature is my standing before God in heaven (righteous). God's eye, His favor and His grace flow through those "work" with him … not as obedient servants or slaves, but from the heart because we know His heart. "Stature" is the status I have with God that allows me to ask for the desires of my heart. Our stature grows with our appearances in the courts of heaven and the progress we make on earth.
'I have found David son of Jesse a man after my own heart; he will do everything I want him to do.' Acts 13:22 NIV
Elijah was a man with a nature like ours, and he prayed earnestly that it would not rain, and it did not rain on the earth for three years and six months. 18 Then he prayed again, and the sky poured rain and the earth produced its fruit. James 5:17-18 NASU
Favor (charis, grace) is not on me, it's in me. It's His power working in me to reign with Him. Grace and power are synonyms. Notice Paul refers to it as "my power" and "then I am strong" … it's in us. It's Jesus' power, but it's working in our hearts through our initiative.
But he said to me, "My grace (charis) is sufficient for you, for my power (dunamis) is made perfect in weakness." Therefore I will boast all the more gladly about my weaknesses, so that Christ's power may rest on me. 10 That is why, for Christ's sake, I delight in weaknesses, in insults, in hardships, in persecutions, in difficulties. For when I am weak, then I am strong. 2 Cor 12:9-10 NIV
Now to him who is able to do immeasurably more than all we ask or imagine, according to his power that is at work within us, Eph 3:20-21 NIV
Favor with God and men – Everyone (including God) likes to work with people who are connected and powerful at a heart level. We are fervent, inspiring, motivated, enthusiastic, excited, purposeful and practical. God and men both love to empower those who walk out wisdom and stature to get results.
For the kingdom of God is not eating and drinking, but righteousness and peace and joy in the Holy Spirit. 18 For he who in this way serves Christ is acceptable to God and approved by men. Rom 14:17-18 NASU
How can I grow? – Here are a few practical suggestions:
Hear from heaven – We don't live by bread alone, but by the words that continually proceed from our Father. Let our prayer be a dialogue of listening and conversing. We don't just learn "what" to do, He shares His heart with us and we know "why and how."
Works – Go with your Dad! We don't get words from God just to share them with others. The primary application is always in our own lives. Faith does come by hearing from God, but if it doesn't translate to action that produces fruit, the revelation dies (dead).
Books – We all have a practical, kingdom assignment in a mountain. We need to our why and we need to take the initiative to express that why in what we do vocationally. Each of us have some "entrepreneur" in our calling… creative, industrious, innovative, initiatives.

Wisdom

– Did you notice Samuel and John grew in stature or in spirit, but Jesus was the only one who grew in wisdom? Wisdom addresses the practical application of revelation … the wealth multiplication, cash flow, the relationships, the organization, the team. Wisdom is what gets results and brings and Kingdom to earth.

Weaknesses, insults, hardships, persecutions, difficulties

– Things don't always go right. God isn't micromanaging our lives, so nothing goes wrong. Part of wisdom is managing risk and standing through setbacks. You're not the only one; it's all of us.

All by itself

– The good soil of a right heart grows without any effort … all by itself. We naturally want to co-labor with our Father because His desires are deeply in our own heart. We have fruit in our lives because we want to.
"This is what the kingdom of God is like. A man scatters seed on the ground. 27 Night and day, whether he sleeps or gets up, the seed sprouts and grows, though he does not know how. 28 All by itself the soil produces grain — first the stalk, then the head, then the full kernel in the head. Mark 4:26-29 NIV
 Suggestions:                                                                                                                                              
If you're one of those young lions hungry to birth a reformation in the Netherlands, contact Marcel van den Berg http://opzoeknaarhetkoninkrijk.nl/
Podcast #5 with Tyler McCart
Podcast #3 and #4 Micro-church– The most recent interviews with Shae Bynes
Podcast #1 and Podcast #2 – fun interviews with Steve Reiter and John Ramstead
Books – Releasing Kings and Desire to Destiny
Heart Plan in Europe – HeartPlan.eu
Building Kingdom Companies via Larry Nault http://www.buildingakingdomcompany.com/
 Releasing Kings is available in French
"Libération des Rois pour le ministère dans le monde du travail"
ISBN:  978-90-78643-08-1
 Releasing Kings is available in Dutch
"Moderne Koningen"