The video is here.
Here's the 2018 drill…
Be an early adopter of those who are both priest and king;
Operate in wisdom and revelation;
Be part of both a praying ecclesia and a vocational mountain;
Set things in order in both heaven and earth (Prophetic creativity and wealth multiplication)
Reformation is "both" king and priest.
This Melchizedek was king of Salem and priest of God Most High. Heb 7:1 NIV
To Him who loved us and washed us from our sins in His own blood, 6 and has made us kings and priests Rev 1:5-6 NKJV
And have made us kings and priests to our God; And we shall reign on the earth." Rev 5:10 NKJV
Jesus is our example. He is our priest, but He is also the King of kings. Jesus is our only savior, but He is not the only son. He's the firstborn among many brothers and sisters. God is in the business of bringing many sons to glory now, not just in heaven (Heb 2:10). Understanding our functions as priest and king is how we get to that level of glory.
And we know that in all things God works for the good of those who love him, who have been called according to his purpose. 29 For those God foreknew he also predestined to be conformed to the likeness of his Son, that he might be the firstborn among many brothers. 30 And those he predestined, he also called; those he called, he also justified; those he justified, he also glorified. Rom 8:28-30 NIV
Foreknew – God could foresee us, before birth
Predestined – He committed that we should be like Jesus
Called – we feel the call (Our book written in our hearts)
Justified – receive decrees in court to have what is in our book
Glorified – Walking in our destiny now; fulfilling what is written in our book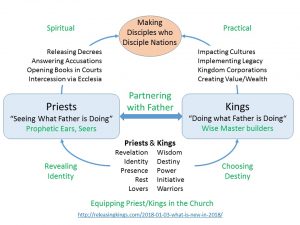 The open door – Son-kings have this relational access to the Father in heaven.
As kings, we make wise decisions, lead from the heart, prepare deliverables, create value, meet schedules, and manage cash flow. We are being invited to connect the dots between our business and the Kingdom. We are no longer just doing business or even kingdom business. Our highest mandate is discipling nations (Mt 18:19). We are not sending missionaries, we are His ambassadors.
As priests, we are part of an ecclesia targeting intentional reformation to disciple nations. We intercede, open books of destiny, and answer the accuser in the courts so that decrees are released to trumpet the next advance of the Kingdom. We are conducting business or warfare in heaven first and then working out the manifestation on earth second. Your and my businesses are part of God's Kingdom strategy to bless and disciple nations.
Translation – Here is one example from my own life. Before a big event, I sometimes get a picture or dream about how it will go. I imagine it in advance. I think of what I might say or do and what results will come about. I used to worry that is was a bit carnal that I didn't trust God or my prophetic gift enough to be extemporaneous. Then I worried that perhaps it was manipulative or new age witchcraft. I've finally realized it is normal for sons to intentionally go to heaven in prayer and see what their Father is doing and then do the same on earth.
Now I'm a conscientious steward of my access into God's presence. Before every big event, or meeting or year (2018), I'm going to heaven first in prayer to secure the outcome. I'm trying to see it in advance and even contend for the right outcome in advance. I'm releasing resources, relationships and results in the spirit as a priest so that the Kingdom comes first back here on earth. I'm seated with Him in heavenly places for a reason – to conduct business in my priestly role. In fact, intercession and access to the courts of heaven are a practical part of my business plan to carry out my kingly function.
Prophecy, the seer gifting, and apostolic authority are not just for 5-fold ministers, they are for everyone – every son and daughter! They are normal equipment for kings that we use all the time. They are demonstrated in churches and conferences, but the real use is for you and I in our mountain.
When we go to heaven first to get the picture and fix the problems, coming back and implementing the answer is a lot easier. Faith is the evidence of things we see in heaven but haven't yet seen with our natural eyes on earth. It's much more than hope. Faith is not just what we desire, it's what we've have seen with our Father. It sounds like this:
"Have faith in God," Jesus answered. 23 "I tell you the truth, if anyone says to this mountain, 'Go, throw yourself into the sea,' and does not doubt in his heart but believes that what he says will happen, it will be done for him. 24 Therefore I tell you, whatever you ask for in prayer, believe that you have received it, and it will be yours. 25 And when you stand praying, if you hold anything against anyone, forgive him, so that your Father in heaven may forgive you your sins. Mark 11:22-25 NIV
Moving mountains starts with prayer – going to heaven to get what's in your book. Then it's just a matter of "working" to implement the solution or speaking to the issue.
Warfare – Notice that while we're praying, "accusations" may come up regarding my worthiness or the viability of my and God's plan. When they do, I'm simply asking forgiveness or extending forgiveness so that Jesus' redemptive work on the cross covers every open door and removes any access the accuser may have to disrupt my "mountain moving." I'm not resisting accusations, I'm repenting for the open door that allows them to be present. It's like Judo – I'm agreeing with my adversary to make room for Jesus to deliver the counterpunch with His blood (normal business practice via Mt 5:25 and standard Courts of Heaven stuff). I stopped fighting with demons on earth. It all gets settled in heaven ahead of time. A touch or a word is all it takes, if our homework in heaven is done first.
They overcame him by the blood of the Lamb and by the word of their testimony Rev 12:11 NIV
He touched her hand and the fever left her, and she got up and began to wait on him. When evening came, many who were demon-possessed were brought to him, and he drove out the spirits with a word and healed all the sick. Matt 8:15-17 NIV
I tell you the truth, anyone who has faith in me will do what I have been doing. He will do even greater things than these, because I am going to the Father. 13 And I will do whatever you ask in my name, so that the Son may bring glory to the Father. 14 You may ask me for anything in my name, and I will do it. John 14:12-14 NIV
The greater things available to us are not just making disciples, but making disciples of all nations (Intentional reformation). It's already in your book and can be seen now in a theatre near you (heaven). We've been thinking and asking way too small!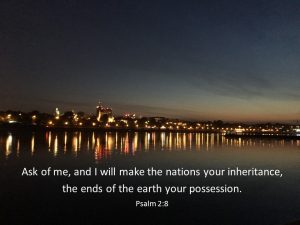 Suggestions:                                                                                                                                              
If you're one of those young lions hungry to birth a reformation in the Netherlands, contact Marcel van den Berg http://opzoeknaarhetkoninkrijk.nl/
Podcast #5 with Tyler McCart
Podcast #3 and #4 Micro-church– The most recent interviews with Shae Bynes
Podcast #1 and Podcast #2 – fun interviews with Steve Reiter and John Ramstead
Books – Releasing Kings and Desire to Destiny
Heart Plan in Europe – HeartPlan.eu
Building Kingdom Companies via Larry Nault http://www.buildingakingdomcompany.com/
Releasing Kings is available in French
"Libération des Rois pour le ministère dans le monde du travail"
ISBN:  978-90-78643-08-1
 Releasing Kings is available in Dutch
"Moderne Koningen"