The video is here.
The shift – I see a shift happening between our charismatic heritage and the initiative that goes with Kingdom. At present and in the past, 95% of charismatic orthodoxy has defined spirituality as any-minute obedience to the Holy Spirit. We just need to obey… we don't need to understand the big picture, we don't need plans or strategies (God takes care of all that). We just need to obey the Holy Spirit and the Book of Acts will return. It's not true. Obedience alone doesn't define maturity; it defines a servant / slave mentality. Jesus is asking for obedience from the heart and initiative that goes with knowing the Father's business and acting accordingly. That's the real price tag for reforming nations. "No plan" equals no fruit beyond personal ministry. Obedience and any minute guidance is not wrong. It is where we all begin. It's just no longer complete. The cloud is moving. Kingdom is much more than me, my ministry, my spiritual gifts, and signs and wonders. All those things are valid tools that serve a much larger purpose. The transition from servant to king is Partnering with the King of Kings.
Wisdom – People engaged in business (or any mountain) understand this more clearly than believers. They know God isn't going to spell our every detail. It's our responsibility to understand God's purpose, share His heart and co-labor with him. We make decisions and take initiative. Entrepreneurial people naturally do this, the rest of us don't… and have the fruit to show for it… our little. God is inviting us to disciple and bless nations. It's His idea; His great commission. God is weary of His people expecting Him to do everything at a miraculous level. Kingdom is more than we can ask or imagine, yet it's through His power at work in us… we're being invited to do it ; to work, to co-labor! I'm all through praying and believing for revival and doing nothing but prophesying and preaching about it. It's a clanging cymbal.
Now to him who is able to do immeasurably more than all we ask or imagine, according to his power that is at work within us, Eph 3:20 NIV
Priest or King – The priest in us can hear God and obey Jesus as Lord and cooperate with the immediate guidance of the Holy Spirit "and" the king grasps the purposes of God's heart and can initiate the strategies and finances to make them happen in a mountain or in the Kingdom (same thing). The former is revelation the later is wisdom. We need both.
"In 458 BC a Jewish Priest named Ezra returned to Jerusalem to rebuild the city. It had been destroyed over 100 years earlier by the Babylonians who took the Jews into captivity. Ezra's work stagnated before he could manage to rebuild the walls and the gates of the city.  A full 13 years later Nehemiah arrived at Jerusalem, took charge of the project, and had the walls up in 52 days.
So the wall was completed on the twentyfifth of Elul, in fifty-two days (Neh. 6:15).
That was an historic accomplishment.  As a Priest, Ezra was well-versed in the law of Moses (Ezra 7:5). Nehemiah, on the other hand, was a government official—the King's cupbearer (Neh. 1:11), who later was appointed to be the governor of Jerusalem (Neh. 5:14). Both were anointed, Godly men who served together.
 …in the days of Nehemiah the governor and of Ezra the Priest….  (Neh. 12:26) 
What Ezra could not accomplish by himself as a Priest was achieved easily by Nehemiah in a "kingly" capacity." (Releasing Kings Chapter 1)
Priest and King – In the new covenant priest and king are both in the same person. Jesus is our example… our high priest who is also the King of kings. We can pray in the courts of heaven (without hiring someone else) "and" we can have a vocation or business that creates value, and then wealth. We can get revelation from the Holy Spirit and prophesy "and" we can make wise decisions and understand cashflow. "Spiritual" is have a balance between priest and king and being strong in both areas.
This Melchizedek was king of Salem and priest of God Most High. Heb 7:1-3 NIV
And hath made us kings and priests unto God and his Father Rev 1:6 KJV
And hast made us unto our God kings and priests: and we shall reign on the earth. Rev 5:10 KJV
God is choosing the valiant – A trumpet has been sounded and God is igniting people who can get things done in heaven and on earth. We often refer to Deut 8:18, "the power to get wealth."
remember the Lord your God, for it is he who gives you the ability to produce wealth (Chayil), and so confirms his covenant Deut 8:18 NIV
The Hebrew word (Chayil) doesn't just refer to producing wealth. It refers to a force, whether by means or men and comes from a root word that conveys giving birth. It's the same word used for the kind of people Moses, Joshua and David chose in the verses below… there weren't preachers and teachers! They got things done.
Moses chose able men Ex 18:25 KJV
Joshua chose out thirty thousand mighty men of valour Josh 8:3 KJV
The congregation sent thither twelve thousand men of the valiantest  Judg 21:10 KJV
they helped David against the band of the rovers: for they were all mighty men of valour, and were captains in the host. 1 Chron 12:21 KJV
From the days of John the Baptist until now, the kingdom of heaven has been forcefully advancing, and forceful men lay hold of it. Matt 11:12 NIV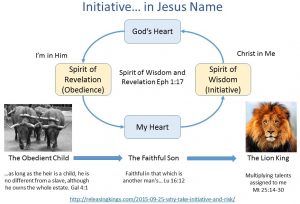 The religious spirit – Obedience works well in religion, but it's not a Kingdom motivation. He doesn't need our sacrifices, offerings or theatrics. He's looking for contrite hearts aligned with His own. Jesus is the King of kings, not the King of servants. This is an hour when the eyes of the Lord are searching for valiant men and women of God willing to take initiative who can get things done in their mountain. They are people who carry His passion and His heart for people and for nations… who aren't ashamed of having strategies, making decisions and being visible. They don't pray to a God way up in heaven, they pray from heaven, seated with Him, joining in a spirit of prayer, from a place of power, led by Jesus who is the King of kings… to bless and disciple nations. They collaborate, cooperate, co-labor and reign with Jesus. He is both priest and King, and so are we.
And have made us kings and priests to our God; And we shall reign on the earth." Rev 5:10 NKJV
"The multitude of your sacrifices — what are they to me?" says the Lord. "I have more than enough of burnt offerings, of rams and the fat of fattened animals; I have no pleasure in the blood of bulls and lambs and goats.  12 When you come to appear before me, who has asked this of you, this trampling of my courts?  13 Stop bringing meaningless offerings! Isa 1:11-13 NIV
I have no need of a bull from your stall or of goats from your pens Ps 50:9 NIV
You do not delight in sacrifice, or I would bring it; you do not take pleasure in burnt offerings. 17 The sacrifices of God are a broken spirit; a broken and contrite heart, O God, you will not despise. Ps 51:16-17 NIV
Suggestions:                                                                                                                                              
If you're one of those young lions hungry to birth a reformation in the Netherlands, contact Marcel van den Berg http://opzoeknaarhetkoninkrijk.nl/
Podcast #5 with Tyler McCart
Podcast #3 and #4 Micro-church– The most recent interviews with Shae Bynes
Podcast #1 and Podcast #2 – fun interviews with Steve Reiter and John Ramstead
Books – Releasing Kings and Desire to Destiny
Heart Plan in Europe via Maria Lalik – HeartPlan.eu
Building Kingdom Companies via Larry Nault http://www.buildingakingdomcompany.com/
Releasing Kings is available in French
"Libération des Rois pour le ministère dans le monde du travail"
ISBN:  978-90-78643-08-1
  Releasing Kings is available in Dutch
"Moderne Koningen"
ISBN:  978-90-75226-71-3