Video for this Blog is here.
The spirit of this newsletter is captured here.
On our last trip to the Netherlands we intentionally tried to reach people open to the concept of reformation… people that were already hearing that "Sound of Nations." The Lord gave us all kinds of "young lions" who hear the sound and are willing to contend for the destiny of their nation. They were often around 40 and already successful in their own mountain. They call for a new level of leadership. One that has a vision for 100-fold fruit instead of 30 or 60. Leading a reformation is a big vision… exactly the vision theses young lions are looking for. Small and mundane are out; God-size goals are in! Here are a few of the attributes of leaders who can inspire this generation of reformers and nation disciplers.
Friends take Initiative – They are not necessarily connected to their ultimate role in the Kingdom, yet they cannot be given menial assignments. They must be challenged to think as big as God is. They will determine and initiate their own role with guidance from their Father. They aren't servants! We have to keep the bar high. (Jn 15:15-17)
A strategy for Prayer – They think strategically and at influential levels in our cultures and in the spirit. The primary spiritual tool we initiated in the Netherlands was the formation of a prayer initiative (with an Ecclesia) to join forces in the courts of heaven. Spiritual resistance in personal or national levels has roots that must be "seen" and answered. These young lions are spiritual and willing to "wrestle." (Rev 12:11)
Fathers – The Netherlands is an apostolic place; a gateway called to bring reformation to Europe and around the world. There is a dimension of birthing and fathering creative new approaches to solving long-standing cultural issues in every mountain. These young lions carry that anointing to cross borders with good news that blesses nations in practical areas. It is not just traditional preaching and meetings targeting revival in a building.
Wisdom – Once exposed to the why of Kingdom and blessing nations, these young lions are wired to know the Father's business and figure out the what and how. Organizers of this tribe must know how to be inspirational leaders, not directional managers. Reformation is not led by a religious hierarchy. These young lions have a direct link to the real head of the Ecclesia – Jesus. They will go far beyond what any leader could ask or imagine.
Authenticity – These young lions are finding their ministry to impact nations in their own businesses and jobs. They are already in their mountain positioned by God for Kingdom. They are already pursuing the dreams God wrote in their hearts. They can be themselves. The "new" is this: ministry is not separated from culture. It is not done on overtime while we work 40 hours, so we can minister 2 hours. Leaders are connecting these young lions with their own hearts and vision and opportunities… and with God's heart for the nations.
This reformation is at a first-fruits and a grassroots level. We are sounding a trumpet to gather an army who already hear this voice to reach a tipping point. It will include both saved and pre-saved and it will be void of religious tradition, introversion, and small thinking. Leaders of this move have these two characteristics; they can paint a vision as big as God to contend for nations and they can hear the voice of the Father and "see" what's happening in the courts of heaven… and they can taste victory. They will not trade 30 and 60-fold for 100. They will keep the bar as high as the desires in God's heart.
"I will make you into a great nation and I will bless you; I will make your name great, and you will be a blessing. 3 I will bless those who bless you, and whoever curses you I will curse; and all peoples on earth will be blessed through you." Gen 12:2-3
Ask of me, and I will make the nations your inheritance, the ends of the earth your possession.  Ps 2:8
…go and make disciples of all nations… Matt 28:19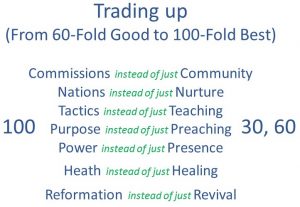 Suggestions:
If you're one of those young lions hungry to birth a reformation, contact Marcel van den Berg
http://opzoeknaarhetkoninkrijk.nl/
We have captured what we know about the Dutch book/destiny in this article – a draft that will grow.
Click to access 2017-09-01-Netherlands-book.pdf
the Dutch book (above) has 5 areas for prayer… each addressed in a 10 minute video.
Gateway to European Reformation – Recovering the Dutch National Identity
https://www.youtube.com/watch?v=LN-8piOMmvw
Dutch Leadership – Recovering Courage
https://www.youtube.com/watch?v=rOGIfR5czmY
Integrity and Character – Reconnecting Dutch hearts and dreams
https://www.youtube.com/watch?v=NfKMukM7Hcc
Dutch Inclusiveness – Recovering leadership
https://www.youtube.com/watch?v=F9GpZuc5M8s
Dutch Tolerance – Recovering zeal and vision