The video is here.
This is an amazing and wonderful time in God's Kingdom and in American History. New victories are appearing every week and the curtain has been pulled back on levels of corruption in politics and the press that are liberating for all of us. God Himself is doing something that approaches another reformation to be followed by another "enlightenment / industrial revolution"… a renaissance in cultures around the world.
It's an intense season of spiritual warfare and political contention, yet the Kingdom is being unveiled and the glory of God is more visible than ever. We are on the eve of something wonderful that we have not planned or anticipated… it's beyond all that we could ask or imagine! Our hearts, as Americans, are thrilled.
The calling on the United States is to be the light and the glory for the world. It's our privilege to bless nations and peoples. Economies are going to get blessed and, as the US rises into her calling, all nations will rise as well. We will touch poverty in the natural and set captives free in the spirit. Sanballet will chirp and accuse, and Shimei will throw rocks, but God will prevail. It's a season for David and his mighty men to walk in the grace of their calling. I hear this verse:
As you go, preach this message: 'The kingdom of heaven is near.' Heal the sick, raise the dead, cleanse those who have leprosy, drive out demons. Freely you have received, freely give. Matt 10:7-8 NIV
Join the party – The news is so filled darkness and deception, it can be very misleading. There is a power behind the mindset. What is most interesting is how it is being exposed as "fake news." Corruption and networks of evil are being shouted from the rooftops.
At the same time, there is an invitation to play our role in the Kingdom and to take our land in the mountain or vocation of our calling. On one hand, we have our eyes on Jesus and we are living epistles who demonstrate the joy associated with this party. And at the same time, we are the only bridge others have to find the King, connect to His Kingdom and join the party.
Two prayer strategy fronts – There are major themes in both the Kingdom of light and darkness right now. It's also a season for prayer around those themes. If we understand Roots Have Fruits, we can change the world. Let's address both:
Light – We are on a path toward a reformation, not a rapture. God is raising up His people in every mountain and great break through and great blessing are unfolding now. We have roots and heritage in the book of our calling that are welcomed with faith, anticipation and work. We enjoy and celebrate every victory with praise and thanksgiving. Our lives and warfare are flowing from a place of the victory that Jesus already won… from a position of being seated at His right hand. The concept of a reformation is real… and very exciting and worth contending for. Cyrus is real… He's worth praying for.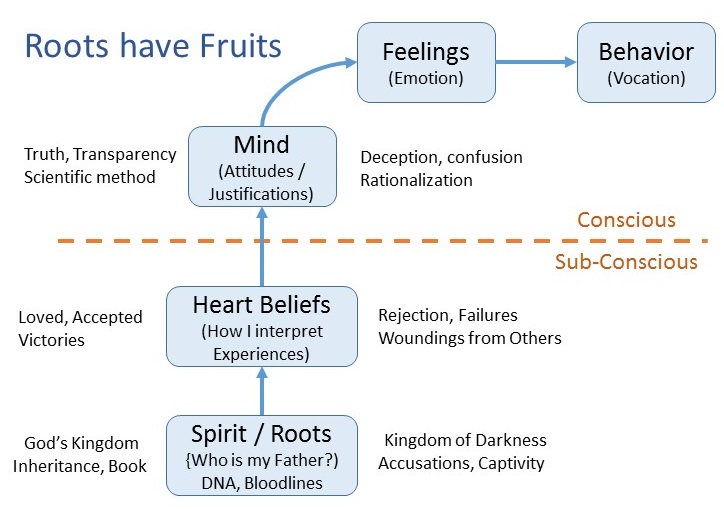 Darkness – We are not ignorant of the enemy's devices, and there are also themes in the kingdom of darkness that can be defeated. It's exciting that many of these ideological strongholds over entire cultures are nearing a tipping point and will crash like the walls of Jericho at the sound of a trumpet. Many will be freed at one time… around the world. It's our job to intercede and help break the strongholds that imprison many. We demolish arguments at their roots!… without arguing.
For though we live in the world, we do not wage war as the world does. 4 The weapons we fight with are not the weapons of the world. On the contrary, they have divine power to demolish strongholds. 5 We demolish arguments and every pretension that sets itself up against the knowledge of God 2 Cor 10:3-5 NIV
Here's one example (of many): There is a common political theme with a spiritual root called white guilt or white privilege. Here is the secular definition from the urban dictionary.
White guilt – a belief, often subconscious, that being white is, in and of itself, a great transgression against the rest of the world for which one must spend their life making atonement. It is often exemplified by embracing the cultures and philosophies of various other ethnic groups while neglecting one's own roots.
If I am the recipient of this accusation, there is a stronghold that comes with it. It's very logical that I will be "driven" to embrace multiculturalism, globalization, climate change, anti-capitalism, government wealth redistribution, open borders immigration… etc. Abortion is just a symptom of the self-sabotage embedded in the mindset of this stronghold. Another casualty is embracing the calling on one's own nation. This guilt can make us ashamed to be patriotic, and to identify our unique place in the Kingdom, and to intentionally pursue it on a national level.
"White guilt" has huge political consequences, yet it's not really about politics or the logic behind the debate of issues. It's simply a spiritual root with two solutions that can be implemented in the courts of heaven.
For myself – There may be injustice embedded in our own DNA as personal or generational sin. I, or my ancestors, may have been the oppressors that give white guilt access into my life. The enemy accusation may be legitimate. In that case our response is agreement with the accusation, repentance, forgiveness and freedom. Jesus redemption moves us from white guilt to no condemnation.
For others – Many are bound at a level that they can't see the deception or they may not even be saved. In this case, it is our job to stand in the gap on their behalf as intercessors and repent for them. Somebody prayed for me… I wasn't looking for Jesus when He came and found me. We're not in the business of writing people off who don't agree with us. We're confronting the spirit behind the delusion and freeing them to choose Jesus on their own.
Standing in the Gap – Here is my biggest "ask." I don't just want to see the Kingdom prevail in great victory to bless nations and exalt Jesus, I want to plunder the gates of the enemy and set the captives free. Those who are powerless to help themselves out of deception… out of the darkness and into the light because we have the words of life. We have to remember that God loves people even more than we do. Intercession isn't always binding and loosing and commanding. Thanksgiving is a formidable prayer weapon. Love is the best way to impart the victory.
In the last time there will be mockers, following after their own ungodly lusts." 19 These are the ones who cause divisions, worldly-minded, devoid of the Spirit. 20 But you, beloved, building yourselves up on your most holy faith, praying in the Holy Spirit, 21 keep yourselves in the love of God, waiting anxiously for the mercy of our Lord Jesus Christ to eternal life. 22 And have mercy on some, who are doubting; 23 save others, snatching them out of the fire; and on some have mercy with fear, hating even the garment polluted by the flesh. Jude 18-23 NASU
All this is from God, who reconciled us to himself through Christ and gave us the ministry of reconciliation: 19 that God was reconciling the world to himself in Christ, not counting men's sins against them. And he has committed to us the message of reconciliation. 20 We are therefore Christ's ambassadors, as though God were making his appeal through us. 2 Cor 5:18-20 NIV