The video is here.
Most believers carry a concept that grace is how we get saved without works. Grace is much more but it has three basic definitions or aspects. Grace is not just fire insurance for heaven, it's a key ingredient God's uses to build His Kingdom and bless nations through us …right now.
We are saved and sanctified by grace through faith "and" it's not from works
We have access to spiritual gifts and ministries by the grace on our lives
We each are empowered and called (uniquely graced) to be extraordinary in our mountain
It's the third aspect of grace that touches competence and empowers us to make a difference in our mountain… in our job or business. We "should" standout and do "greater works" both practically and miraculously because our Father is working through us. We see this clear connection between excellence, wisdom, stature, promotion and favor with God and men… all flowing from the grace on our lives. Once we know it exists, two things happen: 1) we expect that we can do great things; we are not surprised when they happen, and 2) we develop an awareness of the grace in those around us. We can recognize it and release it in other people.
Then this Daniel began distinguishing himself among the commissioners and satraps because he possessed an extraordinary spirit, and the king planned to appoint him over the entire kingdom. Dan 6:3-4 NASU
And the child grew and became strong; he was filled with wisdom, and the grace of God was upon him…. And Jesus grew in wisdom and stature, and in favor with God and men. Luke 2:40, 52 NIV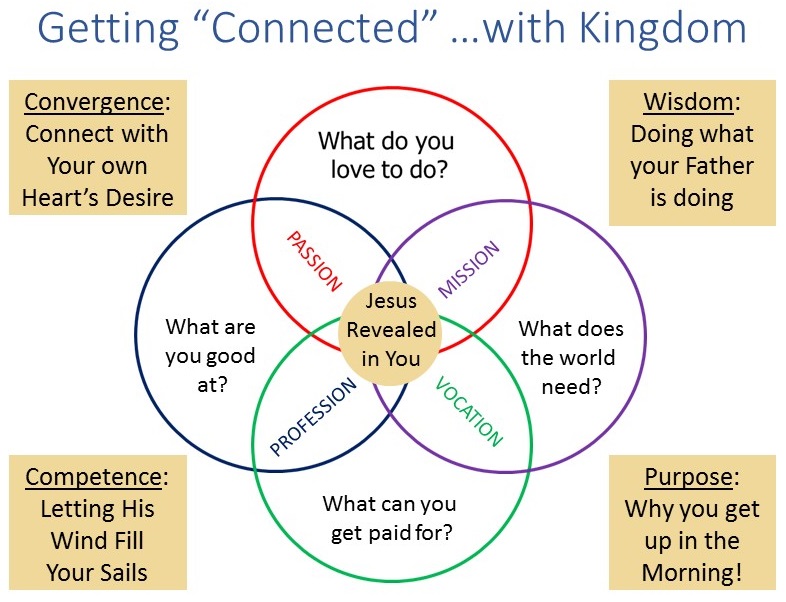 Jesus revealed in you (grace) – It helps to see the goal: His grace in us and through us shows up in extraordinary people doing greater works… sorry! Sure, we're not saved by works, but once we're saved the most fun in this life is doing what the Father does and He's working – It's wisdom to do it with him. Charis means the divine influence upon the heart, and its reflection in the life; including gratitude. Grace is both internal and external. Grace is very evident in people who flow with it – it shines, empowers and it feels like the wind of God is in our sails. We can sense Him working with us in the power and authority that goes beyond our natural ability. Doors open and people respond in ways that surprise us.
We converge with our own hearts and original design when we touch our Kingdom purpose. Extraordinary people who distinguish themselves with competence and wisdom are very prone to reign in life. They survive the challenges and have the favor and promotion of God and men.
How much more will those who receive God's abundant provision of grace and of the gift of righteousness reign in life through the one man, Jesus Christ. Rom 5:17 NIV
Now to him who is able to do immeasurably more than all we ask or imagine, according to his power that is at work within us… Eph 3:20 NIV
To them God has chosen to make known among the Gentiles the glorious riches of this mystery, which is Christ in you, the hope of glory. Col 1:24 NIV
How to get there – Here's the tricky part of this newsletter. The full expression of Jesus' grace that empowers us, takes a winding path through the fellowship of His suffering. It's a path that goes through failures and deaths and resurrections which only makes sense in hindsight. There is no shortcut around the brokenness that leaves a humble fragrance of grace that, in the end, makes us much stronger. Think of Joseph, Daniel, David, Jesus, Paul, Peter… there are no exceptions.
So, we're not just thankful in difficulties… we're delighting in them for Jesus' sake… because they make us stronger and wiser. It's a privilege to be entrusted with trials or resistance or warfare… nothing else can deepen our hearts, strengthen our trust and raise our stature before God like death and resurrection.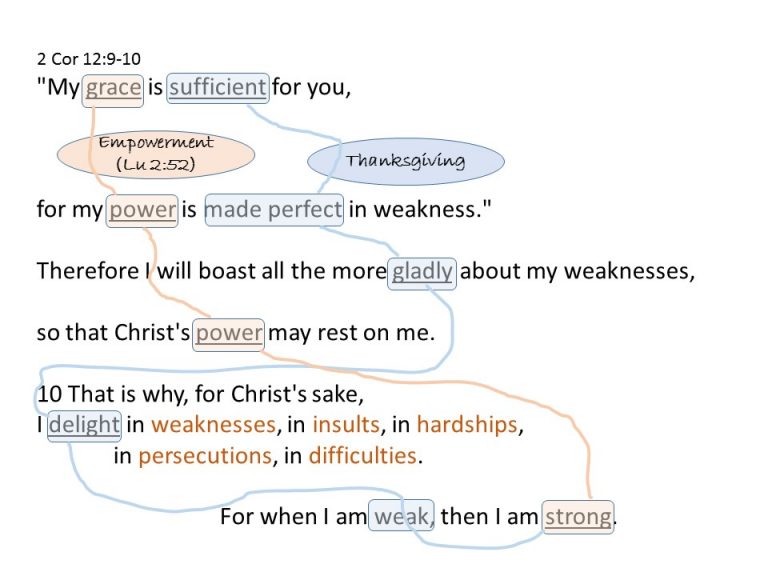 Grace is what gets us through. It's the awareness that Jesus is in us and goes before us and empowers us to be more than conquerors. If we know that grace, that purpose, and have a sense of our destiny… it eventually leads to glory. We're going to paper the walls with it – fill the earth.
And we know that in all things God works for the good of those who love him, who have been called according to his purpose. 29 For those God foreknew he also predestined to be conformed to the likeness of his Son, that he might be the firstborn among many brothers. 30 And those he predestined, he also called; those he called, he also justified; those he justified, he also glorified. Rom 8:28-30 NIV
Foreknew – from the counsels of heaven, before birth. God is predisposed to use me
Predestined – What is written in the book. I have a destiny worth pursuing
Called – we feel the call. It's written in the desires of our hearts.
Justified – receive decree in court to have what is in our book. Warfare can't stop me.
Glorified – Walking in our destiny; fulfilling what is written in our book. I can feel His wind in my sails… so can everyone else.
This message by John Bevere on Grace That Empowers ministered to me and inspired this blog. The notes I took are here.