We never outgrow the need for encouragement and we all long for fathers. Our hearts are designed to cherish a father and to be one. It is pastoral, but once we feel the call to our own destiny, that relationship is better described as apostolic.
Apostolic ministries are not confined to the local church or even the church mountain. These fathers are commissioned by Jesus and functioning in every mountain… we just don't refer to them as apostles when they are outside the church (probably wisdom). The strict meaning of apostle is someone set apart or sent out in the sense of being commissioned by Jesus. They typically carry a message and/or a mandate to spearhead something in the Kingdom. In the church mountain, that usually translates to planting or overseeing churches. In other mountains apostle carries the same definition and weight, just a different application.
It's you! – Here's the real meat of this point. Apostolic messengers or ambassadors in church equip the saints for what?… to be apostolic. We are all Jesus' ambassadors, we're just not all called to the local church mountain. What is happening in this season is that we are politically, practically and spiritually on the eve of another reformation. The apostolic mantle is falling on many… translated "you" if you're reading this blog. There are big apostolic initiatives and opportunities in every mountain. If you want one, you just raise your hand and volunteer (within the sphere of your calling).
How? – Local churches with meetings, a staff, buildings and parking lots are a one-size fits all solution. They do a good job of equipping the saints (and we need to plant more of them), but they have little to offer when it comes time to graduate into finding and fulfilling your own call in your own mountain. We never run out of the need for pastoral ministry or apostolic fathering. It just can't all be from behind a pulpit. This is a concept for church occurring inside your mountain with your vocational tribe. We call it micro church.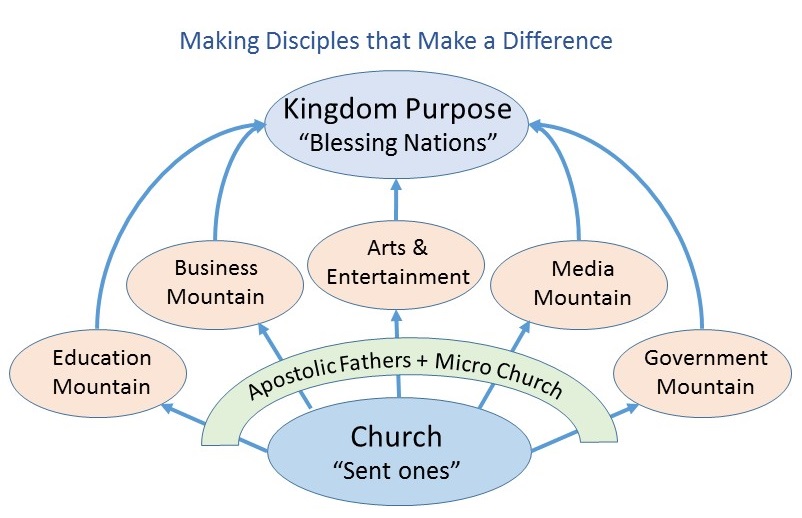 Although Jesus is our real Father, He is still equipping us with apostolic fathers here and now. They come in two varieties, once you learn to recognize them (remember they don't have "apostle" on a name tag).
1. Apostolic fathers will help you connect with "your" dream
2. Apostolic mandates will help you connect with "their" dream
#2 Mandates – Both are legitimate expression of apostolic, they just have a different feel or experience. If you don't have your own dream fully defined or you are attracted to what someone else is doing, #2 works great. They are looking for people to help carry the mantle and the load. It might be a church, a business, a political cause, etc. The #2 variety can discern fairly quickly if your heart and their heart are a match. Their focus is to include you in their mandate.
#1 Fathers – If you are searching for your own expression of Kingdom, or you have found it and need a father to look over your shoulder, you want the first variety. Apostolic fathers avoid projecting their own mandate on others. They can help you discern what God has written in your own heart. You are their mandate and the difference in the experience with them is tangible.
The Story – I met Don Ward about a decade ago. He's an apostolic father in the business realm. He's a great networker – you can't talk to him with getting suggestions for other people who might be able to help you with your dream. Without a little discernment, you might never recognize him. There is nothing particularly noteworthy in his resume or bank account. He's a normal guy with his own share of past failures… except for the mantle, the vision, the apostolic anointing and the stories of those he fathers. Here is a taste of Don and those he minsters to in a video. See for yourself. I think you can tell that Don's apostolic mantle is contagious and other CEO's have caught his anointing to be apostolic too.
The Twelve – Jesus ministered to 12 disciples. He preached to thousands, but he Fathered 12. That's about how many people any of us can keep up with and really father. It doesn't happen from a pulpit. Your heart is not yearning for more information, messages and meetings. It longs for a father who will take the time to know you and invest in you. Find one and be one. Great things are happening in the Kingdom in this exact season. It's time to lift our eyes to the horizon and get a picture of how fast God is moving in nations and how many doors are opening. This video by Dutch Sheets is a great perspective on Kingdom for 2017. The harvest is ripe and the laborers are saying, "Yes Lord!"
The Why – Apostolic fathers touch the most important aspect of the Gospel of the Kingdom; you have a mandate from your heavenly Father (an invitation), a Kingdom purpose and a mantle of grace to carry it out. That purpose is part of your spiritual identity and speaks to why you are here. When you touch your mandate, it feels like home… an adventure, a commissioning, the fruitful place of multiplication, and the place of blessing others. Touching destiny starts with falling in love with people. Fathering flows naturally from loving people.