The Video is here.
The biggest "motivator" for every Christian is experiencing God's presence and power (in the church) and then getting the invitation to walk with the Father to do even greater works (in the Kingdom). The church is an incubator for new believers and it has a motherly feel. From that nurturing environment we learn to receive… forgiveness, love, healing, and eventually our identity (who we are in Christ). It's exciting to exercise spiritual gifts and have the sense of learning to obey or cooperating with the moving of the Holy Spirit. The experience of Jesus' personal redemption in our lives is amazing and motivating. We naturally want to sign up for more and give our lives back to Him.
These early years of growth naturally lead to an expression of our own ministry in the sense of being an apprentice under the tutelage of another. We usually become faithful in that which is another man's call… something close to our own that we can emulate just as Paul explained, "Follow me as I follow Christ."
Experiencing Kingdom – Maturing naturally and gradually moves us toward the desires that God has written in our own hearts for both our vocation and ministry. For perspective, that maturing process can be one or two decades! God normally gives a sense of having "that which is our own" even if we are working with others. The experience of Kingdom is a choice to express our identity in terms of a destiny, a direction, or a mountain. Kingdom is the natural desire to "give" and participate with the Father to "build."
Our experience with the Father gets tweaked in an amazing way. Instead of just telling us what to do, He asks what we would like to do… the conversation and relationship moves from servant to friend in a transition that can feel a bit scary and lonely. Our heavenly Father wants a conversational relationship. Every son gets asked this one pivotal Kingdom question, "What would like me to do for you?" We get the dial tone in prayer until we answer. The answer from our hearts is the birthplace of an exciting adventure where we choose the deepest desires of our hearts and put the Kingdom first at the same time. My deepest heart's desires for purpose turns out to be exactly those on my Father's heart. He wrote them on my Heart too (Heb 8:10, 10:16).
At Gibeon the Lord appeared to Solomon during the night in a dream, and God said, "Ask for whatever you want me to give you." 1 Kings 3:5 NIV
I no longer call you servants, because a servant does not know his master's business. Instead, I have called you friends, for everything that I learned from my Father I have made known to you. 16 You did not choose me, but I chose you and appointed you to go and bear fruit — fruit that will last. Then the Father will give you whatever you ask in my name. 17 This is my command: Love each other. John 15:15-17 NIV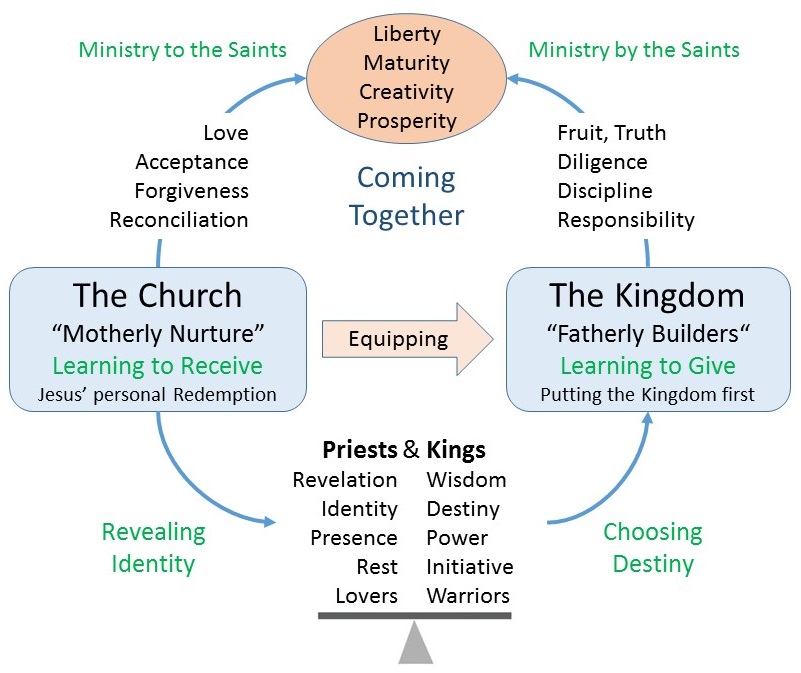 What can go right? – Entering the Kingdom is an adventure. Kings are willing to define, plan and pursue the desires that God has written on their hearts. They do have personal dreams that map into a larger Kingdom plan that God is orchestrating. Kings build a bridge between their dreams, vocation, ministry, skills, finances and Kingdom purpose. That's the way the Kingdom works! Kings hear God through the Bible, the Holy Spirit, and wise counsel… so do servants. The difference is that Kings also hear what the Father has written on their own hearts, and they are willing to ask for those dreams; servants won't dream or plan or ask or act. The distinction is initiative.
That ability to choose a destiny takes us to a place of ministry in a mountain – doing what the Father does. Here's what's ironic; we become fathers ourselves… pulling others into their identity with all the patience and nurture that we experienced in church… and then encouraging them to choose their own destiny. Apostolic fathers nurture their sons into their own unique identity (like a mother) and then encourage them to say "yes" to the adventure of their own heart's desire (like a father). We are equipping people for the work of ministry in the Kingdom, yet we are always a balanced expression of a nurturing mother and a building father, depending upon the maturity of the people whom we touch.
Now our businesses are a place of ministry and missions: we are often the pastor, prophet, and evangelist. If I'm a teacher, my classroom is my congregation. Entertainers take on the role of worship leaders. Journalists take on the role of gatekeepers. Political leaders become prophetic deliverers to a culture.
What can go wrong? – There are a few off-ramps on the way to Kingdom that are common enough to mention.
We assume the church and the Kingdom are the same thing, and try to find fulfillment inside the church. These folks end up idolizing pulpit ministries, and see their ministry future funded by offerings. They will often compete for leadership roles inside the church, or plant churches even though they are not really called for that mountain. Others simply give up and become casualties of the frustration of not be able to express their calling.
Some begin their discipleship process by serving in another man's ministry, and try to make a career out of it instead of finding their own heart's expression. These folks eventually get numb spiritually.
Normal is discipleship in a healthy church to find our identity and to receive an equipping for ministry…. then choosing an expression of that identity in a mountain and bearing fruit… It doesn't mean we leave church; it often means we take "church" with us into our mountain (business, education, government, arts and entertainment, family, media, medicine, etc).
What can go wrong? (Kingdom) – There are also a few Bermuda triangles full of ship wrecks on the Kingdom side.
Seeing your own dream start to come true can be a heady experience. Sometimes we assume "God's guidance" and "wisdom" are the same thing, and we skip the concept of personal responsibility, thinking we are trusting God. That lack of due diligence can result in business and investment failures.
The cousin of #1 is leveraging too much of our business for ministry, and failing to manage cash flow… again, thinking a miracle from God will save us because of our noble cause. These folks become too passive to keep up with ever-changing conditions of the marketplace and the need to take bold, corrective initiatives to grow.
Some in the business world trust in miracles in lieu of quality, service and value. Their initiatives die a slow death for a lack of customers.
Others in job settings get bored and lose vision. They lose sight of the time that maturity in the Kingdom takes, and the level of Fatherly discipline in a wilderness setting that goes with Kingdom.
Normal Kingdom living means we've found an expression of our calling in our culture. We have a healthy balance between wisdom and revelation and we are both priests capable of ministering to others "and" kings possessing the land or assignment of our calling… creating value, stewarding wealth, and blessing people. We've connected the dots between our vocation, our finances and our ministry.
The new – Builders are graduating into Kingdom in this hour. They are bringing the nurturing ministries of church with them into their mountain. These apostolic men and women are pulling their own sons and daughters into their identity (who they are in Christ) and then encouraging them to choose an expression of their own heart's desire in a Kingdom destiny. Pretty exciting! For 40 hours every week, they are bringing their gifts and callings (even church) into all 7 mountains of our culture.
"All authority in heaven and on earth has been given to me. 19 Therefore go and make disciples of all nations, baptizing them in the name of the Father and of the Son and of the Holy Spirit, 20 and teaching them to obey everything I have commanded you. Matt 28:18-20 NIV