The video is here.
The key to the Kingdom is centered around becoming comfortable in our God-given identity. There is an authenticity and an authority that comes when we connect with the desires of our heart. Instead of trying to discipline ourselves to rise up to some external expectation, we relax and find the grace that God has over our lives and simply walk it out. We love ourselves, other people and God much more when we turn this corner. It's a child-like innocence and simplicity that is willing to ask for the desires that God wrote in our heart.
"I tell you the truth, unless you change and become like little children, you will never enter the kingdom of heaven. Matt 18:3 NIV
The book – The second amazing discovery is that the desires of our heart (and God's heart) are connected to a destiny. God knew us before we were born, and we each have an important role in the Kingdom that has been written in a book. Once we know it exists, like little children, we can ask our Father to show it to us. Our life's vocation and ministry purpose are intertwined in a way that gives our hearts a direction and a reason for life. Knowing what's in our book carries the sense of having God's wind fill our sails with power, purpose and the adventure of Kingdom – everything fits a pattern for good (Rom 8:28). Not knowing feels like a ship without a rudder – we are constantly double-minded and unstable (James 1:8)
For you created my inmost being; you knit me together in my mother's womb.  14 I praise you because I am fearfully and wonderfully made; your works are wonderful, I know that full well.  15 My frame was not hidden from you when I was made in the secret place. When I was woven together in the depths of the earth, 16 your eyes saw my unformed body. All the days ordained for me were written in your book before one of them came to be. Ps 139:13-16 NIV
Books of destiny and purpose are also written for churches, businesses, cities and nations. When we touched the destiny of Poland in words or intercession, it was electric. The Greek word for church Ekklesia means called ones. God's people know what is in their book.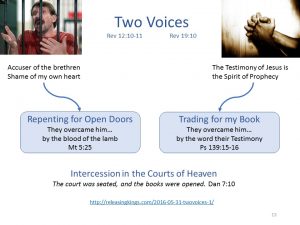 The two voices – Our lives carry Kingdom purpose written in our book. That destiny is not irrevocable predestination; we have to know it, choose it and fight for it. Jesus is always speaking to the Father in our defense (1 Jn 2:1) and He is constantly in intercession in our behalf (Heb 7:25). If you listen with your heart, you can hear the voice of His encouragement pulling us toward our kingdom role. His testimony about us is very prophetic and powerful, and available for us to give it a voice and implement it in our lives to bless people and nations.
'Blessed are those who are invited to the wedding supper of the Lamb!'" And he added, "These are the true words of God." 10 At this I fell at his feet to worship him. But he said to me, "Do not do it! I am a fellow servant with you and with your brothers who hold to the testimony of Jesus. Worship God! For the testimony of Jesus is the spirit of prophecy." Rev 19:9-10 NIV
The second voice we can all hear is from the enemy whose aim is to steal and discredit the desires that God wrote in our hearts. We have all heard this voice. It is simply an articulation of why we are not qualified to possess our destiny. In a condemning way, it points to our failures and discredits our call and role in the Kingdom. It nearly always contains enough truth to create doubt in our own hearts about our worthiness to receive our dream and our role in the Kingdom. When we hear this voice we feel guilt (I made a mistake) and shame (I am a mistake). We feel condemned to a life of mediocrity and rejection.
"Now have come the salvation and the power and the kingdom of our God, and the authority of his Christ. For the accuser of our brothers, who accuses them before our God day and night, has been hurled down. 11 They overcame him by the blood of the Lamb and by the word of their testimony; they did not love their lives so much as to shrink from death. Rev 12:10-11 NIV
Responding to the accusations – We have all been the target of these condemning accusations. Their strength is always rooted in the shame of our shortcomings. It is very much like a court room setting: Satan is the accuser, Jesus is our defense, and our Father is the judge. Our strategy is very simple: instead of arguing or resisting, we are agreeing with the accusation and covering it with the blood of the lamb (repentance and forgiveness), then restating Jesus' testimony over our lives… this time in our own testimony about ourselves!
"Settle matters quickly with your adversary who is taking you to court. Do it while you are still with him on the way, or he may hand you over to the judge, and the judge may hand you over to the officer, and you may be thrown into prison. Matt 5:25-26 NIV
I always agree with the adversary quickly. My defense is always Jesus' forgiveness via the cross, coupled with my personal repentance. My words are always a prophetic reflection of Jesus' testimony over my life – exactly what is written in my book. I simply will not allow condemnation to cast a shadow over my Kingdom destiny… there is now no condemnation for those who are in Christ Jesus (Rom 8:1). My eyes are fixed on Him, His testimony and my Kingdom destiny.
Loving people – the biggest and most liberating aspect of knowing what to do with these two voices isn't just in our personal lives. It's dramatically changes how we view others. Instead of seeing people in terms of their problems, dysfunctions, sins and offences and trying to correct them through a lens of condemnation… I'm simply seeing and speaking Jesus' testimony over their lives. My heart now has a great reason to love and respect people regardless of their condition. I can hear Jesus' voice over their lives and see into their book. And, I can verbalize it and help pull them into their destiny in a powerfully prophetic picture. When we connect with what God has written in our hearts and really become ourselves, all the dysfunctional baggage falls off without weeks and months of counsel or therapy.
Want to know what happens next? People love us back. Most have only heard the voice of condemning accusations from those around them. Seldom in family, work or church is the testimony of Jesus spoken over their lives. Rarely do others help them open their book and call out their destiny. None of us are changed by counselors or leaders who point out our problems. We are all resolved to change from the inside out when we get a picture of the joy set before us.
Let us fix our eyes on Jesus, the author and perfecter of our faith, who for the joy set before him endured the cross, scorning its shame, and sat down at the right hand of the throne of God. 3 Consider him who endured such opposition from sinful men, so that you will not grow weary and lose heart. Heb 12:2-3 NIV
Prophetic witchcraft – Opinions and counsel that articulate the voice of the accuser are also prophetic in nature – a form of witchcraft that holds people in their sin. There is a spirit behind the words. The true prophetic is always the testimony of Jesus about that person. It always pulls them toward their calling in the Kingdom – which is always very positive, uplifting and prophetically powerful. It may lead them through repentance and change, but the motivation for it is their bright future… not our critical spirit or the laundry list of their shortcomings.
The same is true for nations. Much can be criticized, but transformation comes through the door of seeing what is written in Poland's book, and giving voice to the testimony of Jesus. The result is powerful intercession and amazing prophetic resonance with people.
The slides and background for what we shared in Poland are here. God has given us a great balance between heart and mind, wisdom and revelation, and spiritual and practical.