The video is here.
Last week we summarized the theme of the Holy Spirit from our trip to Poland here… We, and nations, have a book that contains our destiny (Ps 139:13-16). Kingdom is learning what's in that book, choosing it, fighting for it and inheriting our land. The warfare takes on a courtroom setting: the accuser of the brethren is the prosecuting attorney (Rev 12:10-11), the testimony of Jesus is the Spirit of Prophecy and our defense (Rev 19:10-11), and our Father is the judge. Enemy accusations usually have an ingredient of truth that must be put under the blood of Jesus' forgiveness, and then we have to speak what Jesus is saying about us. What is written in our book is so precious and exciting that we seek it first and then "live" for it!
They overcame him by the blood of the Lamb and by the word of their testimony; they did not love their lives so much as to shrink from death. Rev 12:11 NIV
It's not that hard to hear the accuser raise issues over our lives. Now we know what to do about them. The next question for leaders and prophetic people is, "What do I do when I hear an accusation against someone else that is legitimate?" The choices are confronting them, exposing them or praying for them.
Standing in the Gap for Others – Confrontation, no matter how loving and sincere, has significant limitations: 1) We are not the Holy Spirit with the power to change anyone else, and 2) Repeating the accusation does sound prophetic, but it usually carries the stigma of a word curse that does more harm than good. We are simply voicing the legal logic for why that person's dream can't come true. They really need to hear what's in their book and to find freedom from their captivity… not more religious condemnation and intellectual suggestions on spiritual diets to improve their piety. God doesn't need more sheriffs in the Kingdom… one accuser is plenty.
"I looked for a man among them who would build up the wall and stand before me in the gap on behalf of the land so I would not have to destroy it, but I found none. Ezek 22:30 NIV
If anyone sees his brother commit a sin that does not lead to death, he should pray and God will give him life. 1 John 5:16 NIV
As the Father has sent me, I am sending you."  22 And with that he breathed on them and said, "Receive the Holy Spirit. 23 If you forgive anyone his sins, they are forgiven; if you do not forgive them, they are not forgiven." John 20:21-23 NIV
Intercession – The concept of standing in the gap for another is just like praying for ourselves. When I am accused, I receive whatever truth is there, agree with my adversary quickly, and place it under the blood (forgiveness and repentance). Then, I'm giving voice to Jesus' testimony about my life.
"Settle matters quickly with your adversary who is taking you to court. Do it while you are still with him on the way, or he may hand you over to the judge, and the judge may hand you over to the officer, and you may be thrown into prison. 26 I tell you the truth, you will not get out until you have paid the last penny. Matt 5:25-26 NIV
When I see another person miss the mark, they may not be in a position to respond to the Lord. So, I am simply interceding on their behalf… hearing the truth in the accusation, putting it under the blood, and giving voice to Jesus' testimony regarding the wonderful things written in their book which are due in the future. If necessary, I'm repenting on their behalf. I'm asking on their behalf for Jesus' forgiveness. I am exercising faith in to hear and believe what is written in their book before they can. I'm "covering" for them until their heart is healed enough to do it themselves, and their relationship with Jesus is real and alive. And, when I see them, I'm verbalizing their bright future in the Kingdom instead of the failures in their past and present.
My dear children, for whom I am again in the pains of childbirth until Christ is formed in you Gal 4:19 NIV
Nations – The Jews in Israel crucified Jesus. Notice that while he was still on the cross he put their action under the blood so that they could be forgiven… "Father, forgive them, for they do not know what they are doing" (Luke 23:33-36). This was while soldiers cast lots for His clothes and the people mocked Him.
Intercession reflects the heart of God's love for people and nations. We too, were all on the wrong team at one time. Yet, God came and found us in spite of all that. We can do the same for others. It is the nature of God to be merciful, loving and gracious. The accuser of the brethren is the one who is legalistic.
But God demonstrates his own love for us in this: While we were still sinners, Christ died for us. Rom 5:8 NIV
The Lord is not slow in keeping his promise, as some understand slowness. He is patient with you, not wanting anyone to perish, but everyone to come to repentance. 2 Peter 3:9 NIV
We have incredibly great power and influence in intercession to pull people and nations into their destiny. Whatever accusations and failures are blocking them from God's favor can be removed and forgiven. Whatever is written in their books can be read and prophesied. Notice that Moses intercedes for a nation based on what is written in their book. He is simply quoting the great plan that God Himself has for His people. He read their book!
But Moses sought the favor of the Lord his God. "O Lord," he said, "why should your anger burn against your people, whom you brought out of Egypt with great power and a mighty hand? 12 Why should the Egyptians say, 'It was with evil intent that he brought them out, to kill them in the mountains and to wipe them off the face of the earth'? Turn from your fierce anger; relent and do not bring disaster on your people. 13 Remember your servants Abraham, Isaac and Israel, to whom you swore by your own self: 'I will make your descendants as numerous as the stars in the sky and I will give your descendants all this land I promised them, and it will be their inheritance forever.'" 14 Then the Lord relented and did not bring on his people the disaster he had threatened. Ex 32:11-14 NIV
He forgave me when I didn't deserve it. I can personally forgive others when they don't deserve it. Now, I can intercede and ask God's forgiveness for others when they don't deserve it. I can open their book, see the promises of God on their lives, and release the favor to make it happen. It's very powerful and it's totally rooted in love… for people, for businesses, for nations and for the Kingdom. Amazing!
I will give you the keys of the kingdom of heaven; whatever you bind on earth will be bound in heaven, and whatever you loose on earth will be loosed in heaven. Matt 16:16 NIV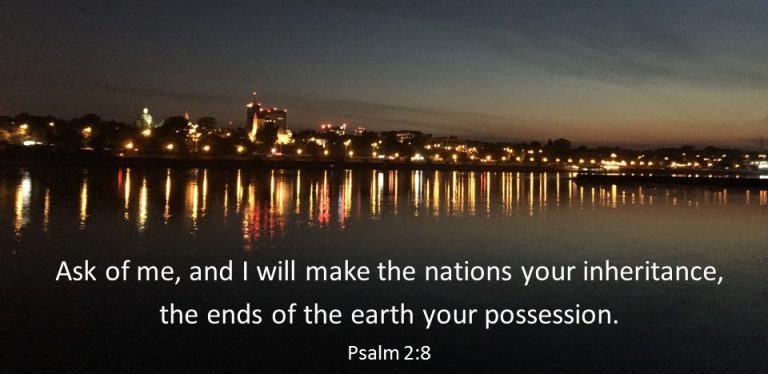 Looking across the Vistula at Warsaw
Personal note: I've been part of movements that emphasize personal and national repentance for decades… part of community transformation, inner healing, healing the land, etc. It's very logical to ask, "What's new about this?" In the past we emphasized sin, generational sin, desecrating land; it all had an ingredient of truth, but it didn't really change anything. Why? We didn't open the book of people, communities and nations and take a peek at the exciting destiny. Our emphasis on the negative just echoed the accusations of the enemy and missed the testimony of Jesus. We all persevere for the joy set before us. The Kingdom is exciting, fulfilling and fun. If the Holy Spirit reveals blockage or accusations, we will deal with them. Otherwise, we're focused on a destiny that is written in our hearts and God's heart and we're pursuing it with passion and delight. The key to the Kingdom is knowing what's in our book and hearing our Father say, "Well done" when we make progress in our identity and our ministry.