The video is here.
One of the most challenging things about being prophetic and sharing God's heart is heartbreak. When we know something about the future, and it gets deferred or changed, the disappointment can make our heart sick (Pro 13:12). In the very same way, a longing fulfilled is a tree of life… a party, full of joy.
Until now you have asked for nothing in My name; ask and you will receive, so that your joy may be made full. John 16:24 NASU
We all walk through seasons of having a vision for the future that is totally legitimate (God shares it or originated it). We have also had the heart experience of seeing dreams disappear from our future. The challenge of warfare or adverse circumstances is that we lose sight of our future – it disappears, and so does our confidence, boldness and initiative. We have to admit that our hearts need encouragement from the outside in these trials. We have to know how to release angels!
If you make the Most High your dwelling —even the Lord, who is my refuge — 10 then no harm will befall you, no disaster will come near your tent. 11 For he will command his angels concerning you to guard you in all your ways; 12 they will lift you up in their hands… Ps 91:9-12
Dwell in Him – We are ambassadors, prophets, messengers, co-laborers, and Kings who share His authority and vision to make things happen. The power we have is much greater than we realize, and it stems from Jesus dwelling in our hearts. Dwelling in Him is simply maintaining the constant sense of going in the right direction… If we have that confidence, adversity is simply the privilege of being counted worthy of spiritual warfare. There are four things we can do to dwell in HIm.
Trust in the Lord and do good; Dwell in the land and cultivate faithfulness. 4 Delight yourself in the Lord; And He will give you the desires of your heart. 5 Commit your way to the Lord, Trust also in Him, and He will do it.  Ps 37:3-5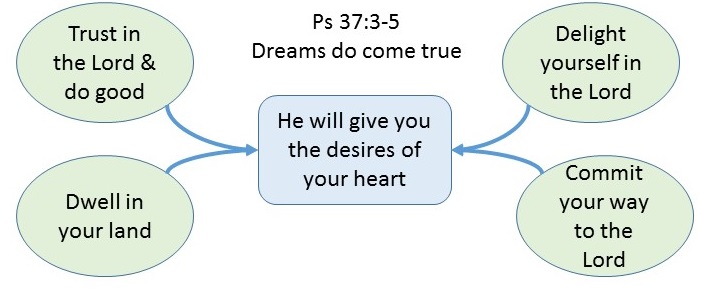 Trust in the Lord – (H982 be confident and secure) The sentence structure in the Hebrew could be rendered with the sense of trusting in what God wrote in our heart. It's an ability to move forward in times of uncertainty and continue doing good… working on the dream.
Dwell in the Land – We each have a metron or sphere of influence that represents our mountain, our assignment in the Kingdom. Doubt would cause us to give up and abandon our mountain at exactly the time we need to be clear on what it is and stand in it.
Delight yourself in the Lord – (H6026 – be soft and pliable, effeminate) This word has the sense of being the feminine half of the dance team… allowing the Lord to lead. We prophesy in part and know in part. We are always in the space of allowing God to adjust us. We are always in the space of listening to that still small voice of the Holy Spirit and cooperating with it.
Commit your way – (H1556 roll, down together) Commit is often the word for rolling a stone away. It has the sense of rolling our dream into God's hands and standing our ground after we have done everything we can. It reminds us of Eph 6:13.
Therefore put on the full armor of God, so that when the day of evil comes, you may be able to stand your ground, and after you have done everything, to stand. Eph 6:13-14 NIV
Being a warrior in His Kingdom carries the privilege of understanding God's strategy for our lives as well as His direction for cities and nations. Our hearts carry the DNA of the dream in our Father's heart. We also experience His grief at the causalities and setbacks as well as the joy of great exploits and victories. Kingdom is always a mix of both. The time frames can be from minutes to decades. Living in the moment doesn't mean surrendering your dream. In fact, having no plan or goals is resignation to a form of death in the present. Those who are truly "alive" carry the dream God wrote in their heart and they are not ashamed to contend for it… in good weather and in bad.
Not that I have already obtained all this, or have already been made perfect, but I press on to take hold of that for which Christ Jesus took hold of me. 13 Brothers, I do not consider myself yet to have taken hold of it. But one thing I do: Forgetting what is behind and straining toward what is ahead, 14 I press on toward the goal to win the prize for which God has called me heavenward in Christ Jesus. 15 All of us who are mature should take such a view of things. Phil 3:12-15 NIV
Angels are assigned to assist your dream toward a bright future… be greatly encouraged… delighted! We can thank Him in advance. Praise and thanksgiving, rooted in trust, are weapons!
After consulting the people, Jehoshaphat appointed men to sing to the Lord and to praise him for the splendor of his holiness as they went out at the head of the army, saying: "Give thanks to the Lord, for his love endures forever." 2 Chron 20:21 NIV
Have seven priests carry trumpets of rams' horns in front of the ark. On the seventh day, march around the city seven times, with the priests blowing the trumpets. 5 When you hear them sound a long blast on the trumpets, have all the people give a loud shout; then the wall of the city will collapse and the people will go up, every man straight in." Josh 6:4-5 NIV