The video is here.
We all want to make wise choices that bear fruit. Revelation and wisdom are often confused in the spiritual dimension, and God's wisdom and worldly wisdom are often confused in the business dimension. So, how do we know what path is wisdom?
Do not deceive yourselves. If any one of you thinks he is wise by the standards of this age, he should become a "fool" so that he may become wise. 19 For the wisdom of this world is foolishness in God's sight. As it is written: "He catches the wise in their craftiness"; 20 and again, "The Lord knows that the thoughts of the wise are futile." 1 Cor 3:18-20 NIV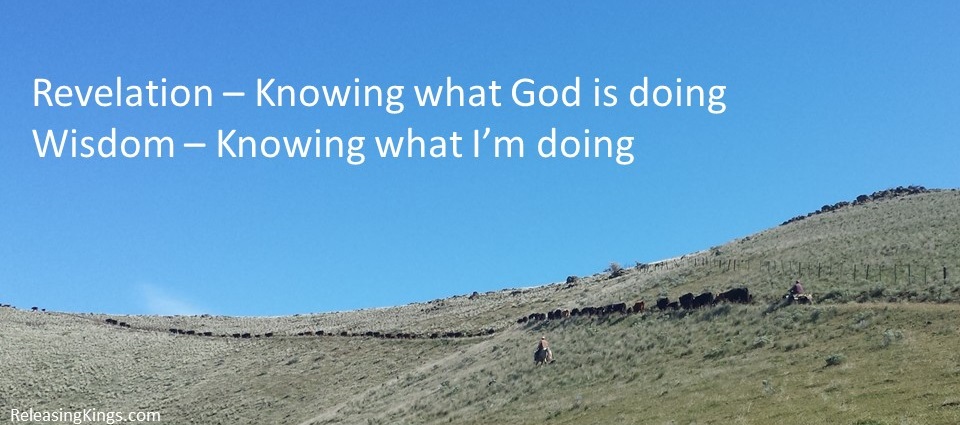 The Spirit of Wisdom – The very first key to wisdom is knowing where it comes from. Surprisingly, it doesn't originate with us; it takes some life-bumps to appreciate that level of humility. Humility is one of the trademarks of those who carry a spirit of wisdom!
Here's how simple wisdom really is: 1) If God has said something in the past, it is wise to read it – the Bible. 2) If God is saying something now, it is wise to hear it – prophetically. 3) If God is doing something, it is wise to do it with him – the Kingdom. There is one more that is Biblically old but theologically new to us: 4) If God has written a desire in your heart, it is wisdom to pursue that direction.
I keep asking that the God of our Lord Jesus Christ, the glorious Father, may give you the Spirit of wisdom and revelation, so that you may know him better. Eph 1:17 NIV
The Spirit of the Lord will rest on him — the Spirit of wisdom and of understanding, the Spirit of counsel and of power, the Spirit of knowledge and of the fear of the Lord — 3 and he will delight in the fear of the Lord. Isa 11:2-3 NIV
"The fear of the Lord is the beginning of wisdom, and knowledge of the Holy One is understanding. Prov 9:10 NIV
There is another key trademark of Godly wisdom that can be contrasted with worldly wisdom or revelation – it works! Wisdom has an ingredient of power that is very obviously not theory. It is always something that we implement and take action on, not just think about. Listen to Paul:
My message and my preaching were not with wise and persuasive words, but with a demonstration of the Spirit's power, 5 so that your faith might not rest on men's wisdom, but on God's power. 1 Cor 2:4-5 NIV
Discerning wisdom – The greatest pitfall in pursuing the desire of our heart is finding out that, after our emotions and money are spent, we not-so-wisely chose a dead end. It's frustrating, hurtful, wounding, embarrassing, exhausting and wasteful. Most of us have had to undo a vow in our hearts never to step out on our heart's desires again. Yet initiative is exactly how God is building His Kingdom. Obedience is not a ticket to life in the Kingdom. God is looking for self-starting partners, not mindless, wounded servants. Entrepreneurial is a key ingredient of Biblical spirituality and creativity.
Here are ways to confirm wisdom.
Assume you're wrong! Our minds are great computers that can research every possible failure scenario. Our hearts need to know how we will survive those scenarios. Faith does take perseverance; don't confuse it with being stubborn and foolish.
The way of a fool seems right to him, but a wise man listens to advice. Prov 12:15 NIV
Do you see a man wise in his own eyes? There is more hope for a fool than for him. Prov 26:12 NIV
You're right, but the plan is wrong – We don't control two important business ingredients – circumstances and other people. News flash – God doesn't control them either. God has not designed the world to revolve around me and my dream. Things change, life is dynamic, and our plans have to be flexible if we are to survive. Your dream may be wisdom, but it may take three different plans to get there. Be ready to scrap your plan and make mid-course corrections. It's not a failure. Our dreams evolve; His mercies are new every day. Contingency plans are wise. Expect change… in people, markets, circumstances and God's leading.

Built-in counsel

–Who can add a new wing on your dream that you never thought of? Find the people who have the right expertise and discernment to help you, and trust their input. Choose lawyers, accountants, financial advisors, board members, and mentors who care about you and have some heart for your dream. There is safety in counsel.
Listen to advice and accept instruction, and in the end you will be wise. 21 Many are the plans in a man's heart, but it is the Lord's purpose that prevails. Prov 19:20-21 NIV
Resonance – Wisdom originates in the heart of God. Whatever we are hearing from God is personal for us, yet others can hear it if they are in the same mountain. We are never the only ones who hear what God is saying. I like to say things that I believe are wise and prophetic, and see if it stirs other hearts. It's one of my greatest confirmations. I'm not selling them an idea; I'm floating it to see if it has enough power to touch them. A wise idea will resonate with others. The reaction is often, "Why didn't I think of that?"