The video is here.
I personally imagine God asking us one question when we get to heaven, "What did you do with the desires I put in your heart?" Obedience, works, miracles and serving the dreams of others are not a substitute for having a conversation with God about our own unique desires and callings. Knowing God through the instructions of other people can be a first step in our discipleship, but obedience does not ultimately define spiritual maturity. Sheep obey with their minds, Kings volunteer from their hearts. One is freedom to show initiative in Christ while the other is a tiring bondage to intellectual expectations.
"Not everyone who says to me, 'Lord, Lord,' will enter the kingdom of heaven, but only he who does the will of my Father who is in heaven. 22 Many will say to me on that day, 'Lord, Lord, did we not prophesy in your name, and in your name drive out demons and perform many miracles?' 23 Then I will tell them plainly, 'I never knew you. Away from me, you evildoers!' Matt 7:21-23 NIV
The traditional message – The idea of helping people get in touch with their own hearts and thus God's heart is probably the biggest Kingdom transition happening right now. I want to contrast that with the message we were all raised in. When businessmen hear a leader share in any institutional setting (church, school, business, politics), they often sit with their arms crossed because they have come to expect a three step process 1) an enlightening and inspiring message, 2) an important vision they should support, and 3) an offering to collect their time or money. Traditional leaders in every sphere have one common denominator – they try to unify everyone under the flag of their own agenda. They usually portray individual initiative as carnal, independent, dangerous, unsafe or selfish. They over-promise on the fruit of their leadership… local transformation, world missions, cultural improvement, etc.
How it feels – There is a place to "follow others, as they follow Christ." We are not denying the important role of leaders. We are simply pointing out that the most important, and neglected, role of leadership is to help people connect with the desires God has uniquely placed in their heart. Here's how the transition feels for our "arm-crossed business man."
Boredom – "I've seen so many major initiatives come and go, that I am just not excited about any of them. I wonder if I'm becoming hard-hearted." God is preparing us for something new – dissatisfaction with the old wineskin is the starting place.
Uncertainty – "God isn't telling me what to do. I'm unmoved by the appeals of others and I'm struggling to find where I belong and what I should do." At this stage God stops telling us what to do and waits for us to volunteer for the desires of our own heart. Our prayer gets the dial tone if we try to go back to mental obedience.
Permission to dream – "Something changed and I realize that my own vision; the desires in my own heart are more important for me than anything I can import from others." I start taking initiative on the desires of my own heart and move from "religion" to "Kingdom."
In touch with my own heart – The contrast between the drudgery of serving in another man's vision and volunteering for the strategies God has placed in my own heart are like night and day; sheep and King. Kingdom unity is not conformity and hierarchy. "Connection" happens when I get in touch with my own heart and calling and help others to do the same. The level of respect and love for other people goes way up because we see the value God places on them instead of the value we place on them as tools to serve us. Those we work with move from feeling used to feeling appreciated. We have differently roles, but we feel like we're on the same team. Now we can promote one another without feeling threatened.
Theologically – The reason this transition is being emphasized right now is very simple. The goal of Kingdom is that everyone is personally connected to Jesus. Jesus is the head of every mountain. That's what putting the Kingdom first means. Jesus is the architect behind the desires in every heart. The real goal of leadership is to help people taste the will of God and teach them how to find it in their own hearts themselves. There is a new generation of leaders who inspire people on the basis of what God already put in the hearts of those people. They figure out what is in another person's heart by simply asking and listening – it's not magic. Imagine… leaders that listen! Healthy people are drawn to these forerunners and volunteer from their hearts.
 "Connected" people – When we give ourselves permission to connect with our hearts, the mental debates and confusion stop. We make guilt-free decisions from our hearts and we simply discern and confirm their validity with our minds. Our first question is, "What has God put in my heart… that we can do together." We no longer allow ourselves to be confused or tempted by dozens of initiatives from other people using guilt to collect our time and money. Our choices become very simple, "Is this really in my heart?"
Then we will no longer be infants, tossed back and forth by the waves, and blown here and there by every wind of teaching and by the cunning and craftiness of men in their deceitful scheming. 15 Instead, speaking the truth in love, we will in all things grow up into him who is the Head, that is, Christ. 16 From him the whole body, joined and held together by every supporting ligament, grows and builds itself up in love, as each part does its work. Eph 4:14-16 NIV
Spiritual maturity is not cheerful obedience to the mandates imposed on us by others. It's simply volunteering for the desires Jesus put in our own hearts… putting the Kingdom first. It's very liberating. A veil is being taken away from our hearts – pretty exciting.
Even to this day when Moses is read, a veil covers their hearts. 16 But whenever anyone turns to the Lord, the veil is taken away. 17 Now the Lord is the Spirit, and where the Spirit of the Lord is, there is freedom. 18 And we, who with unveiled faces all reflect the Lord's glory, are being transformed into his likeness with ever-increasing glory, which comes from the Lord, who is the Spirit. 2 Cor 3:15-18 NIV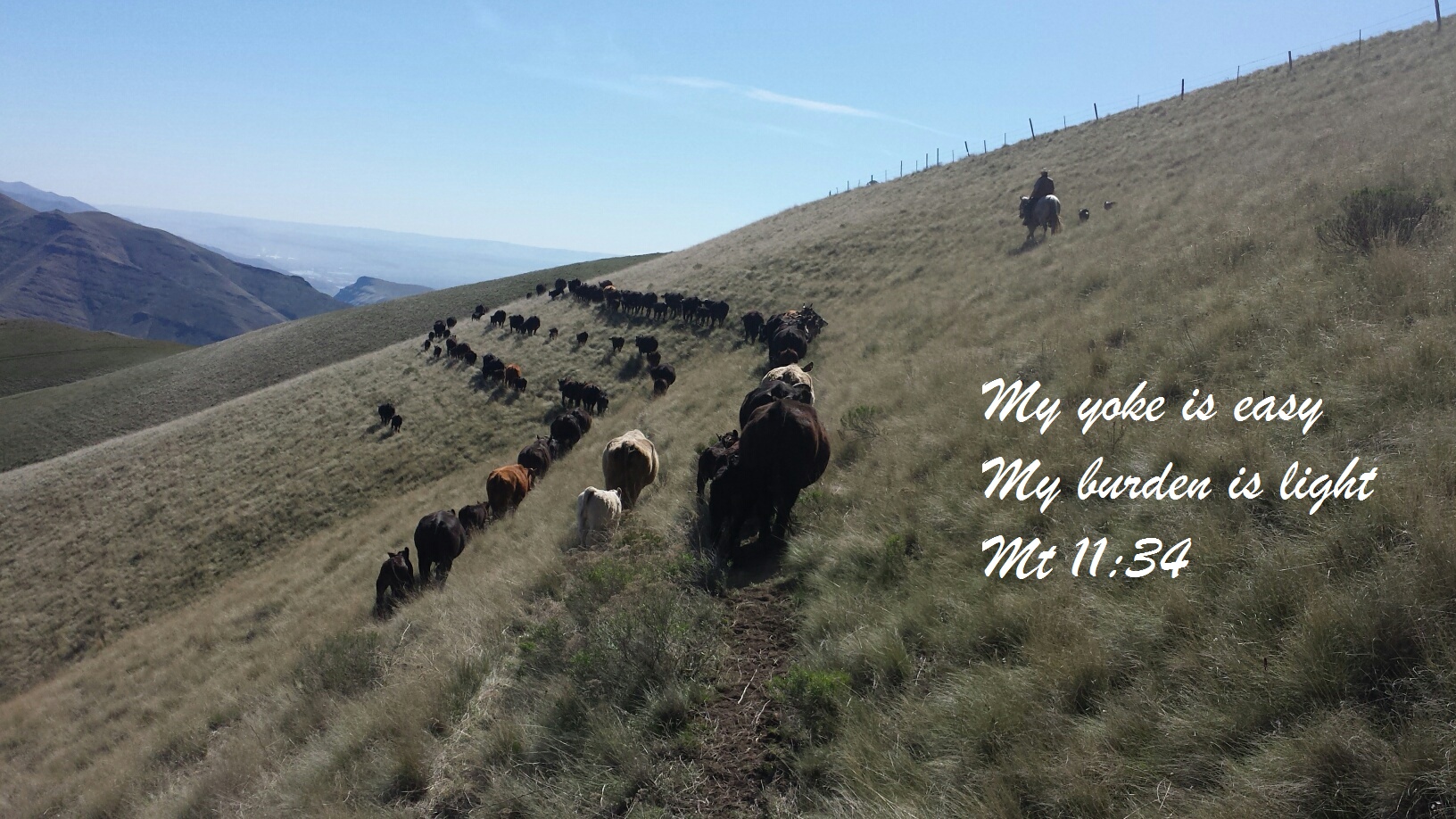 "Come to me, all you who are weary and burdened, and I will give you rest. 29 Take my yoke upon you and learn from me, for I am gentle and humble in heart, and you will find rest for your souls. 30 For my yoke is easy and my burden is light." Matt 11:28-30 NIV