The video is here
One of the hallmarks of transitioning into a Kingdom mentality is switching our identity from servant to friend or King. Obedience and service do not define the heart of Christianity. The gospel of the Kingdom is an invitation to be the friend of Jesus and to rule and reign with Him as a King.
I no longer call you servants, because a servant does not know his master's business. Instead, I have called you friends, for everything that I learned from my Father I have made known to you. 16 You did not choose me, but I chose you and appointed you to go and bear fruit — fruit that will last. Then the Father will give you whatever you ask in my name. 17 This is my command: Love each other. John 15:15-17 NIV
The realization that God has written His desires into our hearts so that we recognize them as our own is a life-changing dynamic in our relationship with God. The next thing that happens is that a veil is pulled back and we can see that God has written something precious on the hearts of other people, and that they are not just servants, either. There are two natural consequences of that revelation:
What's your dream? – The first consequence is that I naturally want to hear the dream or desire in that heart. I can sense that it is prophetic and sacred, and points toward their metron and destiny. I would always encourage them to move in the direction of their dream, instead of trying to persuade them to convert to my dream or deploy them in my initiatives.
How can I help you to take the next step? – The second dynamic is that I clearly understand that the Kingdom is built when others see their dream come true. I may have a role in helping them to achieve that success; I already know that's what the Father is doing, and It's in my heart to do the same.
The servant culture – There is a tendency in all of us to want to remain subordinate and promote others to be Kings, letting them rule over us. We are fearful of our own promotion and fearful of getting left behind. We find a bizarre security if everyone is equally mediocre. A servant identity is promoted in communism, most world religions, and traditional management theory governing the workplace. When a group of people regard themselves as servants in a hierarchy, the result is always competition for the limited positions within the hierarchy and a level of corruption to gain the favor required to get those promotions. Bribery and manipulation are common ingredients in totalitarian governments, and a slightly milder form can be seen in many religious and corporate hierarchies. The servant majority resents the promotion their fellow servants because their recognition comes through some level of favoritism and eliminates one more opportunity for their own success. "If I can't have it, neither can you." It's like a crab pot; if someone tries to get out of the pot there is always another crab leg pulling him back into the lifestyle of poverty. The "crab mentality" has roots in the Kingdom of darkness.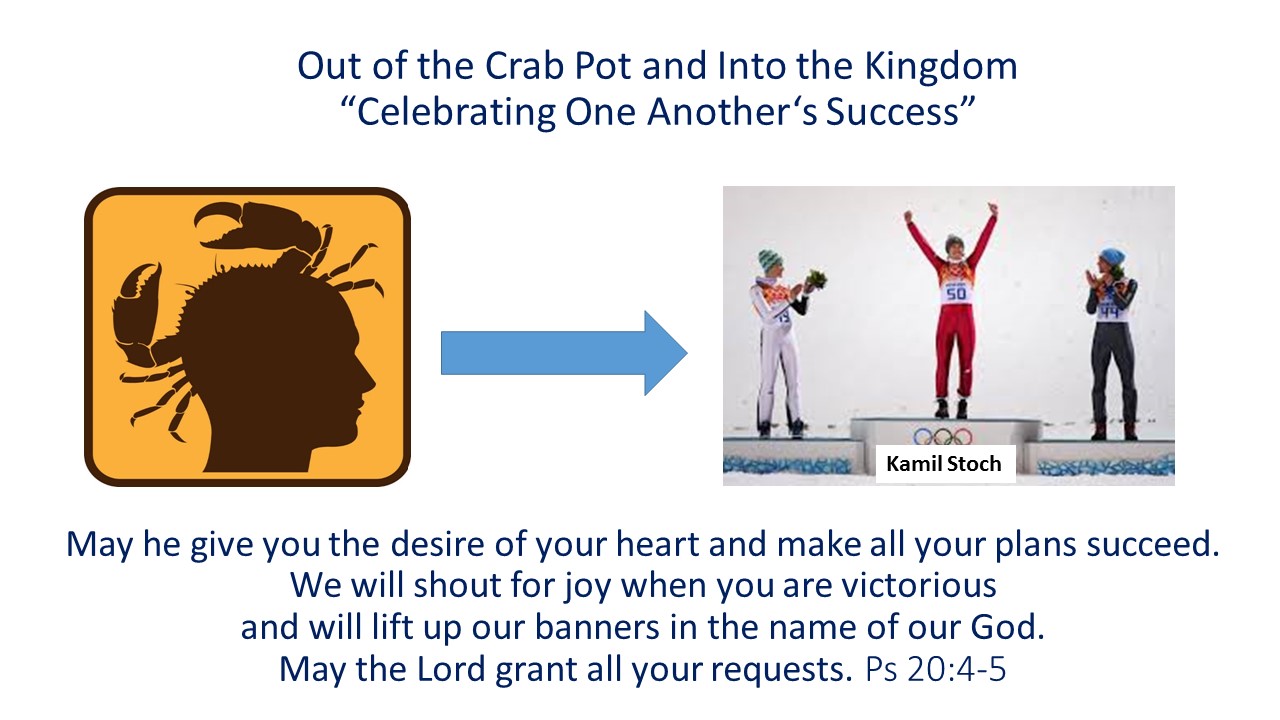 Kingdom culture is remarkably different in the way it feels and works. The organizational structure is very flat. Jesus is the leader and His Spirit resides in the heart of every believer. His voice can be heard by every believer (including most unbelievers!) His sheep do hear his voice, but the minute we do hear, we transition to sons and Kings operating in a level of wisdom and revelation that no longer fits the "sheep" analogy. We become warriors in His army, sons in His family, members of His household, Kings in His Kingdom. Jesus came to get us out of the crab pot.
I have come that they may have life, and have it to the full. John 10:10 NIV
"I will make you into a great nation and I will bless you; I will make your name great, and you will be a blessing. 3 I will bless those who bless you, and whoever curses you I will curse; and all peoples on earth will be blessed through you." Gen 12:2-3NIV
Kingdom leadership raises the identity of others from servant to King, and helps to make a connection with the motivations already within their own heart… as opposed to issuing dictates and expecting obedience. Kingdom leaders understand that people may resist becoming Kings; fearful of coming out of the shadows of servanthood to become themselves and possess their land; also fearful of being left behind. Kingdom leaders also understand that nothing can be built on a foundation of servants who are not motivated from within the desires of their own heart.
Practical ramifications – Let's consider the implications of treating people like Kings instead of servants:
Marketing – We all have dreams and visions, and we are all need help from others in order to achieve the destiny that God designed into our hearts. Because we're all like recovering addicts from a servant culture in a hierarchy, we tend to "sell" others on our own dreams and plans and products instead of taking the time to "listen" to what God has written in their heart. The worst marketing tendency is that we expect others to fund our dreams, instead of learning to create the value and wealth to manage our own cash flow.
 

Management

– Leaders in a production environment always have a full slate of activities and a short schedule in which to get them done. Managers from a servant culture are so busy passing out assignments that they miss what motivates their staff… and eventually lose them. Kingdom leaders make it a priority to hear hearts first and to help people to turn ordinary work into a ministry that has Kingdom purpose. They help people become themselves instead of just conforming to the corporate mold.
Evangelism – When Jesus is lifted up into the various mountains of our culture, the Kingdom has incredible drawing power. People are already wired with a hunger for the desires God put in their heart. We are not negating sin and the cross, but we are helping people experience the goodness of God that draws them to repentance. That goodness is specifically that, in Christ, we can be ourselves. God has an amazing way of resurrecting our past and making something beautiful out of our heritage, experiences, businesses and lives. We are all hungry for the level of purpose and results that Kingdom brings – it's the good news of the Gospel. We are called and chosen to bear fruit!
We are called to serve – it's just that we don't serve others from an identity of servant. Let me explain.
If I serve others from an identity of a servant, I will subject myself to their dream, and give them my time and money out of a sense of sacrificial obedience that my heart secretly opposes. That's the definition of religion in the sense of dead works. It separates people from their hearts and is toxic spiritually and psychologically. Worse yet, if I do become a leader, I'm predisposed to be a heartless, autocratic tyrant. It might work in the politburo of Mother Russia, but not in the Kingdom of God.
If I serve others out of a Kingly personal identity, I release people into their own dream. I am not threatened by their success, because I understand that in the Kingdom we need everyone to be successful in reaching the dreams that God placed in their heart. I sincerely desire the promotion of my brothers and sisters, and I'm willing to help them and to have fun doing it. To those around me, this kind of serving feels like being loved. And, the frosting on the cake – they love me back. When you release another person's heart to achieve their Kingdom destiny, you make a friend for life. It's a party out there!