The video version of this blog is here.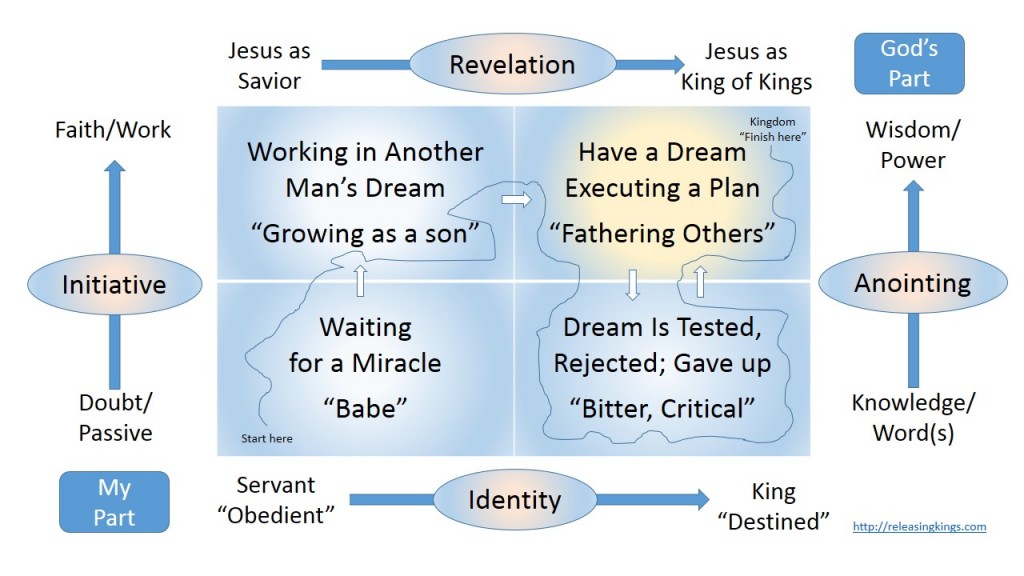 Entering the Kingdom
We started Releasing Kings with a focus on helping people to get in touch with their heart's desires and giving them permission to be a King to make those dreams come true. However, there is an equally important quadrant in helping people to recover from the rejection that goes with being part of the Kingdom. Our dreams are very much a part of our personal identity and self-worth. When we contend for our land in the Kingdom, we also sign up for the warfare that comes in the form of resistance from other people or circumstances, and it feels very much like rejection.
"We must go through many hardships to enter the kingdom of God," Acts 14:22 NIV
When our heart's desires are unrealized, it's often because there is a Kingdom ingredient in what God writes in our hearts, and it naturally draws opposition. It can be from religion, church, work, family or friends. As Christians, we can even blame God for the feeling that what is most precious in our hearts is dismissed by others or even by Him. It is wounding and heart breaking.
Symptoms – The feeling of rejection is the same hopeless resignation whether we are saved or not.
Justification – the first symptom is that we retreat into theories to explain to ourselves why our dreams have passed us by. We can become entrenched in a negative view of life and close our hearts for protection. We become opinionated, deaf to the hearts of others, unbending, unreasonable, stubborn, self-righteous and self-centered. Our pessimism easily identifies the bad in people on the opposing team. We subscribe to the fear of conspiracy theories more easily, and a false prophetic anointing is prone to express the will of the enemy instead of the will of God.
Contentious issues in politics, religion or theology are defended with irrational and unloving zeal (as opposed to Godly zeal). They are really just rallying points for a militant fellowship around shared issues of rejection… among people who are out of touch with their personal Kingdom purpose.
Projection – Our dream is still with us, but instead of working on it, we impose our concept of how things should be on others, especially those from whom we feel rejection. The church is a favorite target, but the same projections can target work institutions, the government – any entity that represents the source of our rejection. We project / preach the theory of our imaginary utopia instead of living the example and demonstrating the fruit that naturally flows from a healthy heart. We become enforcers of our own law. The problem is there is no ministry of "sheriff" in the Kingdom.
Countertrends – Our heart is continually longing to prove itself right, and everyone else wrong, so we naturally gravitate to counter-culture movements. We're trying to correct the imperfections in the institutions that wounded us – out of our own dysfunction. In day trading, it is a diagnosable tendency to trade against the trend and take huge losses. It's the same way in life… the more we try to counter the rejection we feel in our hearts, the more rejection and defeat we experience.
Resurrecting – The "death" of rejection leads us down a path of life that doesn't work and eventually causes us to give up in two key areas: 1) our belief or faith that our dream can ever come true, and 2) our identity as a King with a personal destiny. Words and logic can never reverse the wounding in our hearts or the symptoms discussed above. We have to go back to the dream God put in our heart and admit that it's true and that God can help us make it come true. Our hearts have to "choose it" all over again. This revelation is at a very deep level in our hearts that comes through the experience of love and tears when we really touch God's heart for our lives. God has to love us back into accepting our identity and our dream, and we have to "exchange" – Put the Kingdom ahead of our personal agenda of reforming others; choose the delightful dream and the bright future that God wrote in our hearts. We have to admit that our role in the Kingdom is real and that we can find the wisdom and the power to make our dream come true.
Symptoms – There are some wonderful symptoms of being a King in touch with the dream God put in our hearts. It occurs when we enter the Kingdom.
Kingdom perspective and thankfulness – When we see that our personal dream is part of a much larger Kingdom, it's easier to understand that the rejection, delays and trials aren't really about us. We are glad to pay any price to co-labor with Jesus to build the Kingdom. Like Joseph in Egypt or Paul in prison, we find promotion and favor in the worst of circumstances because our picture of the future is real and unwavering. Our dreams can "test" us.
He sent a man before them, Joseph, who was sold as a slave. 18 They afflicted his feet with fetters, He himself was laid in irons; 19 Until the time that his word came to pass, The word of the LORD tested him. Ps 105:17-19 NASU
An invitation into the Kingdom to co-labor with the Father is our deepest desire! It's a great privilege and it's quite honestly an adventure. We are consistently:
"Faithful" in our willingness to believe in who we are,
"Intentional" in our wisdom to plan a strategy,
"Initiating" the work to make our dream come true.
We do our part in terms of initiative and identity, and we believe God for His part, to provide the heart desire, the timing, the power, and the increase.
See the trend – We can see the hand of God building his Kingdom. Although things can go wrong in every area, we can still find the trend of God's Spirit stirring the hearts of those who hear him. We are not blind to the work of the enemy or the resistance of some people. Our hearts are focused on building our part of the Kingdom, networking with those called to work with us and finding the doors that are open. That personal focus leads to results.
Fathering – The primary symptom of releasing our own heart and tasting the fulfillment of our dream is the way we disciple others. Instead of complaining, controlling, criticizing and directing, we are simply helping others find the desire that God wrote in their hearts and helping them to realize their own dream. People are no longer recruited and sold on "my" dream; they are drawn by their own dream… to fathers willing to hear their hearts and promote the desires in those hearts.
You've been invited into the Kingdom. It's a place of personal election and calling that is specifically you. Your future and the future of our nation is very bright. The enemy would like you to give up on both, but the prophetic and practical truth is that God is filling the earth with His glory and you've been invited to help. It's much better than you realize. God is bringing you back to your destiny. Say "Yes." God can turn your rejection into something precious to bless many. That's the gospel of the Kingdom; resurrections are part of the package that we all walk through.
…But as for you, you meant evil against me; but God meant it for good, in order to bring it about as it is this day, to save many people alive… Gen 50:19-21 NKJV
This is what the LORD says: "When seventy years are completed for Babylon, I will come to you and fulfill my gracious promise to bring you back to this place. 11 For I know the plans I have for you," declares the LORD, "plans to prosper you and not to harm you, plans to give you hope and a future. Jer 29:10-11 NIV
If you have experienced the pain of rejection and need to resurrect your dream, you will find it nearly impossible to flip over a new year's resolution and make a mental decision to change. Your heart needs a good reason and an experience with the Father's love. That reason is the delightful call on your life expressed by the dream that God wrote on your heart. We use a heart plan to help identify the dream that is a good enough reason for your heart to trade – the bitterness of rejection for the adventure of your calling.