The video version is here.
Helping people to make a connection with their heart and purpose in the Kingdom isn't theoretical or just theological. Dreams come true when we connect our heart's desires with our vocation and cash flow. One of the failure points of counseling, psychiatry, sozo, inner healing, etc. is that people are invited to let go of a problem without connecting with a practical solution in a new direction. The concept that the path to a dream-come-true usually goes through some form of commerce seems very carnal to many believers. I want to suggest that true spirituality includes the wisdom to navigate finances and create wealth. When we define the desires that God wrote in our hearts, our plan should include a wealth creation component. Dreams almost always cost money!
In the political realm, it is very common to describe free-market capitalism as the breeding ground for corruption, greed and the oppression of the poor. Some criticism is fair, and it is never wise to become too romantic about democracy or capitalism. But, as Winston Churchill famously remarked, it is better than all known alternatives. Free markets allow the expression of individual hearts. Commerce is really the expression of creativity and industry in a healthy heart making dreams come true. There is a historic connection between commerce and missions that is very healthy, fruitful and practical.
Let's consider the alternatives – Religion, socialism and communism are all expressions of centralized, hierarchical control. They are milder versions of demonic oppression that limit freedom and creativity. Justifying more centralized government to reduce poverty has the opposite effect for the very same reasons. Free people and free markets create wealth and liberate people from the tyranny of poverty. Some would even have us believe that increasing the number of wealthy people in a society translates to robbing the poor… the exact opposite is true. A society that tries to restrain the productivity of the industrious and prosperous people ends up starving the poor. Listen to what a healthy heart does commercially… in a woman.
A wife of noble character who can find? She is worth far more than rubies. 11 Her husband has full confidence in her and lacks nothing of value. 12 She brings him good, not harm, all the days of her life. 13 She selects wool and flax and works with eager hands. 14 She is like the merchant ships, bringing her food from afar. 15 She gets up while it is still dark; she provides food for her family and portions for her servant girls. 16 She considers a field and buys it; out of her earnings she plants a vineyard. 17 She sets about her work vigorously; her arms are strong for her tasks. 18 She sees that her trading is profitable and her lamp does not go out at night. 19 In her hand she holds the distaff and grasps the spindle with her fingers. 20 She opens her arms to the poor and extends her hands to the needy. 21 When it snows, she has no fear for her household; for all of them are clothed in scarlet. 22 She makes coverings for her bed; she is clothed in fine linen and purple. 23 Her husband is respected at the city gate, where he takes his seat among the elders of the land. 24 She makes linen garments and sells them, and supplies the merchants with sashes. 25 She is clothed with strength and dignity; she can laugh at the days to come. 26 She speaks with wisdom, and faithful instruction is on her tongue. 27 She watches over the affairs of her household and does not eat the bread of idleness. 28 Her children arise and call her blessed; her husband also, and he praises her: 29 "Many women do noble things, but you surpass them all." 30 Charm is deceptive, and beauty is fleeting; but a woman who fears the LORD is to be praised. 31 Give her the reward she has earned, and let her works bring her praise at the city gate. Prov 31:10-31 NIV
My daughter Heather has two young children and a wonderful husband who is a good provider. Her family is her dream right now and she is very happy. Heather works as a nurse in her own business and takes extra shifts at a hospital during holidays for twice the normal pay. She does it to make her family dreams come true. On Thanksgiving Day, she took a nap in the afternoon so that she could work a 12 hour shift from 6PM to 6AM. I'm not preaching about the greed of "Black Friday" or the carnality of Christmas, Easter and Halloween. Heather may be working on all of those Holidays – I'm proud of her because she is a reflection of Proverbs 31. She has the character and discipline to make her dreams come true.
Corporations connect the talents of people who can contribute to the mission of the company, and offer them jobs. It's not a bad process. A Kingdom company goes one step farther and finds a heart connection between the Kingdom purpose of the company and the employee… that's a union that produces ministry as well as commerce.
Can you see the commerce connection between your own heart's desire, the Kingdom, wealth creation, vocation and ministry? We are whole spiritually when we can connect these dots. God is challenging the dualism that separates work and ministry in our hearts in this hour.
Poland – I was really blessed in Poland to find apostolic networks of businessmen who were very mature in their understanding of marketplace ministry and the 7 mountains. They are hungry to disciple nations, and you can feel the switch from religion to Kingdom. It was a joy to connect them with the desires that God placed in their hearts for the Kingdom. We closed every meeting with prayer by asking two questions: 1) what's your dream? and 2) how can we pray? People are running toward the Kingdom. It isn't just Christians. People who are unchurched and unsaved are also being invited into the Kingdom through businesses. They are compelled by the Holy Spirit and coming to these Christian business gatherings. We were very blessed to see these networks so mature and so current in the Kingdom. We have been to Europe previously on similar trips and I have never felt so welcomed personally and for our message… and have never seen the Holy Spirit move with such power. Revival is beginning, but the real goal in the hearts of these people is reformation in Europe.
Christmas idea – In Warsaw we got to meet Andrzej Banasiak. He is an engineer who works for GE.  His wife, Agnieszka, has a business manufacturing and selling purses. I bought one for Sue (see the picture below). They make great Christmas gifts, so I am providing the web site and contact information. These are blessed people. Maria Lalik introduced us. Andrzej has been through the heart plan viaMaria's help .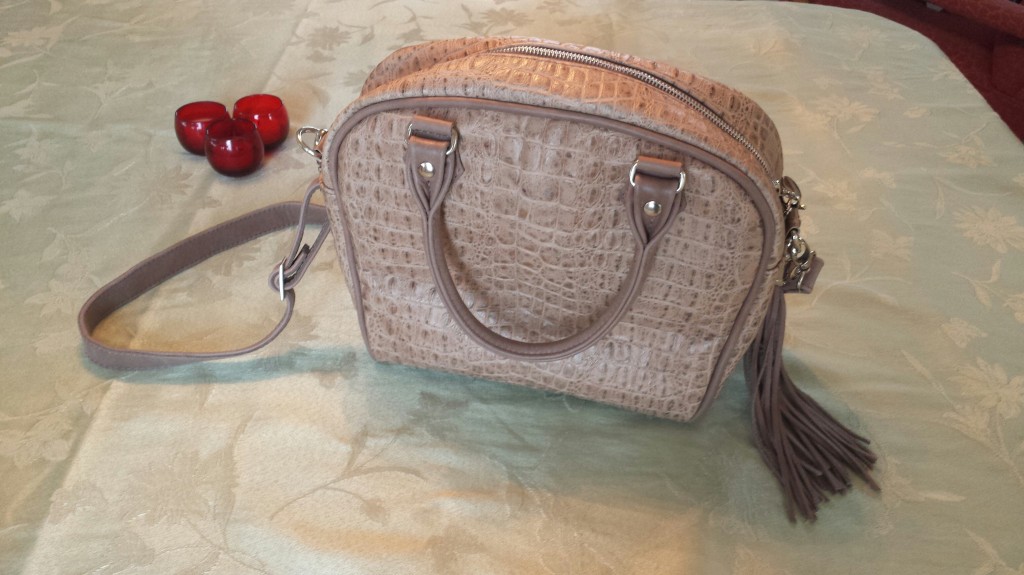 Facebook fan page – https://www.facebook.com/ArwenDesign