The sky over your head will be bronze, the ground beneath you iron. Deut 28:23 NIV
There are times in our walk when prayers feel like they are going unanswered or we are just too discouraged to spend time in prayer. We've also experienced the mountain tops when miracles occur with a touch and a word, and the presence of God is so real that every sentence feels prophetic and every circumstance feels like a divine appointment.
New beginnings – Spiritual maturity occurs through seasons, and I want to articulate one of the biggest transitions from servant to King in terms of how it feels. When we first get saved, it feels like God is providing manna every day both in terms of spiritual experiences and natural provisions. There is a fire to lead us at night and a cloud to protect us in the day. Our goal is to simply walk with his leading. This early phase of discipleship is marked by obedience to new truths and the presence of mentors, leaders, pastoral covering, oversight and care. I want to suggest that it's all good and that the goal is to equip us to hear from God ourselves, and keep us out of trouble until we can hear correctly.
Who led them through the depths? Like a horse in open country, they did not stumble; 14 like cattle that go down to the plain, they were given rest by the Spirit of the Lord. This is how you guided your people to make for yourself a glorious name. Isa 63:13-14 NIV
Crossing the Jordan – as we mature, our conversations with the Lord or his leaders become less directive and more conversational. Our focus shifts from obedience to initiative birthed out of things God placed in our own heart's desires. Learning to trust ourselves to take initiative can feel like rebellion at first. A few mistakes or a controlling leader can accentuate that feeling as well.
However, the transition to maturity is very real and, if we try to stay on the milk of being spoon-fed guidance for every action, the heavens will begin to feel like brass. If we continue to rely on Godly leaders to direct us, what was once healthy becomes a form of idolatry that God himself will dismantle. God is simply inviting us to a place of conversation with Him alone where we walk together instead of insisting on being led. He is very jealous for that direct and personal relationship.
Listen to the different tone when Joshua is insisting on initiative as the tribes possess their land. It's profoundly different. The people are asking for God or Joshua to do something, and the answer is "do it yourself. You are well able."
14 The people of Joseph said to Joshua, "Why have you given us only one allotment and one portion for an inheritance? We are a numerous people and the Lord has blessed us abundantly." 15 "If you are so numerous," Joshua answered, "and if the hill country of Ephraim is too small for you, go up into the forest and clear land for yourselves there in the land of the Perizzites and Rephaites." 16 The people of Joseph replied, "The hill country is not enough for us, and all the Canaanites who live in the plain have iron chariots, both those in Beth Shan and its settlements and those in the Valley of Jezreel." 17 But Joshua said to the house of Joseph — to Ephraim and Manasseh — "You are numerous and very powerful. You will have not only one allotment 18 but the forested hill country as well. Clear it, and its farthest limits will be yours; though the Canaanites have iron chariots and though they are strong, you can drive them out." Josh 17:14-18 NIV
Joshua seems to even chide them to stop waiting to make decisions and take action.
So Joshua said to the Israelites: "How long will you wait before you begin to take possession of the land that the Lord, the God of your fathers, has given you? Josh 18:3-4 NIV
Growing up – Maturing from servant to King can feel markedly different. If we're slow to define our dreams and to converse with the Lord about making them real, the conversation does start to dry up, the heavens do feel like brass and our ground feels like iron. God is waiting for our initiative. He's not resisting our prayer or failing to answer; He's waiting for you to connect with your heart, claim your inheritance and take the steps to possess your land. Sometimes we can feel too old or too tired to define and develop a dream. Listen to Caleb's attitude and the level of his initiative and energy! …and his age.
"Now then, just as the Lord promised, he has kept me alive for forty-five years since the time he said this to Moses, while Israel moved about in the desert. So here I am today, eighty-five years old! 11 I am still as strong today as the day Moses sent me out; I'm just as vigorous to go out to battle now as I was then. 12 Now give me this hill country that the Lord promised me that day. You yourself heard then that the Anakites were there and their cities were large and fortified, but, the Lord helping me, I will drive them out just as he said." Josh 14:10-12 NIV
Trials and testing – are another season when we can "feel" that God is absent and we feel abandoned. The truth is that He is never really absent and He never leaves us or forsakes us. But, for the sake of maturity, he will allow us to grow our faith by facing a few giants who test us. When we make it through those seasons, we feel like we've grown an inch and everyone else can sense a new depth in our hearts. "The teacher is always silent during the tests." It's normal… part of maturing your faith. I wish it was easier, but the admission to maturity in the Kingdom is worth the price tag. The Bible is full of examples of tests, trials, delays and defeats followed by victories, exploits, breakthroughs, miracles and resurrections. Bottom line – it's not about you or me. It's about an army of Kings maturing to inherit the Kingdom and filling the earth with His glory. Welcome to the party – you're not the only one in difficulty. Spiritual life in Christ comes through His death and resurrection, and there really are times when we're invited to share a small piece of that. We don't live there; the resurrections come quickly according to our faith.
I tell you the truth, unless a kernel of wheat falls to the ground and dies, it remains only a single seed. But if it dies, it produces many seeds. John 12:24 NIV
But whatever was to my profit I now consider loss for the sake of Christ. 8 What is more, I consider everything a loss compared to the surpassing greatness of knowing Christ Jesus my Lord, for whose sake I have lost all things. I consider them rubbish, that I may gain Christ 9 and be found in him, not having a righteousness of my own that comes from the law, but that which is through faith in Christ — the righteousness that comes from God and is by faith. 10 I want to know Christ and the power of his resurrection and the fellowship of sharing in his sufferings, becoming like him in his death, 11 and so, somehow, to attain to the resurrection from the dead. Phil 3:7-11 NIV
Take home – If God is talking less, that's your cue to pick up the conversation and talk more. He's still on the throne. He still loves you and wants you to be more than a conqueror. Here is His attitude toward you.
"I will make you into a great nation and I will bless you;
I will make your name great, and you will be a blessing.
I will bless those who bless you, and whoever curses you I will curse;
and all peoples on earth will be blessed through you." Gen 12:2-3 NIV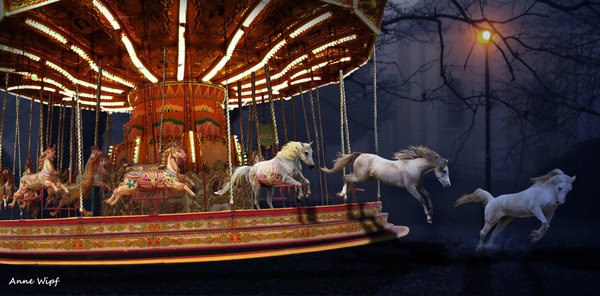 From Servant to King