The video is here.
The Old – Surrender means that, in the face of insurmountable odds, we raise our hands and give up. It means letting go and letting God. It means letting go of our own will, taking up our cross and letting God have His way. Instead of doing our own thing as a "lone Ranger," it means we submit to authority.
The New – In the Kingdom, it means that since God loves you so much, you can't afford to give up on your dream. It means that, in the face of those same insurmountable odds, we can keep right on trying because we trust Him to do what we cannot. After all, it's His dream too.
The contrast – These two outlooks are polar opposites with roots in our maturity and our theology. As new believers, we learn that the fear of the Lord is the beginning of wisdom (Pro 9:10). Obedience to God starts with the surrender of a prior path. Course corrections are the nature of receiving discipline from the Lord as a son. Rebellion only makes it worse.
But the end of wisdom is something entirely different. Listen to the way Jesus explained it:
See how the lilies of the field grow. They do not labor or spin. 29 Yet I tell you that not even Solomon in all his splendor was dressed like one of these. 30 If that is how God clothes the grass of the field, which is here today and tomorrow is thrown into the fire, will he not much more clothe you… Matt 6:28-30 NIV
Solomon is the picture and type of wisdom, yet God's favor is on us in an even greater measure. The deep theological reason is very simple: He loves us. The most remarkable thing about the new covenant and the Kingdom isn't the law (how much we love God and how much we love our neighbor)… It's how much God loves us and favors us out of His own initiative because we are His sons and daughters.
How it "works" – We all have a high value for evangelism; people going to heaven is important. We understand that, He that wins souls is wise (Pro 11:30). I used to exhort in a rather preachy way, correct behavior, explain Bible verses, and compel people to respond to the gospel. I was introducing people to the God whom I feared. It didn't work that well.
In the Kingdom, while it's still true that it's wise to win souls, now I'm introducing them to the God whom I love and who first loved me. So my natural inclination is to love people first, for good reason. We can see something in them that the Father has created and purposed for the Kingdom. Even though they may not yet be saved or sanctified, it's not hard to see that they really are part of His Kingdom. We can feel the Father's affection for people… before they have asked for it or deserve it.
I pray also that the eyes of your heart may be enlightened in order that you may know the hope to which he has called you, the riches of his glorious inheritance in the saints, 19 and his incomparably great power for us who believe. Eph 1:18-19 NIV
We, though, are going to love — love and be loved. First we were loved, now we love. He loved us first. 1 John 4:19 Message
Surrender – The Kingdom of God is being built in 7 mountains at a grassroots level. The foundation is the desires that God wrote in your heart. The warfare is over your dream coming true. Surrender is not giving up on your dream. Surrender is surrendering to the arms of a loving Father who shares your dream and is willing to help you make it come true. Surrender is admitting that everything I can do is never enough alone, but is always more than enough when Jesus adds His part. Surrender is an awareness that the dream in my heart is shared in the heart of the Father. In the Kingdom, surrender is never giving up! Real surrender trusts, works, and creates with great expectation.
Taste and see – We've all experienced the agony of defeat and the thrill of victory in our past. It's common that the defeats are most memorable and have the strongest impact. Those experiences shape our belief about who we are and what we know about the world and expect from our future.  We cannot just change our minds or tweak our self-concept because we "decide to." Our hearts demand the reality of an experience to go with it.
The price tag for a belief that we are more than conquerors rests on the foundation of an experience with the goodness of God and some practical victories. An experience with God's goodness, forgiveness, and patience is what causes us to surrender to the idea and person who wants to make our name great and bless use so we can bless nations. Yes, God really is that good! Surrender, or he will shoot you with more love. "Normal" is exceedingly, abundantly beyond all we can ask or imagine (Eph 3:20).
For I know the plans I have for you," declares the Lord, "plans to prosper you and not to harm you, plans to give you hope and a future. 12 Then you will call upon me and come and pray to me, and I will listen to you. 13 You will seek me and find me when you seek me with all your heart. 14 I will be found by you," declares the Lord Jer 29:11-14  NIV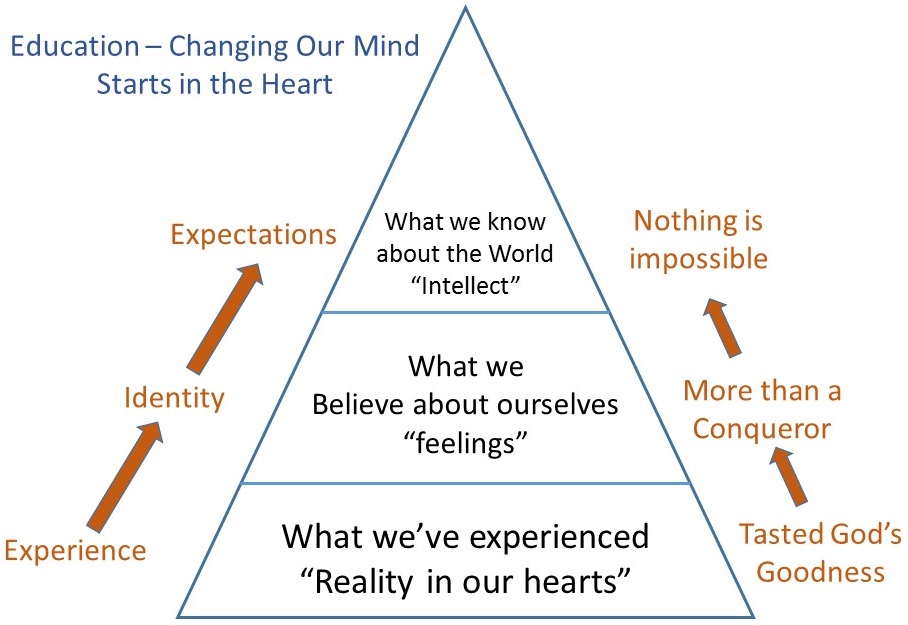 Or do you despise the riches of His goodness, forbearance, and longsuffering, not knowing that the goodness of God leads you to repentance? Rom 2:4-5 NKJV
O taste and see that the Lord is good; blessed is the man who takes refuge in him. NIV  Ps 34:8
That which was from the beginning, which we have heard, which we have seen with our eyes, which we have looked at and our hands have touched — this we proclaim concerning the Word of life. 1 John 1:1
Suggestions:                                                                                                                                              
Books – Releasing Kings and Desire to Destiny
Newsletter Archive – http://releasingkings.com/newsletter
Coaching Tools – http://releasingkings.com/coaching-tools/
Education Tools – David Nycz Interview http://releasingkings.com/david-nycz/
Personal note:
Clive Wilson is a friend who has known me for several years and is familiar with Releasing Kings, attended our conferences, etc. He suggested I look into Larry Napier's work on Rediscovery of the Heart because it ties in with so much of our work at Releasing Kings. Clive is right, and I want to recommend that you take a look at it. I liked it so much that I became an affiliate http://rediscoveryoftheheart.com/johngarfield …haven't been able to stop watching the 60 videos with a syllabus for $50. They are really good. Now Larry has an ebook out for $5, Releasing the Lion: Rediscovering the Right Brain Heart.