Conferences
Releasing Kings Business Conferences
"ARE FUN!"
We were in Baltimore for the Kingdom Marketplace Summit on Oct 5-6.

 The Latest Slides are Here

We wrote this newsletter about the conference: Loving Baltimore
Feedback from those who made it.…
John, I enjoyed the simplicity of your message and the fact that you were yourself. Being yourself allowed me to do the same. My heart was open and consequently, my mind. I enjoyed that you shared both sides of the coin (as it were). I was able to see who I was trained to be while at the same time seeing who I was becoming or at least who I had the possibility to be. The me I want to be. I have never seen myself in the light of kingship. That is not a word I would have ascribed to myself, neither would the word servant. My mind was opened to see the reality of my thought process…I was a servant in mind and spirit (spirit and soul). I feel my world view changing, my perspective of myself being adjusted and my response to my circumstances (which have not changed) changing. There is an excitement in my belly. My prayer is that The Holy Spirit would let that excitement stick around for a little bit until I can internalize the change. I am all too aware that once the excitement wears off, so does my momentum.
As i shared, I am reviewing some the the things I wrote over the past two-four years. I am able to see the common thread in my writings. I am able to say, and have said to The Lord, "this is what I want to do", when I read my work. I find myself waking up asking questions and before I go to sleep, running ideas past Him. Kinda cool. I no longer call myself servant of the Most High…I am working on this thing called friend of God.  This is what i took away from the conference. And with all my heart…it is what I want to give away, so that other people can know.  Rowlanda Ashe
One of my first observations was the level of attentiveness of the attendees, you could not help but notice how engaged the recipients were with the presenter. Being an instructor for many years I have come to be familiar with the outward manifestations of students who are present to learn and receive, which was very visible at the conference. The attendees were very excited, they all had notebooks and were taking notes, they ask questions, none seem to just "wanting to get it over"; proof of that was their willingness after the benediction to minister to each other as well as be ministered to.
You could visibly see when "the lights came on" with some of the attendees, it was like they finally realized that they could actually play a part in their own success. Personally I have always had certain goals and possible entrepreneur possibilities but was very hesitant about actually starting, but when I left I was ready to start reading with the intent of actually starting to pursue at least one of my dreams.
As important as the conference speakers and the information they shared was, there was an unmistakable presence of God; it has been a long time since I have seen the transparency demonstrated by the attendees during the alter prayer on the first night, I especially appreciated the patience John demonstrated with each person and the way he coached them especially as they ministered to each other. I got the feeling some persons were ministering for the first time and were very free in doing so, only because John had done an excellent job of creating an atmosphere of "trust" during his teaching and certainly during the time of ministry.
As a rule people can be very private in a public setting, but these were very comfortable being open with one another. John was not only gentile, but he used what I call a gentle but firm coaching technique, at times he would not let someone just "give in" to their "shyness and fear" of sharing and ministry, he would encourage them and when it was over you could see and hear the joy in their voices after they had been ministered to. It has been a very long time since I have seen people coached in this manner to minister, it was very refreshing to see and hear.                                            Rudy Greene
———————————————————————————-
Previous Conferences
Next "not-a-business" Conference
We're really excited about our next conference on April 29. It's a private showing for teachers in the education mountain.
The brochure is at this link. Pray with David Nycz and I to communicate the message!
————————————————
Hermiston, Oregon Feb 3-4, 2012  (Conference Brochure)

Time: Friday at 7 pm and Saturday, at 9 am – 3:00 pm
Location: Living Faith Church, 1611 Diagonal Rd, Hermiston, OR (Pastor Dean Hackett)
David Nycz -  541-289-8418
Reagan Couch – 541-571-9500
Registration – Free will offering to cover lunch on Saturday
Motel suggestion – Oxford Suites in Hermiston

Speakers: John Garfield, David Tinney and Rich Forster

What to expect: at a Releasing Kings Conference
What's Special: Introduction to Releasing Kings Coaching Module
Get a Taste – Phone interview with Beverly Lewis. Phone interview with Ray Edwards.
Past conference in Springfield, MO- what happened and video testimonies
Notes you can download in PDF (Power point slides)
John – Releasing Kings (Sessions 1-11)
David – How to Ambush the Competition
Rich – Due Diligence, 7 Steps to Write Your Business Plan

(Will be in Europe in May, 2012)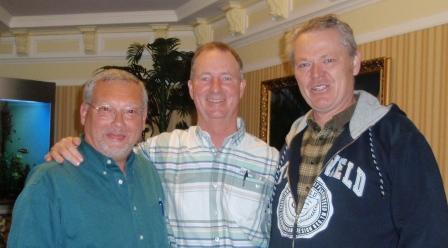 David Tinney, John and Poul Dalgaard
_________________________________________________________________
You can preview our power point slides on this link Conference Slides The outline of sessions follows:
Eleven Sessions on Releasing Kings (outline)

1. Introduction to Releasing Kings………………………….. (based on Releasing Kings)
Graduating from servant to King and releasing heart's desires
The difference between church and Kingdom – Equipping saints for 7 Mountains impact
2. The Nature of God ……………………………………………………(based on Who is God)
The definition of sovereignty and impact on my initiative = entrepreneurial
3. The Nature of Man…………………………………………(based on Precious in His Sight)
I'm created in His image, with a dream, and a calling = confidence
4. The Future is Open…………………………….…………(based on Victorious Eschatology)
I have time to start a business, pass an inheritance, change the world
5. The Role of Entrepreneurs and Capitalism…(based on Compassionate Capitalism)
God uses entrepreneurs; The Biblical foundation for capitalism
6. How Change Happens……… (based on Wired for Success, Programmed for Failure}
7. The Next Great Idea……………..……(based on Progressivism: Our Road to Serfdom)
Capital compound theory of value; Networking, synergism, exponential growth
8. Learning "Multiplication" to Create Wealth………..…(based on Desire to Destiny)
Sowing and saving for income-generating assets, thinking "wealth"
9. Your Personal Dream……………………………………..…(based on Desire to Destiny)
Understanding the process, finding your mentor
Businesses that minister / leverage the calling of the business
The goal: self-sustaining disciples and viral missions
10. Cash Flow and a Business Plan……………………..…………(based on Cash is King)
Succeeding before you start, from birth to an exit strategy
Qualifying for capital
11. Managing and Marketing the Dream
Empowering employees…………………….….…(based on The Dream Manager)
Networking – evangelism in the business mountain
PDF Files of conference presentations you can use

John Garfield – Releasing Kings 11 Sessions
Steve Slaybaugh
Why Your Life Matters to God English
Its Not About Sunday Its all About Monday English
18 Nuggets For Taking Your Business to the Next Level
Rich Forster
One of my highlights, from a conference standpoint, was going to Ukraine for 10 days with David Tinney in November 2009. We've been back to Poland and Ukraine Nov 2, 2010 with both books translated into Russian and a new website in Russian.
Harold and I were in Africa in October, 2010. I came home with a desire to put the Releasing Kings message in a Bible college format. I recast the conference slides in a 10 session format as a first step toward creating a curriculum for a class. Check it out
________________________________________________________________
Past Conferences and Feedback
Springfield, Missouri Sept 30 – Oct 1, 2011 (Brochure)
Location: Hope Church, 2121 So. Blackman Rd (Pastor Gary Hay)
Speakers: John Garfield, David Tinney, Randy Mayes & Rich Forster
Video Introduction: http://lightwiretv.net/video/1293
Post conference – what happened and video testimonies
Some of our favorite conferences have been in the Netherlands. Check it out… pictures, highlights.
Sebring, FL, May 8-9 at Living Waters Church see Brochure
Great time with God's people. Special thanks to Steve Slaybaugh for making it all happen.
Abbotsford, BC Mar 28-29, 2008 See Brochure
Our conference in Abbotsford was totally fun. David Harris and I shared the load Friday night and Saturday. On Saturday night we ministered with Brian and Kristen Olynick at East Gate Church… great worship and a fun congregation. Sunday we shared at Transform Central led by Michael Bullett. I came home with a real sense that God had accomplished something significant in the lives of His people.
Hello John,
The week end was an amazing time for us. Thank you for your love and ministry.
We appreciate your heart to help. We definitely will be following up in this area as we do sense that you are right on time with what you are carrying and releasing. Ways in which we can implement this further can be in our church body East Gate/ Global as well as our Supernatural Training Center for the ministry students as well as other potentials. We are excited about further developing our Kingdom relationship in the days ahead!
Brian Olynick Pastor, East Gate Church
Sylvan Lake, Alberta – John was with David Harris and Dale Plante November 16-17 at the Sunnyside Christian Retreat Center located just North of Sylvan Lake in the Calgary, Alberta area.
Having gone from farming into pastoral ministry and now back to farming again I am seeing and experiencing a real release in who God made me to be.  It is either a pastoring farmer or a farming pastor.  I don't know if there is a difference.  All I know is that I am free to be a Christian in the marketplace as a farmer and am loving it.  Seldom does a day go by when I haven't had the opportunity to share the love of Christ with someone, either in word or deed or both. The Destiny in Business Conference at Sylvan Lake on November 16 and 17, 2007 and your ministry at our church, Gospel Chapel, Sylvan Lake, the following day brought more release and confirmation to my wife, Helen, and me that we are where God wants us to be and are doing what He wants us to do.  Thank you so much for coming to our country, province and community to see "kings" released into who we are in Christ.
We had a wonderful men's prayer meeting and discussion at the church on Tuesday morning.  The guys really are being real with each other and are supporting each other in a very special way.  Your candid approach to ministry and the care you showed us has been an encouragement and inspiration to most of us that were exposed to you and your ministry over the course of the weekend.
Don and Helen Allan
…Your passion and friendliness, along with the message you brought last week to Sylvan is still burning in our hearts.  I just spent last evening with Kathleen, the gal who worked the book table for you at Sunnyside.  She is so pumped and had so much favor from business people this week.  She has her plans drawn up for her ultimate market and the commitments are coming in.  We are finding favor wherever we go and it is God that is blessing us!!!  Thanks again for coming our way,
Melody
Hi John…. what a blessing and the conference was VERY thought provoking.  It answered a lot of my questions and was a confirmation for a lot of things too….
I am reading your book and doing the homework in place of my daily devotions and it is making me weep uncontrollably…. almost every day.  Some of the things you kind of skimmed over, are 'in my face' in detail as I am going through the book and the questions, which I am answering in a journal are revealing many things about the lies I have believed and the places in which I have held back…
I love the way you write the book… because I can hear you speaking.  It really reflects the way you talk and your heart can be heard through each word and line.    Thanks for being faithful to the Word of God as you have explored what we need as Kings…. Warrior Kings…..  "Bride" Kings….I declare that all my dreams are coming true, in Jesus name…. AMEN
Linda
Pismo Beach, CA – Sept  7-9.07
with Divine Connections
contact Rose Marie Landry (800-967-7784)
Harold Eberle is the speaker at this one
Huntington, West Virginia – March 30-31, 07
with Kingdom Business Network (KBN)
contact Rod Davis (304-776-6885)
Yakima, WA with the FGMBFI on March 9-10, 07 (Fri-Sat)
Contact Wayne Norman 509-698-3424 or 509-899-4264 Conference Brochure
Special Guests: David Harris, Duane Smith, and John Laney
Driggs, Idaho Jan 26 2007
Pastor Scott Prindle invited his folks to provide some feedback on the Idaho conference:
God came to me in a tangible way last weekend when John and Sue Garfield came to our congregation to share with us. Without negating what we've always learned of the character of God, they shared with us the ways we've unintentionally boxed HIM in, with our every-day decisions.  I learned that the Almighty is good in ways I never imagined.
John boldly opened up questions that opened up yet MORE questions regarding our futures in Christ.  I found myself more excited for the next hours of my life, and couldn't WAIT to begin long-term partying!   I'm grateful that the message he shares came to me at a time when clouds of complacency were gathering on the horizon.
When he went home, he didn't leave us unequipped; the reading materials he provided to "take us deeper" have been devoured in our household, and is proving to be extremely useful.  If you have a chance in the future, I highly recommend looking into a Marketplace Ministry conference for yourself.
Bethany Johnson
Hello Guys, Miles and I had a wonderful time at the conference. Getting to know you and your congregation was inspiring. We went away from there with more confidence in what we are doing in the Lord, through the Lord and for the Lord. We also love graduating from being a servant to God's friend. There is a lot of freedom in that. When all of you were praying for us many things stood out to us, but the biggest thing was to not let the enemy disillusion us. I would say that is what keeps us from being the warriors we should be. So we are not going to be disillusioned any longer and we are ready to get to work.
God gave us confirmation in business related matters and also church matters. What we do is not confined to the four walls. We have been searching God in this matter for some time. He is faithful to answer.
We look forward to being with you again in the future. Thank you again for bringing John and Sue Garfield to our area and being obedient to the Lord.
Love in Christ, Miles and Angela Clark
Calgary, Alberta Jan 12-14, 2007
"God decided to show up Saturday afternoon. How awesome was that?! Just want you to know God touched me very deeply in that time. I was the one who stood up. I was suddenly very hot, which indicated God was doing some healing in me. God was touching on the whole area that he has been speaking to me about. I am very encouraged with what happened at the conference."
Brent Jobko
Calgary, Alberta
"I decided to take the plunge and travel from Spokane to Calgary for the Releasing Kings Conference in January. Thanks for the wonderful time with your family, and the phenomenal conference. I find myself mulling over the experience there continuously, and I know the fruit will be abundant."
Shana Gail
Spokane, Washington
"David, we are so excited that you hosted the Releasing Kings Conference. It was awesome!"
John and Stacey Collins
Calgary, Alberta
"Hi David and Sherwyn. Just wanted to thank you both for letting me be part of the conference. I felt like it was a great start to something that God is leading you and your church into. You will be ahead of the curve for future things that He will set up in this area. May God richly bless you both, as you continue to walk together and strengthen the hands of kings and priests in this area."
Pastor Craig Buroker – Conference Speaker
Southside Victory Church/
Times of Refreshing Ministries
Calgary, Alberta
"You have co-ordinated a conference that was filled with many of the very words God has been speaking to us, through various ministries over the last 3 to 4 years. I am certain He is pleased! Abundant Blessings,
Allyson Senger – Leadership team
Airdrie Victory Church
Host church of Airdrie Conference
" As I was sweeping snow off my car last Saturday, the day of The Releasing Kings Conference in Airdrie, a man in a truck pulled up beside me and asked what kind of church this was. What followed over the next hour was a divine appointment.
Nothing in life happens by accident. I believe there was a great purpose in us meeting that night."
Travis – Calgary, Alberta
"The months prior to the conference were very exciting, as I knew working with John Garfield and preparing for the conference was touching my heart's desire. We had over 100 people at our January Releasing Kings Conference. This is more people in our small church than we've seen in years. Many of our church friends were blown away! People visiting all the way from Washington State, British Columbia, and different parts of Alberta. Yesterday, one of my best friends, Paul, finished reading his copy of Releasing Kings. He was unable to join me at our conference, but took the book with him this last week. Even though his father was dying to go with the Lord, Paul called me yesterday and thanked me for coming into his life! Paul laughed and with unbridled joy said, "I'm not crazy. Now I know why I think differently than many people. I'm free!" Paul and I are impacting our friends and each other as we implement the Releasing Kings message in our own lives."
David Harris – Conference Host
Airdrie Victory Church
Airdrie, Alberta