The video is here.
I met Sathya Kalangi over the phone this week. She started a foundation called the Collective Power of One (CPOI, cpoi.org) to provide medical assistance for natural disasters such as the earthquake in Haiti, Nepal, hurricanes, etc. As a medical doctor, she has personally gone around the world to offer help, and her vision now includes training others, organizing efforts and building medical clinics in rural India.
Acts of God – There is something very pastoral about going through a personal disaster and having a doctor give us personal attention, diagnose our unique condition and give us hope for a solution. We all go through disasters as some point in our lives. Whether we survive depends on our doctor and how we respond to the challenge. There are four stages in knowing Dr. Jesus that stem from these two verses.
I keep asking that the God of our Lord Jesus Christ, the glorious Father, may give you the Spirit of wisdom and revelation, so that you may know him better. Eph 1:17 NIV
I want to know Christ and the power of his resurrection and the fellowship of sharing in his sufferings   Phil 3:10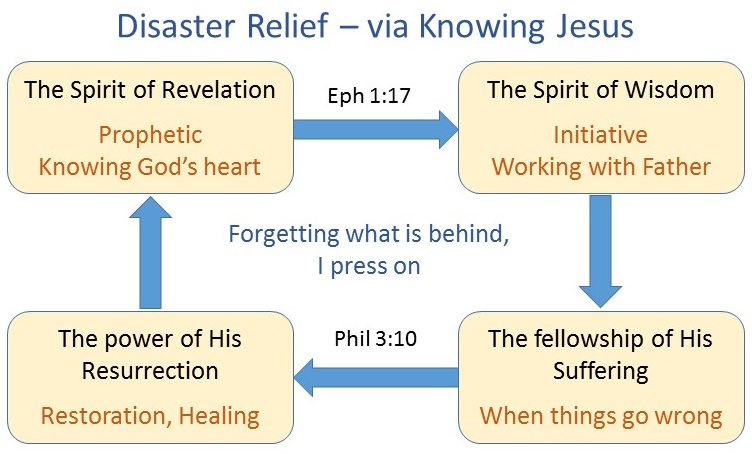 The spirit of revelation – Knowing Jesus is the experience of Him revealing Himself to us. It not head knowledge. It's always an experience in His presence that causes us to invite Him into our hearts. From there we have an experience with His voice and His word as he speaks to us. We have a prophetic sense of what is in His heart and how we can flow with Him. At this stage, we perceive Him as our redeemer, Father and protector. We don't really expect anything to go wrong.
The spirit of wisdom – The second stage of spiritual growth is the realization that intimacy with Jesus is not a substitute for work and wisdom and initiative in our culture and vocation. He expects us to hear His heart and take the responsibility to undertake His kingdom initiatives according to our calling (talents). At this stage, we are walking out the desires that He wrote in our hearts and owning our role in the Kingdom to bless nations. We understand His heart and what He desires (multiply the talents). But, exactly how is left up to us (he went on a journey).
"Again, it will be like a man going on a journey, who called his servants and entrusted his property to them. 15 To one he gave five talents of money, to another two talents, and to another one talent, each according to his ability. Then he went on his journey. Matt 25:14-15 NIV
Fellowship of His suffering – Somewhere along this path something goes wrong. We try to discern if it's God's discipline, my mistake, or an enemy attack. At some level it doesn't matter, because it's hard to believe that God didn't take care of us. We feel ashamed, abandoned and betrayed in our hearts.
Some don't survive this stage and adopt a theology that goes something like this, "I stepped out in an initiative that I thought was God, and it didn't work – disaster struck. From now on, I'm just doing what the Father tells me – nothing more." That vow translates to abandoning the desires that God wrote in our hearts, and shrinking away from both initiative and responsibility. It's a belief that God must be a hard man who asks us to do what we think He should take care of (instead of working through His sons). We hide our talent because we are afraid something might go wrong – the next disaster.
"Then the man who had received the one talent came. 'Master,' he said, 'I knew that you are a hard man, harvesting where you have not sown and gathering where you have not scattered seed. 25 So I was afraid and went out and hid your talent in the ground. See, here is what belongs to you.' Matt  5:24-25 NIV
Survival of any national or personal disaster starts by accepting that something good can come from it. In fact, there is no other path to spiritual maturity than through these personal deaths and resurrections. It is like breathing for believers – we all go through them. God doesn't cause them, but He does redeem the purpose out of our trials in a way that shapes our identity and adds authority and compassion to our ministry… an ability to listen!
And we know that in all things God works for the good of those who love him, who have been called according to his purpose. Rom 8:28 NIV
Dear friends, do not be surprised at the painful trial you are suffering, as though something strange were happening to you. 13 But rejoice that you participate in the sufferings of Christ, so that you may be overjoyed when his glory is revealed. 14 If you are insulted because of the name of Christ, you are blessed, for the Spirit of glory and of God rests on you. …if you suffer as a Christian, do not be ashamed, but praise God that you bear that name. 1 Peter 4:12-17
Resurrection – The problem with experiencing resurrection is that the predecessor is death. It's never pleasant to see our dream crushed. Whether it's physical, financial, relational, or vocational, it always hurts and it always feels totally hopeless… exactly where God wants us. The dream we cannot accomplish in our own strength or wisdom, He eventually resurrects from the ashes. The revelation of resurrection is that He isn't taking away the desires of our hearts, nor has he abandoned us. Our Father's expectation is that we are faithful to our original path, no matter what giant, setback or defeat we face. As believers, we are not insulated from disasters. When the ship sinks, believers float.
Back to square #1 – When we come out of the fire and the resurrection, we face the revelation that our Father was always present, the call on our life is still intact, and our next assignment is to press on in our Kingdom purpose.
The fragrance of life –  Believers who have gone through a death and resurrection carry the fragrance of brokenness and faithfulness and life. Just like Abraham who went, even though he did not know where he was going, we come to the realization that faith is substance, yet its practical companion is uncertainty. We know the heart of our Father and we know our call, but we are not surprised by anything life throws at us… and we expect to survive and prosper… somehow, because we know the power of Jesus' resurrection operates in us. It's a combination of wisdom and humility; a vision for the best, a strategy for the worst.
Like Sathya, we are all called to disaster relief. We are surrounded by others going through their own fiery trials and tribulations with no sign of resurrection. The power of His resurrection is also in our hands. We can be the doctor (Jesus) who looks them in the eye and tells them their Father loves them and that they will make it. We can bind up the wounds in their heart and heal their body, finances, relationships or vocation. Jesus is all about disaster relief… pulling people back into the destiny embedded in the dreams that God wrote in their hearts. There is an anointing to do it.
He heals the brokenhearted and binds up their wounds. Ps 147:3
He has sent Me to heal the brokenhearted, To proclaim liberty to the captives And recovery of sight to the blind, To set at liberty those who are oppressed; 19 To proclaim the acceptable year of the Lord.  Luke 4:18-19 NKJV