The video is here.
One of the experiences every believer lives in, is the desire to please our Father. Once our identity is healed and we realize that we are being invited into His Kingdom, something happens. We begin to see what He's doing and we yearn to do it with Him. Religion warns our hearts against dead works in the name of grace, but the Kingdom reality is that the harvest is ripe and those willing to labor are few… but growing. We know that we are saved by grace, not works. We often skip the next verse that explains one of the important reasons "why" we're saved.
For we are God's workmanship, created in Christ Jesus to do good works, which God prepared in advance for us to do. Eph 2:10 NIV
Many are being invited to a place of fruitfulness right now. They are "working" with the Father and finding grace to multiply in their mountain. Many unsaved people are unwittingly working with their Father out of their hearts at some level and finding a relationship with Jesus after.
"My food," said Jesus, "is to do the will of him who sent me and to finish his work. John 4:34-35 NIV
For we are God's fellow workers; you are God's field, God's building. 1 Cor 3:9 NIV
I tell you the truth, anyone who has faith in me will do what I have been doing. He will do even greater things than these, because I am going to the Father. 13 And I will do whatever you ask in my name, so that the Son may bring glory to the Father. 14 You may ask me for anything in my name, and I will do it. John 14:12-14 NIV
My dad (Ford Garfield) was born in 1913 and ranched in Montana on land he grew up on. Cowboys aren't generally noted for being spiritual, but God's finger print was very much on my father and the way he trained me for this life. This is one of many stories:
At 7 or 8 I was a skinny little kid with a big toothy grin. I went with Dad the first time to feed the bulls. It was winter in Montana with a little snow on the ground – one of those quiet days when you can hear the bulls crunch the snow with each step. Dad gave me a broom to sweep out a couple of feed troughs before he gave them grain. This was a job I hadn't done before, and beneath the layer of snow was a layer of ice that I wasn't getting to. Dad took the broom and showed me how to put a little elbow grease into it and get the trough properly cleaned out. I was pretty anxious to please him… I think all sons have a deep desire to please their father. Anyway, the bulls got fed, we put things back in the pickup, and I took the initiative to shut the tailgate on his 59 Chevy half ton. It was a metal tail gate and a metal box on the pickup. I wasn't about to be "delicate" with this next task so I slammed that tailgate as hard as I could. Dad was admiring his bulls when the tailgate went off like a shotgun blast on that cold, clear day. I remember he ducked and whirled around to see what the h— happened. When we got home, Mom was interrogating him about his first trip out with his son. When she heard dad's story of my "sweeping" and my "tailgating," I overheard her response while pretending not to. She said something I'll never forget, "Well, Ford, you never take him with you." The conversation ended there, but from that day on I had a permanent seat next to the cow dog in that Chevy pickup. My father took me with him everywhere he went. He taught me how to work cows, pull calves, train horses, fix fence, irrigate, run machinery, shoot and how to have fun doing it. He was a wonderful teacher who was only occasionally short on patience, as told by his colorful (then unsanctified) vocabulary. In the second half of my teenage years I resisted his authority on occasion and, instead of increasing his control, he simply cut me a wider swath and increased my responsibility. He really was a velvet covered brick. I never did lose the satisfaction of doing something well to please my father. When I left the ranch for college, I knew that I was blessed with a special Dad and a special upbringing that I wouldn't trade with anyone. I had the wisdom to honor him thank him for it personally and often. It always felt good to me and, I believe, to him.
The experience with my own father was really just a start on the real thing with Father God. Here are some of the ingredients.
It is fun – Doing something with the Father is a spiritual experience. The desire to do it resides in our own hearts. We are also acutely aware what is in our heart is even more in the father's Heart. It's not obedience or sacrifice, it's fun! The resistance we do encounter feels more like a privilege to overcome than an insurmountable wall. We feel like we are more than conquerors and have a confidence that we will prevail. When we face problems or demonic encounters, we can say, "My Dad is bigger than your dad."
It flows – The second experience is that we can somehow feel the wind of the Holy Spirit in our sails. There are divine appointments with those who can help us. Circumstances seem to align in our favor to form new opportunities. The effect of our labor seems multiplied beyond our expectations.
It ministers – The things we put our hands to, resonate with others. There is a prophetic tone to our words and deeds that others welcome and join. We have the sense that it's not just us. Others are joining the same Kingdom initiative because God has put something similar in their heart… a hunger to work with Jesus, build His Kingdom and bless nations.
It multiplies – Putting the Kingdom first attracts both people and resources. There is a spiritual dimension to wealth creation and converting money into ministry in the business mountain. Getting someone else to pay for your dream via offerings isn't the way Kingdom works. God is releasing an anointing to multiply the money that goes with the dream.
It magnifies – The personal experience of all these factors coming together is real; the dream, the work, the anointing, the fruit. The result is that our work has Kingdom significance to our Father and becomes worship. There is a presence of God that goes with it. We can feel the Father being glorified in process. There is nothing sweeter to our hearts than turning work into worship in a way that blesses nations and brings glory to our Father.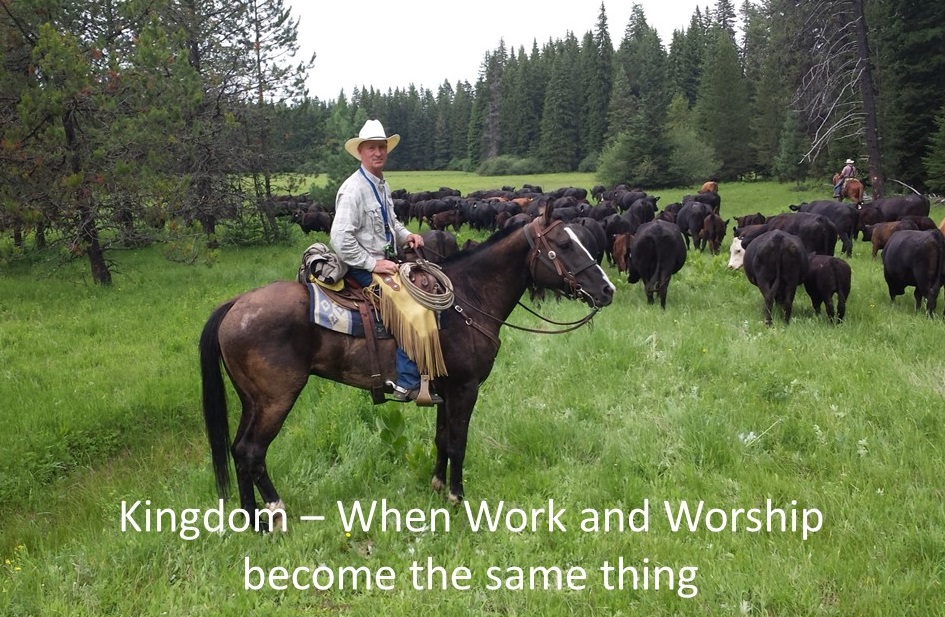 Suggestions:                                                                                                                                              
Podcast #1 and Podcast #2 – fun interviews with Steve Reiter and John Ramstead
Books – Releasing Kings and Desire to Destiny
Education Tools – David Nycz Interview http://releasingkings.com/david-nycz/
Heart Plan in Europe – HeartPlan.eu
Rediscovery of the heart – recommended resources and Releasing the Lion ebook