The video is here
One of the most precious dynamics of Kingdom is the awareness that our hearts are changed by experiences. We are not changed by facts or knowledge or even sermons. The beliefs of our heart are all rooted in our past experiences. Our minds are really just computers that come up with intellectual justifications for those beliefs. "Experience" is the language of the heart.
The ramifications are significant and simple. If my goal is to have a heart after God, the path to get there is through an experience with God. More education of the mind will not get us closer to God apart from an experience with Him. Learning is not memorization of a new truth; it is the experience of truth in our hearts. We never forget what we've experienced in our heart.
'I have found David son of Jesse a man after my own heart; he will do everything I want him to do.' Acts 13:22, 1Sam 13:14 NIV
he taught me and said, "Lay hold of my words with all your heart…  Prov 4:4 NIV
The language of our hearts is experience, or more specifically, a picture of that experience. Those pictures of experiences can be from our past memories or our present situation or our future dreams. All three are very real and are often integrated with themes. For example, if I've had a negative past experiences, it shapes how I interpret my present circumstances and relationships and my future prospects. If my heart interprets a negative past experience in a redemptive way, then my present and future will also be redeemed.
Let me share an example. My mother died of cancer when I was 16. I wasn't saved at the time, and my family lived on a ranch where new calves and colts were born every year, and some died every year from age and accidents. When mom died, my heart just concluded my own mortality, that someday I and everyone else would also die of a disease, an accident or old age. I resigned to a sort of meaningless fatalism and stoicism. I tried to be a tough cowboy. It wasn't until some years after I was saved at 18 that the Lord showed me it was my mother's death that left me open to Jesus. That whole negative, painful experience of losing a mother was suddenly filled with meaning and gratitude. I know that in some way she gave her life so that I could be saved… and someday in the future I will embrace her in heaven and thank her. Whenever I think of my mother's death, I'm immediately filled with thoughts of thanksgiving and favor. God and my mother arranged for my salvation. It's not just a memory; it's a present experience that shapes my view of the future.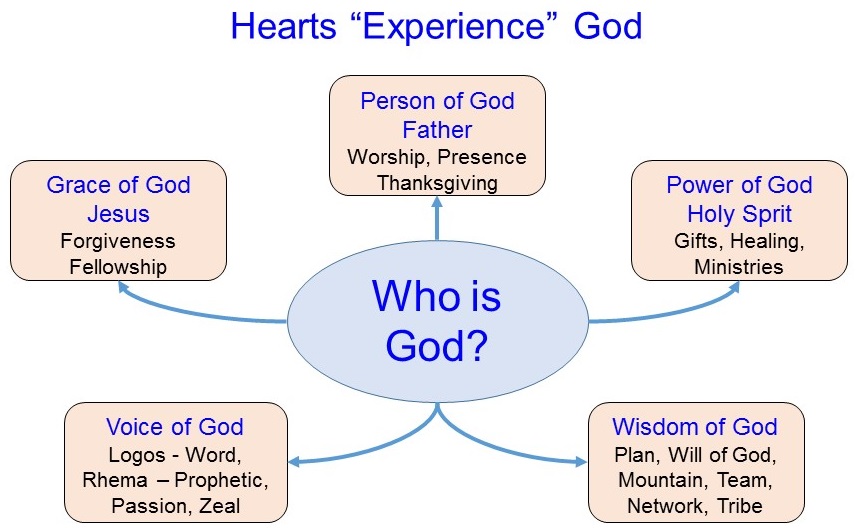 Let me share a few more "experiences" that are common to most of us:
The grace of God – When I received the Lord and whenever I share Jesus with someone else, there is a sense of the weight of sin and life being lifted from my/their shoulders. We go away from salvation feeling lighter and forgiven and saved.
The power of God – Before I was saved I attended a Bible study with a dozen other college-age kids. The host's wife prayed at the close of the meeting; she mentioned the presence of God descending on us like the dew of heaven. I had no clue what was going on, I just felt dew on my cheeks just as though it was dawn on the ranch when the dew falls before the sun comes up. I thought it strange that they all spoke of Jesus like a friend, but the experience woke my heart.
The person of God – I had the good fortune of growing up in a worshipping church. We gave ourselves to praise and worship, and experienced the presence of God in nearly every service. It birthed faith for the prophetic, healing, and salvations.
The voice of God – Whether I'm at work, driving, studying or sleeping, when the Lord speaks it's like a flash of light and I try to immediately write it down to expand it and hear more from Him. The graphic in this newsletter came at 2AM. I got up, turned the light on and captured pieces as the Lord spoke three different times. When I listen to other people, I try to hear their hearts. When I talk, I try to hear God's heart, to listen for what resonates prophetically and touches the person's heart.
The wisdom of God – There is another experience of doing what the Father does, finding the will of God, and working on the plan of God. It's includes finding my mountain, and meeting my network, tribe and team. It includes a practical and financial component that bears fruit. It's fun, it's real and it feels like an invitation to purpose… an invitation to the Father's party.
And three definitions:
Transformation – Entering a new experience by reinterpreting an old one. Exchanging our heart's images, scripts and pictures so that "triggers don't trigger" and reality is seen from God's perspective, vs. changing intellectual concepts, ideas and information.
Deception – Substituting words, doctrines and concepts for an experience (a form of Godliness that denies the power – religion). Sound doctrine facilitates Godly experiences.
Faith – Seeing and believing something already in the heart of God; received by revelation, vs. self-will and self-discipline – forcing ourselves believe and act on a principle or concept that is not in our heart (religion).
Suggestions:                                                                                                                                              
Books – Releasing Kings and Desire to Destiny
Newsletter Archive – http://releasingkings.com/newsletter
Coaching Tools – http://releasingkings.com/coaching-tools/
Education Tools – David Nycz Interview http://releasingkings.com/david-nycz/
Personal note:
Clive Wilson is a friend who has known me for several years and is familiar with Releasing Kings, attended our conferences, etc. He suggested I look into Larry Napier's work on Rediscovery of the Heart because it ties in with so much of our work at Releasing Kings. Clive is right, and I want to recommend that you take a look at it. I liked it so much that I became an affiliate http://rediscoveryoftheheart.com/johngarfield …haven't been able to stop watching the 60 videos with a syllabus for $50. They are really good. Now Larry has an ebook out for $5, Releasing the Lion: Rediscovering the Right Brain Heart.